COMMENT
By Jay Jaffa
There is an incident that will live long in
Martin Jol
's memory. In
Tottenham
's last north London derby at Highbury, the Dutchman urged his team to play on with two
Arsenal
players on the ground, leaving Robbie Keane to score a goal that ultimately secured a point in a 1-1 draw.
Arsene Wenger
felt aggrieved and the two managers squared up on the touchline, a clash that was forever immortalised on YouTube.
Arsenal did go on to claim fourth place that season as Tottenham succumbed to lasagne-gate and the rest, as they say, is history. That was six-and-a-half years ago, and Jol was dismissed six months later. But he is back in new garb and will go toe-to-toe with Wenger once more, in not too dissimilar circumstances.
The Dutchman takes his Fulham team to the Emirates Stadium on Saturday aiming to continue the impressive work his side have displayed thus far in the Premier League. The Cottagers sit eighth, are the highest scorers in the Premier League behind Manchester United and Chelsea and only trail the Gunners on goal difference. For a team more synonymous with relegation battles, Fulham are overachieving.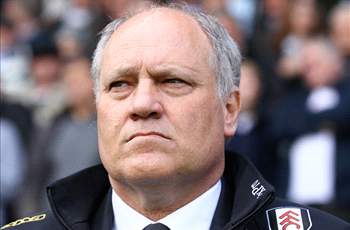 "I'm not an Arsenal fan - as you well know - but I always admired Wenger for what he did" - Martin Jol

In the red corner, however, there are renewed doubts over the capabilities of both the manager and the team he has put together. A difficult fortnight has seen Wenger preside over lifeless displays at Old Trafford and Carrow Road, before watching a vibrant Schalke side claim three Champions League points in north London. A 1-0 win over QPR is the only victory in a poor spell, and this was compounded further by Huub Steven's resurgent team as they cancelled out Arsenal's two-goal lead in Gelsenkirchen on Wednesday night.
This run of disappointments has sprung a surprising statistic on Premier League observers: Arsenal have collected one fewer point after 10 games than they did last season – a time that was largely viewed as the lowest point of Wenger's reign.
What of the current predicament? The weak points are too obvious; Andre Santos was brutally exposed in the losses to Schalke and United but is one cog in a much larger problem. The early clean sheets that were attributed to Steve Bould's defensive drilling have seeped away – they have kept one in the 13 games since their opening three - and goals are leaking seemingly more regularly than at any other time.
Laurent Koscielny, one of the Gunners' best performers last season looks a shadow of himself, and it resonates that many would consider Per Mertesacker the club's most dependable centre-back. Much of the frustration aimed at Wenger revolves around his transfer market and squad decisions. Why, for example, did Theo Walcott only pitch up on the bench at Old Trafford after scoring a superb hat-trick and single-handedly dragging the Gunners to the Capital One Cup quarter-final?
Additionally, the timing could not be worse, after the furore surrounding last month's Annual General Meeting that left many of the fans disillusioned with the direction the club is moving. Ticket prices have been on a steady incline during a seven-year trophy-less spell and the best players - the ones fans are happy to pay to see - keep getting escorted out of the club (disclaimer: Santi Cazorla is the exception to this theory).
Once again, Jol will be heading to an Arsenal side on the ropes, leaning back, jaded, as Bould suggested after the Schalke loss, wondering why it has suddenly become so tough. Points are hard to come by in the Premier League and even the little clubs refuse to roll over and die – just ask Roberto Martinez.
And so to Fulham. Jol may be more diplomatic, possibly even more affable than his first Premier League stint, but he retains his affection for Spurs. An opportunity to defeat the man who embodies Arsenal, the club who have ruled north London for so long, awaits him and would be enormously gratifying.
He has previous, of course. Not at Tottenham, but with Fulham last year, where he exploited the chinks in Wenger's armour, claiming a 2-1 win at Craven Cottage that should in all honesty have given them a double over Arsenal, save for Thomas Vermaelen's late equaliser in the reverse fixture.
There is a different balance to this Fulham side now though; it is shaped more in the Jol way. The resilient, battle-hardened edge Roy Hodgson instilled has been done away with and replaced by roaming full-backs in Sascha Riether and John-Arne Riise. Alex Kacaniklic is a rising star on the left wing, with Ashkan Dejagah impressing in his cameos, while Bryan Ruiz, when he is on it, oozes class from a similar vial as Cazorla.
And then, of course, is an old foe; Dimitar Berbatov. The Bulgarian has been something of a hit since stepping down from United and transferring to Fulham - a move as admirable as it is compatible – and he looks happy to be playing and scoring again. Undoubtedly the grin will be even wider if he can further damage Arsenal's season.
Wenger though, will see this as an ample opportunity to get back on track. This fixture precedes the north London derby in a fortnight before a generous run of fixtures, which, on paper only offer a banana skin in the shape of a trip to Goodison Park all the way up to the middle of January.
Popular support may be dwindling for the Frenchman, but rather unexpectedly, he will find his former enemy in the trenches offering words of comfort.
"I'm not an Arsenal fan - as you well know - but I always admired Wenger for what he did," Jol admitted on Thursday. "There is not one other team in the top four doing the same thing with the same philosophy. They always manage to find the players who are younger and create value on the pitch."
The problem as Jol explains, is: "Of course, it's probably not what an Arsenal fan wants." Come Saturday afternoon though, three points are all they want. With them, Wenger will be able to rise off the canvas and fight on.
Follow Jay Jaffa on