Chelsea, a club known for its African superstars, has experienced a change in guards over the last season. African players such as Ivorians Didier Drogba and Soloman Kalou and Ghanaian Micheal Essien no longer ply their trade at the European champions, who have started to focus on rebuilding an aging squad.
The club brought in 21-year-old Nigerian Victor Moses and the talented Brazilian Oscar to the squad. Belgium's Eden Hazard also joined the team at the beginning of the season, as Roman Abramovich regained his lust for success with some important and exciting signings.
However the club's African players made it the force it is today, with Drogba, Essien and Kalou playing vital roles throughout their tenures at the Blues.
Solomon Kalou did not always live up to expectations at Chelsea but did play a significant role in the side during his time at Stamford Bridge.
He scored 36 goals in 156 appearances for the Blues, sometimes finding vital goals and also combining well with strikers and other attacking players in the squad. He had certain ups and downs at Chelsea.
The Ivorian moved on to Ligue 1 side Lille after his contract expired at the end of this season. His time at Chelsea did not make him a hero in any sense, but he was able to contribute admirably during his time at the club.
The heroics of both Drogba and Essien have made them into certain Chelsea legends. Drogba left the club to join Shanghai Shenhua for a lucrative deal and Essien is currently on loan at Real Madrid, re-connecting with former boss Jose Mourinho.
Essien will always be remembered for his powerful shooting, passing ability and strength in the midfield. He was one of Chelsea's most prized assets during their domination of Premier League football.
His late strikes and stamina made him a firm fan favourite during his time at the club. The volleys and powerful long-distance goals he scored for the club were often chosen as goals of the season by fans and football pundits.
Even though he is on a season long loan at Real Madrid, Essien's time at Chelsea is almost certainly up, after he was hampered by injuries and lack of form resulting in his exclusion from the squad.
Chelsea's new focus on youth will also mean Essien's place will be at risk when he returns next season, which might result in him making his loan move permanent with Los Blancos.
Didier Drogba will certainly be the most sorely missed of the trio, as he left the club when he was still completely on top of his game. He left a legacy behind him, it seems, as the club has gained renewed life since its Champions League success.
Drogba was the catalyst in Chelsea's European victory, scoring vital goals when the team needed them most and using every last inch of his stamina and strength to pull the side out of dire situations.
His influence on the side throughout his time at Stamford Bridge was incredible. He played 226 games for the Blues ending his career with exactly 100 goals for the club, scoring vital goals in all competitions.
His final act at Chelsea defined his time at the club. He led the side from the brink of a Champions League final defeat to a victory no one thought was possible.
Drogba's influence stretched further than just the pitch. He is still an African ambassador of the game and created a strong support base in Africa. The sturdy striker from Ivory Coast will live long in the memories of Blues fans.
Nigerian stars John Obi Mikel and Moses are the only African representatives left in the senior squad. Moses was signed during the transfer window but has not enjoyed a regular place in the side during the early season.
The former Wigan Athletic player enjoyed a good season in 2011/12 and his ability to play in various positions makes him a versatile option for Chelsea manager Roberto Di Matteo.
Moses showed his class and importance at Wigan and will hope to play consistently for the Premier League leaders this season.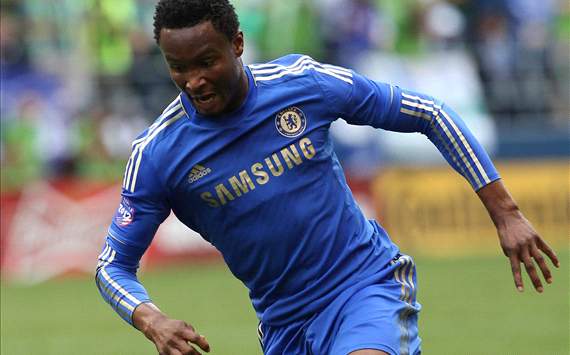 Mikel continues to be an important cog in the midfield for the Blues and he has developed into a strong and tenacious midfielder during his tenure at Stamford Bridge. He has played 166 times for the club and continues to be selected in the starting line-up.
His ability to command the middle of the park and close down the opposition was on display during Chelsea's victorious European campaign. He held together a midfield which battled the likes of Xavi, Andries Iniesta and Cesc Fabregas.
His development as a player has been remarkable as he arrived at Stamford Bridge as a youngster brimming with talent but lacking polish in 2006. Initially he was criticised for his lack of promise but he grew into his role at the Blues and is now certainly a finished product.
Now Mikel is the leading African player in the squad whose first team used to be dominated by the likes of Drogba, Essien and Kalou. Chelsea has certainly changed over the past season, with more of a reliance on youthful talent and exuberance, rather than Drogba's strength and Essien's tactical nuance.
However the African players who have left made their mark on the club, being responsible for some of Chelsea's most prosperous years. Their legacy certainly lives on, as Chelsea look to gain Premier League glory as well as defend their European crown this season.