COMMENT
By Lolade Adewuyi | Chief Editor

When Nigeria host Liberia in Saturday's final 2013 Africa Cup of Nations qualification game in Calabar, all eyes will be on the man in charge of that team to ensure that his wards emerge victorious by all means. A calendar year after the Super Eagles failed to qualify for the tournament in Gabon and Equatorial Guinea under Samson Siasia, who was famed to have received all the support that he needed to succeed by the Nigeria Football Federation, Stephen Keshi sits under a weight of massive expectations to deliver or be damned.
The 50 year-old Keshi's job must be the toughest in the country at the moment – tougher perhaps than that of President Goodluck Jonathan who is having to deal with problems on all sides - floods, Boko Haram, Bakassi, and student lynching among many others. Keshi's job is tougher than the Commander-In-Chief's at the moment because for the 90 minutes that the Super Eagles will play against the Lone Stars on Saturday, President Jonathan can at least heave a sigh of relief in knowledge that a football-crazy populace's attention is focused on somebody else.
The Big Boss, former captain of the national team and winner of the 1994 Afcon trophy, is a really likable guy – unlike one of his assistants who is infamous for his irritability. I first met Keshi in November 2009 at the pitch side of the Baba Yara Stadium, Kumasi, Ghana. That day, Keshi led a second string Malian team devoid of big names Frederic Kanoute, Seydou Keita, Momo Sissoko and Mahamadou Diarra against a full strength Black Stars and came out with his head high.
The young Malians were held to a 2-2 draw by a Ghana team that paraded Michael Essien, Sulley Muntari, Stephen Appiah and Asamoah Gyan, that same team that reached the quarter final in Johannesburg. Twice Keshi's side went ahead before the Stars could peg them back for a draw that disheartened the whole Ghanaian nation as it meant that their team finished their World Cup 2010 qualifying campaign short of a 100 per cent record at home.

After that explosive game, I ran to Keshi and congratulated him. When I introduced myself as a Nigerian journalist, I remember his face lit up. Even though we didn't talk much, I could feel national pride well up in him knowing that a compatriot was in the stadium to witness his brilliance with a foreign team.
Even though Mali finished third in that group behind Ghana and Benin, they qualified to play at the Nations Cup in Angola. The inability of the Malians to make headway at the tournament after an opening 3-3 draw led to Keshi's departure from that country. His opportunity to coach his country then came after Siasia's failure to see Nigeria's qualification through to this year's Afcon. An aberration that took the country's football down so many notches that supposed minnows now even fancy a chance against our team.
It's the psychology of failure to qualify for Gabon that our opponents now employ whenever they want to play us. Namibia coach Bernard Kaanjuka told me in June that his team were not afraid to face the Super Eagles knowing that the team did not even qualify for the Nations Cup. The Liberians have been mouthing this talk as well in a bid to demoralise us.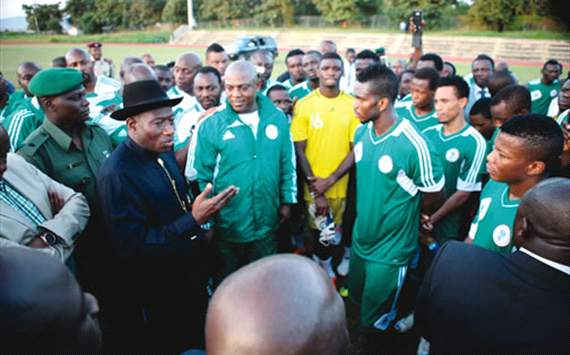 Eye of the Storm | Keshi will be under more pressure than the President

The second time I met Keshi was at the lobby of the Metropolitan Hotel in June when his boys prepared to take on the Brave Warriors. As he made final match plans, I walked up to him and introduced myself. If he didn't remember me, he did not show it. Instead it was a warm greeting that he gave to me. This time around I noticed that his eyes looked tired. He was under intense pressure. So much had passed since that memorable night in Kumasi. It was his second competitive game with the Eagles. I tried to pry an interview off him but he declined saying that he was in game mood, a euphemism for the pressure he was under.
Notwithstanding, he told me that he was confident in his team's preparation and that he had been receiving goodwill messages from countrymen nationwide through his mobile phone. Even people he didn't know had sent him prayers and encouragement. Needless to say, Nigeria triumphed via a lone goal scored by Ikechukwu Uche.
On Saturday, Keshi will once again lead his team out on the UJ Esuene Stadium pitch in a high stakes encounter against an opponent ranked way below our team. In times past, this would have been perceived as a routine encounter where the Eagles would have been expected to win by at least four goals. In the early '90s during Keshi's playing days, every team that came visiting the National Stadium in Lagos knew they were in for a slaughter.
However, things have changed. We are low on confidence these days.
And this is what accounts for the enormous burden that Keshi will carry into that game. Nigerians are expecting so much while secretly doubting the ability of the team to deliver. Once bitten, they say.
Here is where Keshi needs to rein in the nerves and make his team play for glory. According to the famous quote by John Kessel, "the mediocre coach tells, the good coach explains, the superior coach demonstrates and the great coach inspires."
Nigerians will be expecting Keshi to inspire his team to victory on Saturday. For a people that are hurting and seen lots of upheaval in recent weeks, a victory can bring a little joy back into our lives.

Follow Lolade Adewuyi on