COMMENT
By Kris Voakes | Italian Football Writer
In Italy last season, there was a stand-out story full of the romanticism with which calcio is often associated. While a Champions League spot was lost, betting scandals were uncovered, AC Milan and Inter took backward steps, refereeing controversies caught the headlines and Alessandro Del Piero was tossed aside by Juventus, the rebirth of Andrea Pirlo at the top end of the sport was in many ways the saving grace.
By masterminding the Bianconeri's Scudetto victory, the regista was rightly credited with having rejuvenated a superpower, providing the composure, the experience and the quality from the midfield axis that was to be their platform for a return to glory in an unbeaten league season. He even managed to carry such form into Euro 2012, helping to inspire Italy to an unexpected runners-up spot with displays of excellence and of wisdom in a team still very much learning its way in international football following the fallout of the 2010 World Cup.
But in 2012-13, something has changed. Pirlo has not managed to provide that consistency of excellence which became his modus operandi over the 12 months prior. While Juventus remain dominant in the majority of their matches at domestic level, the No.21 has been nowhere near his best. It has even become the subject of much debate, with his poor form causing some to worry that either Juve or Italy – or both – could eventually pay for his new increased workload.
PIRLO'S HEAVY WORKLOAD

2011-12
Serie A
Coppa
Italy

2012-13
Serie A
Champions
Italy

GAMES
37/38
4/5
15/16


5/6
1/1
2/3
MINUTES
3316
390
833


427
90
180

SUBBED
2
0
2


1
0
0
With the Champions League having been added to his calendar, the 33-year-old now faces a potential 60-plus games before the international season ends on June 8, and following a campaign in which he missed just three matches in all competitions, it is becoming increasingly obvious that his schedule needs to be carefully managed in order to coax the 2011-12 Pirlo back out of the cupboard.
"I think that it's time for Pirlo to leave some duties behind. He should retire from international football," former Milan star and Zvonimir Boban told Sky Sport recently. "He has been lacking the brilliance that he showed last year, and I think it may be down to the fact that he has too many commitments. He hasn't had much rest this summer."
But do Italy need to lose out completely? Ex-Azzurri defender Christian Panucci was not in favour of such a move. "I believe he should rest with Juventus, not with Italy, who play a lot less games."
Given Pirlo's apparent desire to prolong his international career, Panucci's course of action is clearly the preferred route, yet the timing of breaks has already proven to be a bone of contention. The midfielder turned in a very poor showing in the Champions League clash with Chelsea at Stamford Bridge a fortnight ago having played the full 90 minutes at Genoa three days earlier. It was only after the trip to London that he was then rested for the following week's fixture against Chievo.
This weekend we saw a similar decision. With Shakhtar Donetsk set to come to town for tonight's Matchday Two contest, Juve ran all over Roma in the opening 20 minutes of Saturday's Serie A fixture at Juventus Stadium yet still Pirlo was asked to complete a second game in four days following his struggles against Fiorentina while the younger, less pivotal Paolo De Ceglie, Alessandro Matri and Claudio Marchisio were withdrawn ahead of him with the Bianconeri cruising towards victory.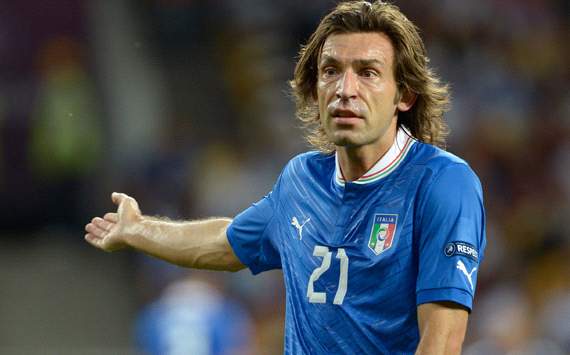 International departure? | Pirlo has been advised by Boban to quit Italy
From this, it would seem that Antonio Conte and Massimo Carrera have taken the decision that Pirlo will be rested after, rather than before, Champions League fixtures, but this could be to the club's detriment. Given the way that the calendar works, he will often be competing in his third game in seven days by the time each European clash comes around.
Surely the most appropriate time to rest him would be the weekend before each European game. Given their clear superiority in Serie A, he could even be afforded successive weekends off either side of Champions League matches and the Old Lady could get away with it. Now that they have Paul Pogba in the frame to stand in for league fixtures, Pirlo need not play much more than the one game a week he was playing last season and Juve could still win the league, but it would also give them a better chance of succeeding on the continent.
"Pirlo remains a very important player. Juventus and Italy would be in trouble if he weren't around," Paris Saint-Germain boss Carlo Ancelotti told Tuttosport last week. "It's only normal that Pirlo is going through a difficult period. Things like that happen with every player. I don't think this is the right moment to make drastic decisions and quit Italy."
And nor does he have to. If Juve manage him effectively, they can ensure that he returns to his 2011-12 form, and by becoming their midweek midfield maestro he could still lead them to success in Europe.