As the country marks another anniversary, the Super Eagles will need to bring alive the lofty message of the national anthem as they prepare to face Liberia on October 13
COMMENT
By Lolade Adewuyi | Chief Editor
Nigeria is 52 today, wow. It's been such a long time coming in our existence as one nation. What a beautiful union we have had, warts and all.
Do Nigerians feel more patriotic this year than the last, I wonder? If there is any means to gauge the pulse of every citizen of our country, would we find if we're happier this year than the previous one? Or are we more disillusioned by the affairs of the land?
Every first day of October, we return to this path of self-appraisal where we take stock of our country's progress and how committed we are to the Nigerian project.
Yesterday in church, my pastor asked us to sing the national anthem, both stanzas. It was nice to see that many people did sing from their hearts without looking at the teleprompter. I sang too.
However, I realised that I did not have that ring in my heart like I have experienced in the past. Singing the Arise O' Compatriots at church was like singing it on the school assembly ground along with the other students long ago, a matter of routine.
My most memorable times of singing the national anthem have come while watching the Super Eagles play football. At those times it is different. It is more than just a song. It becomes a chant, an oath, a communion with my country's pride.
Watching the Super Eagles play at the 2008 Africa Cup of Nations in Ghana brought a new life to the national anthem for me. This song becomes more than just a song when it is sang on the terraces of an epochal event, when just 11 men in green and white are the ones that you channel that song through as you will them to glory against the opponent.
While I watched the 2010 World Cup from the remote town of St Helena Bay in South Africa's Western Cape, every moment our national anthem was relayed across the world brought huge pride to me and many others. With a hand clasped over the heart, one could literally feel the throbbing pulse of every syllable in the anthem as it takes on a life of its own.
If the passion with which one sang the anthem at those periods were relative to the on-field performance of the Super Eagles, by now we should have won the World Cup. Alas, there's disconnect between passion and expectation on the terraces and the level of action on the pitch.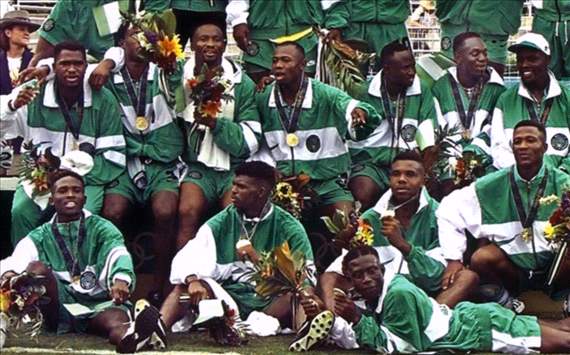 Atlanta '96 Gold Winning Team | Brought intense national pride

Much of Nigeria's problems have been in this light. Our teeming population expects so much from this country of ours that has immense potentials. Every year at this time we look forward to celebrating great achievements of our country. Still every time we those dreams dashed by politicians and sports people.
Over time, the national anthem has become just another humdrum, a boring passionless song that we sing at school and at official events. The life in it has disappeared.
How do we bring back the fire into Arise O' Compatriots?
Can we cast our minds back to two major football successes that we enjoyed in the remote past? Winning the 1994 Africa Cup of Nations and the 1996 Olympic football gold medal were definitely high points in Nigeria's football. These were times when everyone stood together to chant the national anthem with great pride. They were times when we put aside our differences and were united by our success.
Going into our 52nd year as a nation of diverse tongues and peoples, we need to stand together in order to experience more moments of great acclamation. Nigeria cannot afford to sit on the sidelines to watch again.
When we play against Liberia for the 2013 Afcon ticket on October 13, Stephen Keshi's squad should be a team that knows what it means to sing those lofty words: "Arise O' Compatriots/ Nigeria's call obey/ To serve our fatherland with love and strength and faith/ The labour of our heroes past, shall never be in vain/ To serve with heart and might, one nation bound in freedom/ Peace and unity."
Those lines must become more than just words, they must jump out of those lines and into the soul of each and every one of us, to propel our team towards victory.
God bless Nigeria.