ANALYSIS
By Daniel Buse
When Borussia Dortmund host Ajax tonight in their Champions League opener, two of Europe's biggest attacking talents lock horns. Both Mario Gotze and Christian Eriksen are 20 years old, play direct from midfield and are key players for their respective teams.

Past and future
Borussia Dortmund and Ajax have already claimed the Champions League in their history, even though winning the competition once more seems far away for both sides at this point. However, with Gotze and Eriksen, they have players who bring back memories of the past, while also raising hopes for the future.
| | | |
| --- | --- | --- |
| June 3, 1992 | DATE OF BIRTH | February 14, 1992 |
| 58 / 13 | LEAGUE APPS / GOALS | 80 / 14 |
| 6 / 0 | CL GAMES / GOALS | 10 / 1 |
| 20 / 4 | INTL CAPS / GOALS | 27 / 2 |
If everything goes to plan, then Gotze, as well as Eriksen, will become the undisputed star players of their teams in the not too distant future. And if they decide to try their luck elsewhere at some point, they will still earn their clubs a significant transfer fee.
No face-off at Euro 2012
Both players could very easily already have met on a previous occasion as Germany and Denmark clashed in the group stages at Euro 2012. However,
Mannschaft
coach Joachim Low decided to keep Gotze on the bench for the entirety of the match, whereas Christian Eriksen completed the 90 minutes as the Danes were beaten 2-1 and crashed out of the tournament.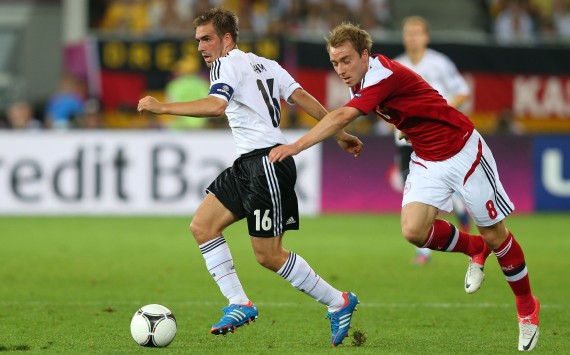 International experience
This is exactly one of the biggest differences between the two amid all the similarities. Whereas Gotze only made a brief substitute cameo at the European Championship, Eriksen was one of Denmark's key players, having previously featured at the 2010 World Cup.
"He often has the same moments of brilliance that Messi showcases, even though the Barcelona man is obviously in a class of his own"


- Sebastian Heier, Goal.com Germany

Messi comparison
What both players have in common, though, is that they have already caught the attention of some of Europe's finest with their good performances for their respective clubs. Gotze is 'like' Messi in the way he can set up his team-mates or create opportunities for himself with his fine technical skills and his dribbles.
"He often has the same moments of brilliance that Messi showcases, even though the Barcelona man is obviously in a class of his own. Gotze is on the right path, though, and he has a bright future ahead of him," comments
Goal.com Germany
's Sebastian Heier.


On his way back
Just like Barcelona's superstar, Gotze is not only capable of playing as a classic No.10, but can cause havoc coming from the wings, too. He is slowly finding top form again after a lengthy spell on the sidelines due to injury, and his start against Bayer Leverkusen at the weekend proves that Jurgen Klopp is ready to put his faith in the youngster again.
Versatility
When it comes to versatility, Eriksen is right up there with Gotze. The Dane can pass the ball as accurate with his right foot as he hits it with his left foot, which makes him the perfect midfielder for Ajax coach Frank de Boer.
"He's Ajax's best player when it comes to technique. He is very intelligent, has plenty of skill and exquisite vision. He can decide a game with one piece of magic," believes
Goal.com Netherlands
' Yanick Vos.


Expectations
Whereas Gotze prefers to unlock defences with his silky dribbles, Eriksen seems to prefer another weapon. "He's always looking for the through ball. He can create a big chance from out of nowhere," adds Vos.
The great performances that Gotze and Eriksen have already put in over the past few years have raised expectations among fans and experts. Their displays so far in their career are a sign that there's more to come. The Champions League is the perfect stage for the duo to live up to such heady heights and fulfil their respective teams' hopes.