The longest summer transfer saga for the 2012/13 season came to an end on Friday with the capture of the much sought Nigerian wunderkind
COMMENT

By Babajide Alaka | Deputy Editor
Finally, a sigh will have escaped the supporters huddled together at the Shed End at Stamford Bridge when news filtered that Chelsea have finally signed Nigerian wunderkind, Victor Moses from Wigan.
Moses joined Wigan from Crystal Palace in the second half of the 2009/10 season for £2.5 million and two years on, he has been sold for £9 million.
Wigan's site made this declaration – "The club can confirm that after four unsuccessful bids from Chelsea for Victor Moses, a fifth bid has today finally met the valuation and terms set by Wigan Athletic and been accepted. The player has been given permission to speak with Chelsea."
The Player

Moses likes to dribble, which makes him a target for fouls. He has a good right-footed shot, can be very useful in counter attacking positions and has learnt some defensive instincts by playing in Wigan's 3-5-2 formation.
Now that he has finally been purchased, will he get the playing time to further develop in the midst of the constellation of talented attacking midfielders that the Blues presently boast of? The likes of Juan Mata, Eden Hazard, Marko Marin, can all play on the wings and also like scoring. So what really is Moses bringing to the table that is not already present?
To answer that question, there will be the need to look at the qualities that he currently possesses and will be useful to the squad of the reigning European champions.
First is the fact that he is just 21-years old with so much of his career in front of him. Secondly, he will help Chelsea's squad as he is registered as an English player having represented England in U-16, U-19 and U-20 national teams.
Thirdly and I believe most importantly, he is an unpredictable player – an x-factor, a player that can be thrown into a match when all calculations have gone out of the window.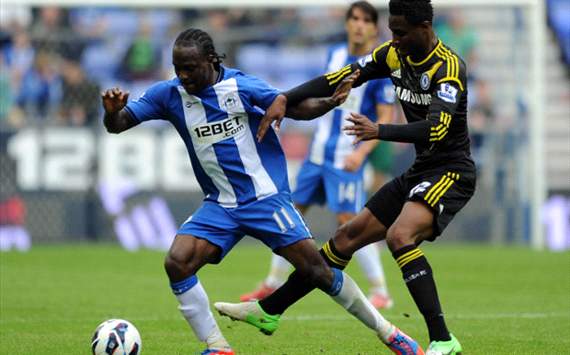 Moses and Mikel at Chelsea
For the Super Eagles, Moses will definitely become a much better player training with top players and playing in the famed Uefa Champions League.
Now Chelsea have three Nigerians in their ranks – though one of them, Kenneth Omeruo, is on loan to ADO Den Haag in the Netherlands. This development reminds one of the Ajax team that had Finidi George and Nwankwo Kanu, who won the European Cup with the Dutch giants in 1995. The two Nigerians opened the way for other players like Tijani Babangida and Pius Ikedia.
So if Moses and Mikel Obi perform well enough in Chelsea colours, the attention of the world could be re-focused on the country and football might find yet another glorious era.
Words from his managers
The man who has developed Moses to this point, Roberto Martinez said on his departure from the DW Stadium, "Victor is an incredible young man. It has been a real joy to see him grow over the last few seasons.
"We made a massive investment in him as a young man and we are very proud of him."
The man who has the task of further developing his undoubted talent, Roberto Di Matteo had this to say, "He had a very good season last year and hopefully we can progress his development.
"He can play on either wing and wing and will give the team width. He has good dribbling ability, has pace and is powerful.
"We've tried very hard to get this player. We like him very much. He's young and hopefully he'll be the future of the club," the Chelsea manager concluded.
Now for a massive club like Chelsea to have pursued Moses so relentlessly until he was signed says some things but to go ahead and say they hope he will be the future is saying another thing entirely.
Moses in the future
One thing is sure – Moses has to improve all aspects of his game if he will be considered worthy to don the blue of Chelsea continuously.
One player who has almost all the attributes that Moses currently possesses but is a more rounded player in the Chelsea squad is Eden Hazard. One moment that summarises why Hazard as a better player right now is his vision, passing and making the right decisions in decisive moments. In the 94th minute against Reading last Wednesday on a break-away and his team leading 3-2, Hazard chose to lay the ball into the path of Branislav Ivanovic to score rather than attempt to score on his home debut – that is a quality decision that will have raised his stock with his team mates.
So the Nigerian will do well to look and learn from this Belgian because the ultimate position he should aspire to is to become his team's playmaker. That is a position that will always be open to be given to the best.
All the other traits present in the little Belgian's repertoire include his being very sleight of foot – both feet and an ability to retain possession however big the opponent is.
The statistics prove that Moses was the most effective dribbler in the Premiership last season yet he has to make sure the effect of his dribbles create scoring chances for his team mates and to score. If he adds that immediately to his game, he will get enough game time at Stamford Bridge to showcase his qualities in grand style.
One is the same though – they are both 21; though Moses is just developing while Hazard, is already a more rounded footballer.
Follow Babajide Alaka on