COMMENT
By Chris Myson
Junior Hoilett
may not be a player who has occupied as many column inches as
Robin van Persie
or
Luka Modric
this summer, but he was one of the most exciting properties up for grabs on the transfer market.
Alongside Yakubu, the 22-year-old was the standout figure in the poor Blackburn Rovers side which suffered relegation last season, scoring seven times and contributing as many assists.
Constantly the source of inspiration, it always seemed that he was destined for better things, even if Steve Kean's side had avoided the dreaded drop to the Championship.
With his contract running down, it became apparent he would be leaving Ewood Park whatever the outcome of the Premier League season, and he soon had a long list of clubs admiring him.
And why not? With his contract expiring, the Canadian was available on a free transfer, with just a compensation fee needing to be paid. He has three years of top-flight experience, youth on his side, bags of ability and the versatility to play in a number of attacking positions, most notably on either wing or in the centre behind a main striker.
THE INSIDE TRACK ON HOILETT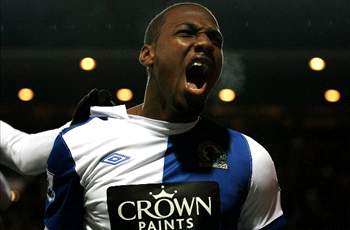 GREG STOBART, CORRESPONDENT

The battle for Hoilett's signature ended as a straight fight between QPR and Borussia Monchengladbach - but only after a number of Premier League clubs had shown interest in the exciting winger.

Arsenal, Tottenham, Newcastle and Everton - along with Rangers - were at the forefront of those interested and all made contact with his advisors after tracking his progress at Blackburn.

The four clubs all pulled out of talks for the same reason: money. Hoilett may have been at the end of his contract with Blackburn but QPR will have to pay significant compensation - as much as £5m - on top of the player's £60,000-a-week salary.

The clubs decided against it. Spurs in particular had doubts about Hoilett's consistency while Arsenal decided to focus on other wide targets, signing Germany international Lukas Podolski from Koln.
It appeared certain Hoilett would join a top-six club and Arsenal and Tottenham expressed an interest and both looked to be close to securing his signing at one stage.
In the end, though, they turned their backs on the deal, allowing the attacker to sign a four-year deal at QPR. Despite long reported interest from Borussia Monchengladbach, it was always hard to envisage him leaving the Premier League.
It is hard not to think that both Arsenal and Spurs have missed a trick in not making their concrete interest count by securing a deal. While there is a compensation fee to consider, that is only a maximum of £5 million – within both clubs' respective budgets – and the wages, while high for a young player, are still affordable.
For the Gunners this appeared to be an ideal Arsene Wenger signing. A young, technically gifted player who could be developed while immediately playing an important part in the team. The option was always there to sell him on at a profit in the future too; his value is not going to go down.
First-team football may have been harder to come by with Arsenal, but as they struggle to sign Santi Cazorla or Nuri Sahin to add more guile to their ranks, it appears they have missed an opportunity closer to home.
Andre Villas-Boas may have Gareth Bale and Aaron Lennon at his disposal, but in the latter part of last season Tottenham were caught out by the lack of high quality squad cover they had below their most important performers.
With Modric also likely to leave, there is certainly room for creative additions to Spurs' squad and Hoilett's ability to play in a number of attacking positions could have soon seen him establish himself as a key first-team figure.
For both clubs, the move made sense on paper and it was surprising when their interest cooled so suddenly.
The move may actually work out well for Hoilett's development. At QPR he can still be the key figure like he was at Blackburn, the man who his team rely on, as well as enjoying the regular first-team football in the Premier League he needs to hone his skillset.
But there must be a feeling of what might have been in the player's camp, with the opportunity to play with some top calibre players and in the spotlight having eluded him and another opportunity unlikely to emerge for the foreseeable future.
Hoilett said after signing: "Mark Hughes played a big part in my decision to come here. He's someone I know well here having worked with him and his backroom team at Blackburn.
"I signed my first professional contract under him and I will always remember that and be grateful. Working under such a great manager will help me to develop my skills and further my career.
"QPR are a club that are certainly heading in the right direction."
He will want to enjoy a couple of strong seasons at QPR, a club who themselves are upwardly mobile, and make it impossible for the biggest clubs to ignore him next time around.
Arsenal, Tottenham and others could get their chance to make a move again, but you suspect when that time arrives they will have to dig a lot deeper into their pockets and may look back to this summer, ruing the fact they did not act differently.

Follow Chris Myson on