The Yak has shown by his move to a low profile competition like the Chinese Super League that he cares more about big earnings than about his future in international football
COMMENT
By Lolade Adewuyi
When Yakubu Aiyegbeni announced that he was going to China last week, two things were obvious. One is the big pay day that awaited him in the Far East with new club Guangzhou R&F, making him the highest paid Nigerian footballer in history. The second may have signalled an end to the striker's international future with Nigeria's national team.
But this is an assumption based on the fact that players active in Europe are not making the Super Eagles team presently under Stephen Keshi.
Since his big miss against South Korea at the 2010 World Cup in South Africa, Yakubu has struggled to hold down a shirt with the Super Eagles. Though other players have missed chances, even simpler ones like penalty kicks, his nonchalant attitude to that miss that may have qualified Nigeria for the second round has counted heavily against him.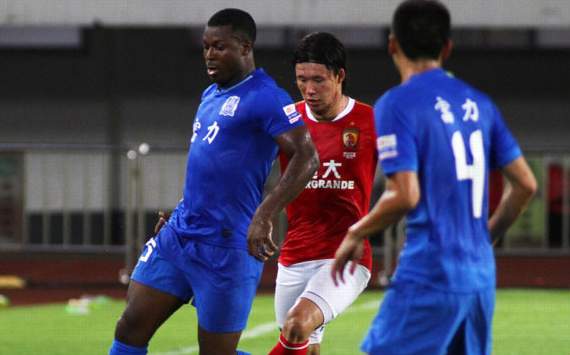 Yakubu has hit the ground running in China...
Even though his form at Blackburn was outstanding, he was not able to re-enact that form for Nigeria given the limited opportunities he's had.
Aiyegbeni has this tendency of being a lazy player - not giving 100% against African teams, that feature is doubly emphasised.
Yakubu never got an opportunity to play for the Super Eagles under Samson Siasia as his pariah status was still very fresh. Even though Siasia gave hints of his recall, public opinion against the striker was very harsh and he dropped any hope of having him back in the fold.
However, his luck changed with the hiring of Stephen Keshi for the national team handler's job. Keshi damned all public opinion and looked at the big striker's rate of return at Blackburn to give him a starting slot in his first competitive game against Rwanda in February. Perhaps due to being out for so long, Yakubu could not repay the faith placed in him by Keshi as he failed – alongside the other Europe-based players - to make an impact in Kigali during their first leg 2013 Africa Cup of Nations qualifying match.
Keshi has not looked his way since.
Officially Yakubu is 29 years-old and should be at the peak of his powers as he proved with his first goal for R&F against Evergrande in his debut on Sunday, but his move to China seems to suggest that he needs a last major hurrah for a career that is supposed to be looking up.
The striker is obviously not looking the way of his international future with the China move. Therefore, the most logical thing to do is to aim for a big money move. China is where that golden nest is at the moment and he has gone to join the gravy train.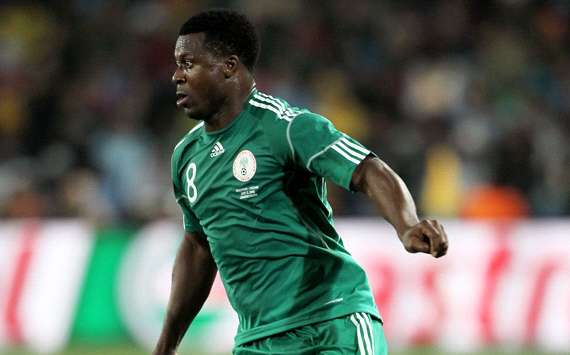 ...But may have played his last for Nigeria

Recent moves by Nicholas Anelka, Didier Drogba and Seydou Keita indicate where many top players will be earning their pension plan in years to come. The Chinese Premier League is aiming to help that huge country stake a claim in the sport and lay a good foundation for the future. A market of one billion-plus people is no child's play.
The new stars coming to China are ambassadors of football just like David Beckham and Thierry Henry have been for the United States' Major League Soccer.
However, while Drogba and Keita might still have roles to play in their national teams, Yakubu's fate is different. He has not been a part of the Super Eagles and will definitely feel that there is now no hope of a return with his move to Guangzhou. Why is one certain of that? His compatriot Peter Utaka made the move to China a season ago and has never been spoken of in that light again. Hence, Yakubu may have subtly waved goodbye to the Super Eagles of Nigeria.
While his pay has increased astonishingly – $100,000 per week – Yakubu is far from Drogba who will be taking home over $200,000 per week. The gulf in earnings is testament to the disparity in quality and class. That is why Drogba will still be relevant to the Elephants of Cote D'Ivoire as he hopes to still win the Afcon next January.
Before Yakubu finally stops making the headlines due to the remote nature of the Chinese league, it is important to wish him well and thank him for his services to his fatherland. 21 goals in 57 appearances for one's national team is a good return by any standard. Yakubu has done well for Nigeria and this cannot be understated.
We wish Yakubu good luck out in the Far East.