COMMENT
By Graham Lister
As
Arsenal
prepare to kick off their pre-season preparations on the south coast with 45-minute games in the Markus Liebherr Memorial Cup against Anderlecht and hosts Southampton, the usual anticipation at this time of the year is tinged, for Gunners fans, with an uneasy mixture of apprehension and anger.
Considering that eight years ago their team kicked off the 2004-05 campaign as defending champions in the midst of a record 49-match unbeaten league run, many Arsenal fans find it hard to accept that the club are now perceived as sellers, whose realistic expectations are no greater than another third or fourth-placed finish with attendant Champions League qualification.
True, the club now calls the impressive 60,000 capacity Emirates Stadium home, and is apparently being run on economically viable lines as Uefa's Financial Fair Play hoves into view. But there is a corrosive conflict between those obvious virtues and the evident lack of progress on the pitch.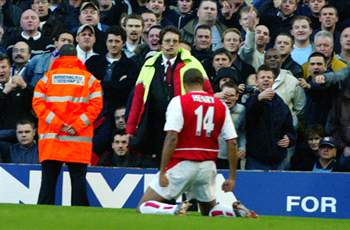 Eight years ago their team kicked off the 2004-05 campaign as defending champions
And it is the achievements of their team, rather than the opulence of their surroundings or the prudence of the boardroom, that really matters to supporters – especially those surveying the wreckage of their bank accounts after having renewed their Arsenal season tickets.
So although last season's eventual third-place finish, quickly followed by the commendably swift signings of Lukas Podolski and Olivier Giroud, suggested solid foundations were being laid for 2012-13, recent events have deflated the feelgood factor.
Leading scorer Robin van Persie's decision about whether or not to commit himself to the Gunners' cause for a few more years was always going to be an indicator of the club's current status: contenders or also-rans?
The captain's admission that he was not going to extend his contract after discussions with manager Arsene Wenger and chief executive Ivan Gazidis because "we in many aspects disagree on the way Arsenal FC should move forward" appeared to set Van Persie's ambition to win trophies at odds with the club's.
It precipitated some public name-calling between Alisher Usmanov and the current board. Viewed by some as shady and opportunistic, Usmanov is seen by many others as just what Arsenal need since Chelsea and Manchester City moved the goal-posts on an increasingly uneven playing field.
Unfeasibly wealthy and a lifelong fan, Usmanov is critical of the directors' strategy and motives, and willing to inject some of his undeniable wealth into the club if the board would alter their current course.
A growing number of fans would like to see that happen, and can't see why Usmanov and his vision are being resisted and rejected. Chairman Peter Hill-Wood's typically robust, if clumsy and inadequately argued riposte, creates plenty of heat but sheds little light on the issues confronting Arsenal.
Against this background of internal bickering and perceived drift, the captain wants out, following the depressingly well-worn path trodden by Cesc Fabregas, Samir Nasri, Gael Clichy and others.
Moreover, Theo Walcott is now being talked about as the next potential 'contract rebel'; and the club's great hope, Jack Wilshere, having missed an entire season through injury, is eerily absent from pictures of the team's training sessions, or the squad for St Mary's. Is he still injured? Will he be fit for the crucial upcoming season? The club seem to be worryingly coy about Wilshere's progress.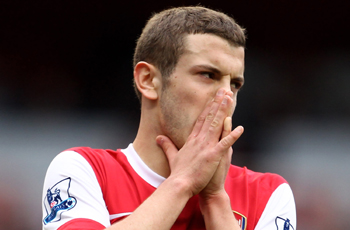 The club's great hope, Jack Wilshere is eerily absent from pictures of the team's training sessions
Meanwhile rivals such as Tottenham, Chelsea, Liverpool and Manchester United go ominously and purposefully about girding their loins for a renewed title challenge.
Since the signing of Giroud – which club scout and former defender Gilles Grimandi essentially described as an insurance policy in case Van Persie jumped ship – Wenger has been conspicuously quiet in the transfer market.
Recruiting two strikers is all well and good – but there are deficiencies in Arsenal's defence and midfield that still need to be addressed. And fans would feel a lot more reassured if decisive moves were made to bolster these positions sooner rather than later.
The unseemly and somewhat ill-planned trolley-dash in the final hours of last summer's transfer window is not something they want to see repeated.
As for those who want Wenger removed, the perennial unanswered question remains: who could Arsenal bring in to replace him? Who would do a better job within the financial constraints he is apparently working under? And if those restraints are to be lifted, why not stick with the Frenchman? After all, he's a proven winner.
There is hope too that Steve Bould – once a key member of one of football's most effective defences – will bring some organisation and discipline to the back-line now that he has ascended to assistant manager following Pat Rice's retirement. Bould certainly enjoyed success coaching Arsenal's consistently impressive youngsters.
Alex Oxlade-Chamberlain, Wojciech Szczesny, a fit Wilshere and resurgent Aaron Ramsey all offer the possibility – along with the likes of Thomas Vermaelen, Alex Song, Mikel Arteta, Van Persie if he stays to fulfil his contract, and a couple more astute signings - that Arsenal can finally turn promise into product.
But continued inertia in the boardroom will make it harder to persuade the best players to stay, and to attract more good players to Emirates Stadium, while stifling Wenger's powers of alchemy and putting the mental strength he likes to talk about to its sternest ever test.
Irrespective of results in Southampton and Malaysia, the next few weeks could tell us a great deal about the Gunners' ambition and prospects.