By Ben Somerford | Asian Football Editor
The news has spread, and now it is all but certain the curtain is coming down on Park Ji-Sung's decorated Manchester United career after seven years at Old Trafford. The tireless South Korean is finally slowing down and appears set to join Queens Park Rangers pending a medical.
So before a new chapter begins, it is time to reflect on the previous one. Park is a player who has entered uncharted territory for footballers from his continent with great success; from becoming the first Asian to win the Premier League title to the first to play in the Uefa Champions League final. Park's decorated time with the Red Devils has not only broken new ground but also opened new doors for many talented footballers from Asia to head west, and that is worth celebrating.
PARK'S UNITED CAREER STATISTICS

Season
2005-06
2006-07
2007-08
2008-09
2009-10
2010-11
2011-12
Games
45
20
18
40
26
28
28
Goals
2
5
1
4
4
8
3
Park's arrival at Old Trafford came in June 2005, shortly after helping PSV win the Eredivisie title and reach the Champions League semi-finals under Guus Hiddink. Only three years earlier, under Hiddink, Park had played a part in South Korea's run to the 2002 World Cup semis; which many argue was the catalyst for Europe's genuine modern interest in Asian footballers.
Prior to Park's arrival in England, no Korean had previously played in the Premier League, while there had been only a handful of Asians grace the top flight, such as China's Sun Jihai, Japan's Junichi Inamoto and briefly Iran's Karim Bagheri, but without any major success. The Suwon-born midfielder would soon change that, with an unprecedented impact at a top club that would win three consecutive league titles between 2007 to 2009 and lift the European crown in 2008.
Park's fitness, which saw him dubbed "Three Lung Park", along with his work ethic and movement, endeared him as a cult hero to United fans, as well as Sir Alex Ferguson, who soon made him a regular. He broke through for his first United goal in the fifth round of the League Cup - which United would ultimately lift - with a classy finish in a 3-1 victory away to Birmingham City in December 2005. Late in the campaign he would become the first Korean to net in the Premier League (he previously had a goal against Fulham taken off him by the Dubious Goals Panel), with a strike against rivals Arsenal.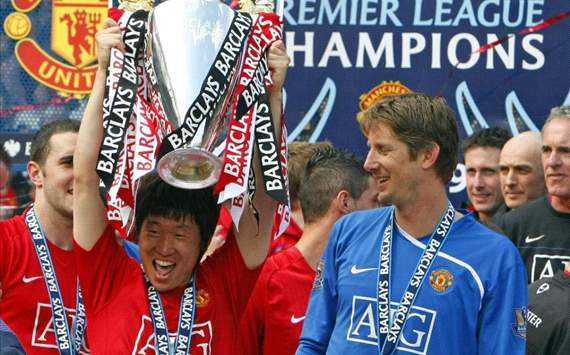 Pioneering success |
Park was the first Asian to claim an English top-flight winners medal
The South Korean's 2006-07 season was curtailed by a knee injury but he still played enough games to claim a medal as the Red Devils lifted the league title. Japan's Inamoto had been at Arsenal for their 2001-02 triumph but did not make one league appearance, meaning he could not claim a medal, thus Park became the first Asian to officially win the Premier League.
Park's Premier League triumph was only the beginning, and soon after recovering from injury the Korean was enjoying an influential role in the Red Devils' march for honours, particularly impressing with energetic performances in the 2007-08 Champions League knockout stages against Roma and Barcelona - the latter where he ran 12 kilometres during the game.
United would eventually lift the European title, but Ferguson infamously left Park out of his 18-man squad for the final, a decision the Scot later said was one of the hardest in his career. Nonetheless, for his role prior to the decider, Park became the first player from the Asian continent to ever win Europe's top club competition.
"He's got the discipline, intelligence and football knowledge you need in the biggest games ... there are some players you can rely on to keep a cool head and Park is one of them"





- Sir Alex Ferguson

The following season, having netted the crucial opener in the Champions League semi-final second leg against Arsenal, Park became the first Asian to play in the elite European final. However, this time it ended in defeat, with Barcelona triumphing 2-0. For Park's part in United's run to the final, he also became the first Asian to ever play in three Champions League semi-finals (2005, 2007 and 2008).
Park would get a second shot at becoming the first Asian to play in a winning Champions League team when United faced the Catalans again in the 2010-11 decider, but once again it ended in defeat. There was consolation for the Korean, who proved his real value in the big games with a vital winner against Arsenal and a key assist versus Chelsea, as the Red Devils won the league title that term.
The 2011-12 campaign would ultimately be Park's final at Old Trafford as they finished league runners-up, but he would reach the momentous 200-game milestone for the Red Devils, an achievement United's new Japanese signing Shinji Kagawa would do well to emulate. Throw in four league titles, three League Cups, a Club World Cup and a Champions League, and it is fair to say Park has set the bar for Asian footballers at the elite level.
Follow Ben Somerford on

Follow Goal.com Asia on

and

for the latest in Asian footballing news, features, and analysis