With pre-season finally underway a number of
Premier League
players are dusting down their boots and beginning the long road back to fitness.
So, in a special
Word on the Tweet
, we focus on the upcoming 2012-13 season, which quite honestly has us ludicrously excited - worrying given we're only a week past the conclusion of Euro 2012.
Where to start? Ooh!
Joey Barton
's tweeting again...and he has a surprise for us all...
"Pre-season break is like the school holidays. Towards the end of it you just cannot wait to get back, regardless of the semester before #QPR"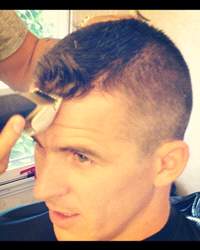 And just like a kid heading off to the new school year, it looks like his dear old mum has ordered a new haircut. Gone is the Tin Tin look. Enter, hardman
Barton
!
"Done with the quiff."
Photographic confirmation of the grade 1 all over.
"Last day before starting 16th pre season.."
Steven Reid
reminds us all that he is much, much older than we thought.
"Morning session done tough one today-quick lunch then power nap be4 back out at 4pm!"
Meanwhile on Merseyside, Toffees boss
David Moyes
has
Phil Neville
and Co. working hard. Fancy doing a six-hour day of work? These poor footballers have it so tough.
"1 year ago today I become a Liverpool player where has it gone so quick"
And over on the red side of Merseyside,
Charlie Adam
reveals his shock at lasting a year at Anfield! Careful Charlie, it may not last much longer...
"Super sharp shooter shooting super sharp shots!!!!"
We have absolutely no idea what
Carlton Cole
is going on about but we like it.
"For you guys that know where I got that line from know your drum n bass music"
And that is precisely why we had no idea. Word on the Tweet is much more a country folk music publication.
"Right! Game time! I got 30 minutes to seek and destroy! Let's get some milage on my pre season clock."
Looks as though there was a reason for Carlton's tweets - he's out on the training pitch, hunting goals.
"That awkward moment when your barber tells you... You got your first grey hair!"
But forget the football just for a moment,
Wayne Routledge
has some alarming news...!
"Watching Serena's interview before Wimbledon...what a Woman...what a Role Model...and yes.... #slightcrush...Hahaha!"
And finally,
Jason Roberts
reveals not only a fondness for the tennis, but also an attraction to Serena Williams. Shall we tell her?