ANALYSIS
By Ben Hayward | Spanish Football Editor
Technically gifted players, it is often said, do not make great coaches. Johan Cruyff may be an honourable exception to that rule, but many more fine footballers have failed when stepping off the pitch and into the dugout. Greatness on the pitch is no guarantee of success off it.
In his prime, Michael Laudrup was one of the greatest, starring in Cruyff's Dream Team at Barcelona before falling out with the Dutchman and crossing the divide to Real Madrid, where he helped humiliate the Catalan club as the inspiration in a 5-0 win for Real Madrid against the eternal enemy.
Cruyff said afterwards: "When Michael plays like a dream, a magic illusion, determined to show his new team his extreme abilities, no-one in the world comes anywhere near his level." High praise indeed, but there was always a feeling that Laudrup could give more.
THE VIEW FROM DENMARK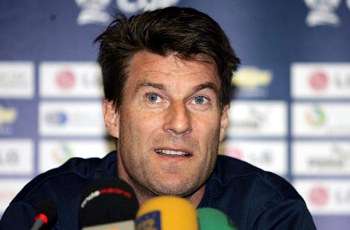 Michael Hansen: Michael Laudrup is one of the best players, if not the best, Denmark have ever seen and is considered a legend in the country.

Laudrup is viewed upon as a manager who has the same philosophy as Morten Olsen, preferring a 4-3-3 (or 4-5-1) formation. He was Olsen's assistant between 2000 and 2002 before he became a first-team manager and this has certainly influenced his view on tactics. It was also the case in his previous managerial spells for Brondby, Getafe, Spartak Moscow and Mallorca when he preferred the formation.

It is no secret that the Danish Football Federation (DBU) want him as Olsen's successor but for the time being he has to prove his worth for Swansea City.

Maybe, because he has such a big name in Denmark, Swansea will get quite a few supporters from his home country, as the media will certainly report on his time there on a regular basis.
"He is one of the most difficult players I have worked with," the Dutchman added. "When he gives 80–90 per cent he is still by far the best, but I want 100%, and he rarely does that." And Michel Platini once opined: "He was the best in the world on the training pitch, but never used his talent to its full during matches."
Now, the Dane will be judged on his work on the training pitches of south Wales. His recruitment represents a coup for Swansea, make no mistake, but it comes with a caveat: Michael must do better.
Previous clubs expected excitement on signing up the former Barca, Madrid and Juventus midfielder, but were ultimately underwhelmed by the Danish coach.
Laudrup spent a single season in charge of Getafe, during which the Azulones gained Europe-wide renown for their Uefa Cup run. That ended in the quarter-finals with a 10-man, extra-time defeat to the mighty Bayern Munich, with the Spanish side 3-1 early into added half an hour before ultimately falling heroically. Laudrup's team were praised for their ambition and audacity - they also reached the Copa del Rey final that year - but realistically it was not a great season in southern Madrid as the suburban side only managed a 14th-placed finish. When Laudrup resigned in May 2008, Getafe fans were only mildly disappointed.
Following a short spell at Spartak Moscow, where he won just four of his 14 games in charge, Laudrup was back in Spain with Mallorca. The Dane rescued a limited side from the drop but abandoned ship in September of last year, citing a poor relationship with the club's director of football, Lorenzo Serra Ferrer, after the former Barca boss had dismissed Laudrup's assistant, Erik Larsen.
In many ways, then, the jury is still out. Laudrup has been linked at different times to both Atletico Madrid and Barcelona, but has never quite done enough to be seriously considered for one of the top jobs in Spain. An affable figure who impressed with an attacking philosophy at Brondby before landing in the country where he played arguably his finest football, Laudrup is a rarity in that he retains the affection of both Barcelona and Real Madrid. A popular pundit at Camp Nou on Champions League nights, the 48-year-old is admired as a charismatic coach who enjoys free-flowing football.
In that respect, he will fit right in at Swansea, where passing and possession have become the order of the day. Results, however, must follow, if this once-great player can be considered a great coach, too.
Follow Ben Hayward on