COMMENT

By Dan Orlowitz
Tuesday night's encounter between Australia and Japan, a rematch of the 2011 Asian Cup final, was billed as the latest chapter in one of Asia's newest - and most heated - rivalries. This is the showdown that Asian Football Confederation (AFC) officials salivate over: their two highest-ranked nations slugging it out in a pivotal fixture, showing the world all that Asian football is capable of bringing. It should have been a brilliant commercial for the AFC at a time when most fans are paying attention to Euro 2012.
Unfortunately, the match turned out to be an advertisement for the shoddy level of refereeing that the confederation can offer. While the first half showcased Socceroo strength against Samurai Blue technique in a largely even encounter, the second half was marred by a series of controversial officiating decisions, each more ambiguous and infuriating than the last.
On this night it was Saudi Arabian referee Khalil Al Ghamdi who inserted himself into the action with several questionable judgements, ranging from Mark Milligan's second yellow card to the penalty kick following an alleged Atsuto Uchida foul and defender Yuzo Kurihara's eventual ejection. Incidental contacts were awarded free kicks, while free-for-all grappling in the corner was all but ignored.
Al Ghamdi, who has handed out an average of nearly four cautions per match this year, may be familiar to observers; he officiated the World Cup match between Chile and Switzerland in which nine different players saw yellow and Swiss midfielder Valon Behrami a straight red.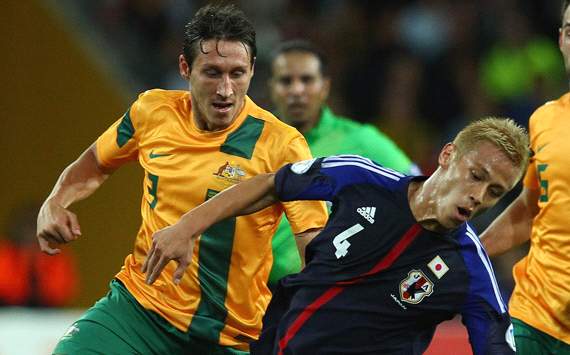 Catch me if you can |
Honda escapes Milligan's challenge before the Aussie's dismissal
The Saudi official was not above ending the match on a controversial note either, drawing the curtains down on the game as Keisuke Honda prepared to take a free kick that had been awarded just seconds earlier. The final whistle left onlookers confused, the players dumbfounded, and Japan manager Alberto Zaccheroni furious.
The Italian isn't the only coach left seeing red in this final round of Asian qualifiers for the World Cup; former Uzbekistan trainer Vadim Abramov resigned following a June 3 loss to Iran in which an Uzbek goal was not awarded by Japanese referee Yuichi Nishimura despite the ball having crossed the line.
Japan have benefited from questionable officiating as well, after Jordan's Abdallah Deeb was dismissed in a qualifier between the two countries on June 8. In the aftermath of the Samurai Blue's 6-0 win, Jordan FA president and Fifa vice-president Prince Ali Ben Al-Hussein criticised the match officiating team, vowing that improvements must be made to the quality of Asian refereeing.
Prince Al-Hussein is certainly correct, but one wonders whether or not he would be willing to make the same statements following Tuesday night's match, or if he was only inspired to speak out because his country was on the losing end of the result. For better or for worse, football in Asia is rife with cynical politics, be it the struggle for power between West Asian and East Asian nations or intra-national affairs such as the ongoing crisis in Indonesia.
"In the aftermath of Japan's 6-0 win, Jordan FA president and

Fifa

vice-president Prince Ali Ben Al-Hussein criticised the match officiating team, vowing that improvements must be made to the quality of Asian refereeing"
But while bias towards one country or another is often cited when fans debate refereeing performances, the reality is that the problem is widespread no matter how developed the domestic league or how strong the national team. And although each country's FA grapples nearly constantly for any advantage they can find, the reality is that it's in the best interest of all member nations for the quality of refereeing across Asia to improve.
The mistakes of these first three qualifying fixtures should be the beginning of a continental conversation over what can be done to fix the issue. There's no shortage of options, ranging from raising licensing requirements to increasing the number of exchange programmes between Asia and Europe. Whatever is done can surely be no worse than allowing the status quo to continue.
Perhaps in light of Tuesday's debacle, the AFC should look once again to Suncorp Stadium, which
hosted a rugby test
three days before the Australia-Japan clash. At such games, fans can purchase radio headsets allowing them to listen to uncensored audio from the match officials. While that may not be as feasible for international football, the transparency is refreshing; surely our sport will also be capable of such honesty one day.