With the players set to do battle on the pitch this Saturday, Goal.com weighs up the support from west London and Bavaria who will be cheering them on from the sidelines
By Andrew Kennedy
On Saturday evening, Chelsea travel into the heart of Bavaria to take on Bayern Munich in the final of the Champions League at the Allianz Arena.
The focus will firmly be on Roberto Di Matteo's side's quest to secure their first success in Europe's elite competition, while the Bavarians will be keen to earn some silverware in a season which has seen them pipped to the post by Bundesliga rivals Borussia Dortmund throughout the campaign.
But there are also a number of other battles going on behind the scenes, and this weekend, it will (hopefully) be on full display in the stands. That is right, we are talking which side can boast the best WAGs.
As we weigh up the best from Knightsbridge with Munich's finest, Goal.com takes you a pictorial tour of the female support on offer from the Chelsea boys and their German counterparts.
Chelsea - Christine Bleakley (Frank Lampard)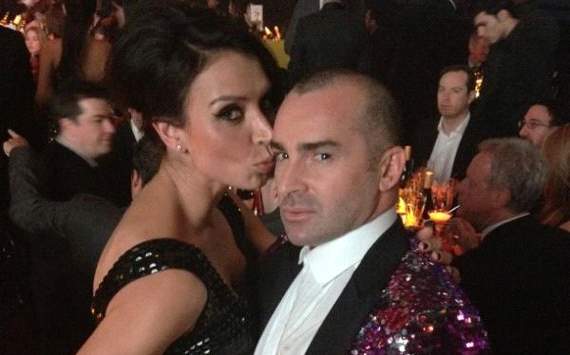 Frank! Have you seen this? Here is Lampard's fiancée Christine Bleakley smooching another bloke it seems, but there is no need for the Chelsea man to worry, as that other chap is gay icon Louie Spence – semi-famous for something … apparently.
And to be fair, the Irish TV presenter finds herself in appropriate company, with her media career taking a similar slide down the rankings in recent months to firmly set herself in the D list category. The only thing to save her from such a fate? An engagement to a Premier League footballer – smooth move Christine, and it is working a treat.
The gossip world is currently rife with rumours that the pair are set to marry in a matter of days, with this breaking development coming after the gossip world was, again, rife with rumours that Christine was looking to pay off other potential brides-to-be this summer in order to secure her dream glam wedding.
That must be music to the ears of QPR fans, who not only recently secured Premier League safety, but also spent the majority of last month's 6-1 defeat to Chelsea singing, "Christine Bleakley, she looks like a horse", in the direction of Lampard. How charming.
Chelsea - Llala Diakite (Didier Drogba)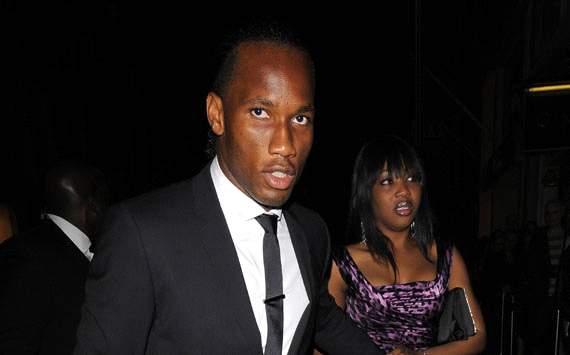 Now one man who knows how to treat a lady is Didier Drogba. Having met Llala Diakite over a decade ago in Paris, the striker remarried the mother of his three children last year in a lavish Monaco ceremony.
Not only did the Drog treat his wife to a SECOND big day, he also got US R&B singer Akon to swoon her with some soulful tunes, as well as getting his paymaster Roman Abramovich along to oversee the ceremony.
Although, Llala may not have been happy with her Ivorian husband's latest venture – appearing in a music video for saucy French singer Julia Channel, even if Didier has stressed their relationship is strictly platonic, insisting the popstar is "very professional".
What the 34-year-old may have forgotten to inform his beloved wife of is Ms Channel's former career path as an x-rated actress. Didier, you sly drog.
Chelsea - Olalla Dominguez (Fernando Torres)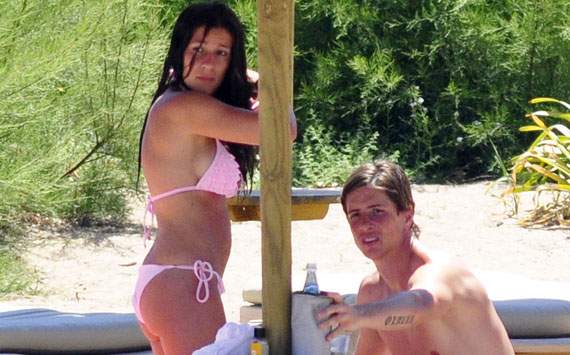 'O-la-la', is what we all think when looking at the cracking 'girl next door' figure of Fernando Torres' squeeze, and that is rather convenient, considering her name is Olalla Dominguez.
Unlike other WAGs though, Olalla seems more than content without extravagance and pomp, and her wedding to the £50 million striker back in May 2009 took place in a tiny town hall just north of Madrid, with only two guests present at the ceremony.
It is certainly lucky the town hall was small, with the 27-year-old coming in at a petite 5' 5", she wouldn't have felt out of place in the slightest.
Chelsea - Toni Terry (John Terry)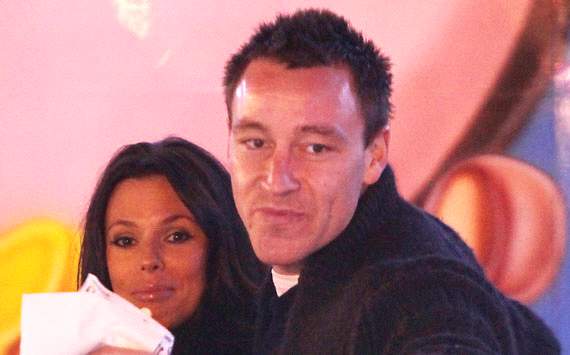 "John! I'm over here John!" You can just imagine poor Toni Terry, having to deal with her husband's wandering eyes day in, day out, especially after his lothario ways were reported back in 2010 when it was alleged he had had an affair with former team-mate Wayne Bridge's ex-girlfriend.
But, loyal as a dog, Toni opted for the lavish lifestyle she had become accustomed to and stuck by her man – and the pair have not looked back since it seems, with the Chelsea captain avoiding the numerous adulterous temptations that no doubt inundate him every day.
Following the news that JT had been indulging in some extra-marital activities, the pair put on a brave show, heading to Dubai for a holiday in the sun to show that it was all rosy for the Terry clan. Now, with a potentially career-ending racism charge hanging over his head, the days of small-time affairs must feel like a dreamy haze to the 31-year-old defender.
And while he may not be on the field at the Allianz Arena, having suffered an unfortunate spasm which made him knee Alexis Sanchez in the back, you can hedge your bets Terry will be on the edge of the touchline ready to revel in the glory should his side conquer Bayern on Saturday.
Chelsea - Martina Cehcova (Petr Cech)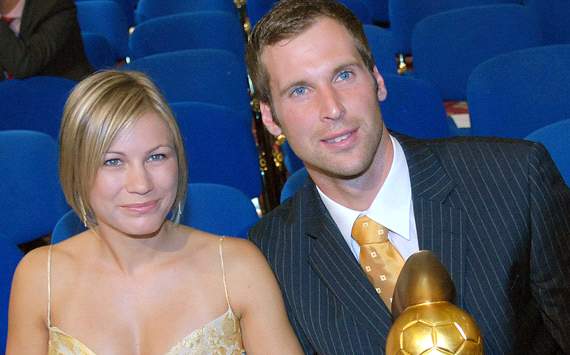 This tasty number is Martina Cechova, the wife of Chelsea stopper Petr Cech. But do not be deceived by her blonde locks and piercing Eastern European eyes – she actually hails from London. A proper local gal is Martina (although there is a fair whack of Czech blood running through her veins).
Having spent over a decade together, the pair reside in the more affluent climbs of south west London with their two young children, Adela and Damian.
Although the 29-year-old has since become famed for his headguard as much as his goalkeeping abilities, for Martina, it serves as constant reminder of just how lucky she still is to have her husband.
She describes the day Reading's Stephen Hunt crashed into Petr's head with his knee back in October 2006 as the worst of her life, with the Chelsea man needing emergency brain surgery following the incident.
Bayern - Sarah Brandner (Bastian Schweinsteiger)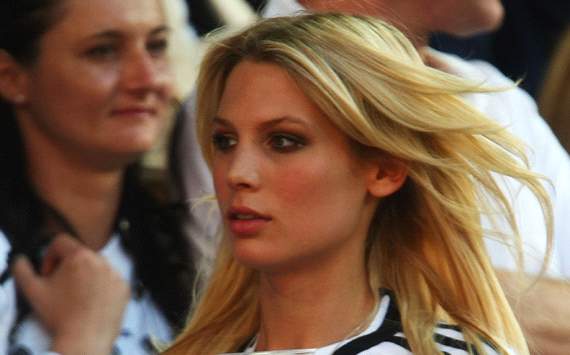 DING. DANG. DOO! Ladies & Gentleman, it is time to familiar ourselves with the delightful female specimen that is Sarah Brandner, girlfriend of Bastian Schweinsteiger.
The blonde bombshell is a model in her own right, which seems to have been a superb choice of career path, with the piece de resistance of her career so far being an appearance in Sports Illustrated's 2010 Body Paint issue.
Right, is everyone back now after that quick Google search? Bastian first met the 23-year-old in Munich, when she was accompanying heavyweight boxer Vladimir Klitschko to a social event. It is probably safe to say the midfielder was not made to fight for her affections with the Ukrainian boxer, otherwise he would more than likely still be recovering from a swift jab to the jaw.
On this evidence though, young Sarah certainly looks like she would be worth getting your face pummelled in for. Bring it on!
Bayern - Wahiba Ribery (Franck Ribery)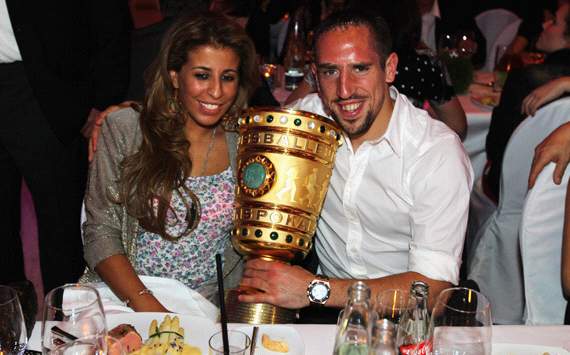 Franck Ribery might not have the DFB Pokal Cup in his grasp anymore, but he is damn lucky he still has the woman sat on his right, with wife Wahiba staying loyal to her man despite some rather promiscuous antics in recent years.
The French attacker converted to Islam to tie the knot with his sweetheart, and the pair now have three children. It all sounds like marital bliss, right? Well, apart from the former Marseille's man's reported indulgence in an underage prostitute back in 2010. Apparently, that did not go down too well.
The 29-year-old flew 17-year-old Zahia Dehar out to his birthday party in Germany, obviously under the pretence that she was 18 (a story, which to be fair, Zahia backs up herself), and enjoyed himself some £2,000-a-night rumpy-pumpy.
Despite Franck being charged with soliciting an under-aged prostitute – and of course, just cheating in general – Wahiba stood loyal to her man. Obviously seeing past his love rat antics to the man only she truly knows, and not the wads of cash spilling out of his bank account.
Bayern - Claudia Schattenberg (Philipp Lahm)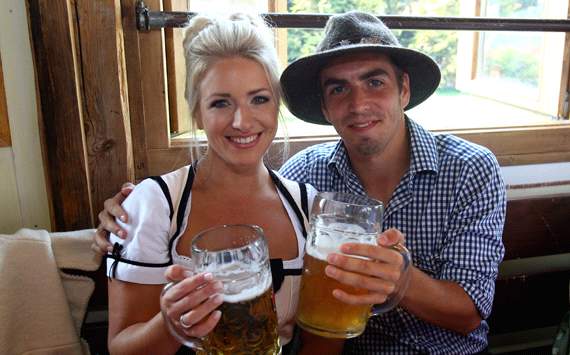 No, this picture is not a snapshot from Channel 4's latest documentary about the Amish community, but instead a timeless memory of Philipp Lahm and his wife Claudia Schattenberg enjoying a refreshing beer at last year's Oktoberfest.
The Bayern captain has certainly struck gold here it seems. Not only does Claudia get our upper lip quivering with her sophisticated demeanour, but she also loves a good pint – well, two at once judging by the size of her tankard there.
The pair tied the knot just two days after Lahm returned for the 2010 World Cup in South Africa, and it was a family affair, with Andreas Ottl, now of Hertha Berlin, the only footballer to be invited to the ceremony.
Bayern - Silvia Meichel (Mario Gomez)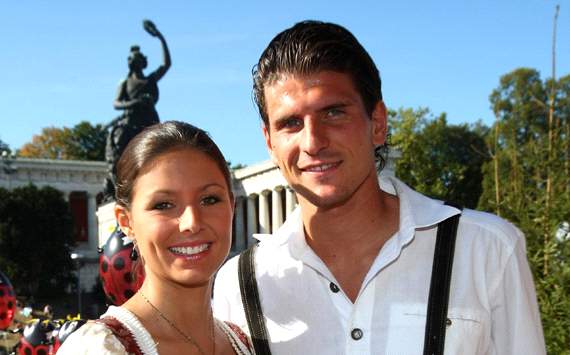 Who is this fine specimen I hear you ask? Well, this is Silvia Meichel, girlfriend of Bayern's chief goal poacher Mario Gomez – proving the big striker is just as successful with the ladies as he is in front of the net.
Yet while the vast majority of WAGs now come with beauty as standard, Silvia here also has one of the rarer traits of the modern day footballer's other half – a bit of a brain too.
The 24-year-old previously studied Pharmacy at a German university, although whether her learned years have been put into use is another question.
Silvia and Mario are a bit of a glamour couple it would seem on the German celebrity circuit, and this tasty treat probably spends most of her time pruning herself in order to keep it fresh with the German international after eight-years together – while also hoping for the day the 26-year-old finally sorts his ridiculous wig out once and for all.
Bayern - Bernadien Robben (Arjen Robben)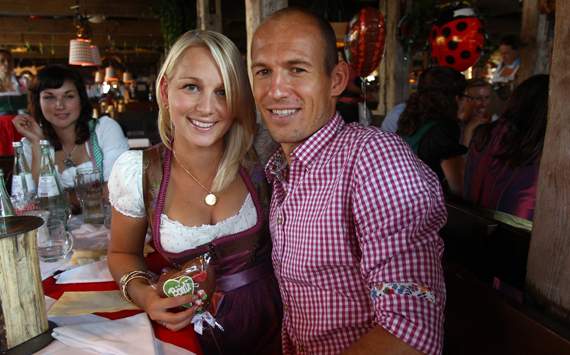 These two high-school sweethearts look like they are in it for the long term, with Arjen & Bernadien Robben set to celebrate their fifth wedding anniversary next month – a date the Dutch winger will hope to welcome with a Champions League winners' medal strapped around his neck.
So infatuated was the baldy speed demon with this blonde lovely, that he was once even late for a training session in his youth days as he tried to swoon her, something which former coach Barend Beltman recounts.
"One Friday afternoon he showed up 15 minutes past the start of practice. I asked him what was going on. 'We were at the market square, having fun', he said. There were some girls with him and his friends, so I asked, 'Was she worth it?' 'Yes, trainer, she was', he told me."
And Arjen is obviously a good judge of character, with the pair wrapped up in romantic bliss ever since.