ANALYSIS
By Kris Voakes, Clark Whitney & Nikolai Mende
When Bayern Munich and Chelsea take to the field at the Allianz Arena on Saturday night in the Champions League final, for the winners it will be the culmination of a long and difficult process to reach the top of the continental game. But two very different economic paths have been trodden off the field as the pair have embarked on the pursuit of greatness.
What makes the two models particularly stark is the beginning of Uefa's Financial Fair Play (FFP) era, because while the Blues face a realignment of their economic structure to fit within the new parameters, the German club already find themselves succeeding with exactly the kind of fiscal set-up that Europe's governing body want to see on a wider scale.
Therefore, Saturday's game could well be the biggest advert possible for the benefits FFP can have, or it could be its biggest setback. You could forgive Uefa president Michel Platini were he to turn up in Munich sporting a red and white scarf.
THE MONEY'S IN MUNICH | The top 10 in revenue since Abramovich arrived

2003-04

2011-12

1.
€259.0m
Manchester United
1.
€479.5m
Real Madrid
2.
€236.0m
Real Madrid
2.
€450.7m
Barcelona
3.
€222.3m
AC Milan
3.
€367.0m
Manchester United
4.
€217.0m
Chelsea
4.
€321.4m
Bayern Munich
5.
€215.0m
Juventus
5.
€251.1m
Arsenal
6.
€173.6m
Arsenal
6.
€249.8m
Chelsea
7.
€169.2m
Barcelona
7.
€235.1m
AC Milan
8.
€166.5m
Inter
8.
€211.4m
Inter
9.
€166.3m

Bayern Munich

9.
€203.3m

Liverpool

Figures from Deloitte
Roman Abramovich arrived at Chelsea in 2003 and immediately changed the face of football. The club's liabilities totalling £80 million (€100m) were cleared, big names were signed, a high-profile manager arrived, trophies followed, and suddenly Chelsea were one of the heavyweights of the world game. But, despite a promise to be financially self-sufficient within a decade, the Blues' business model hasn't been much better than it was during the hugely mismanaged Ken Bates era.
As revealed by finance company Deloitte's 2012 Football Money League report, Chelsea's revenue rose by only 15.1 per cent in the first eight years under Abramovich, despite a continued increase in ticket prices, further boosts in broadcasting income, and the extra commercial streams which should have been opened up by the club's significantly higher profile. Commercial revenue in 2010-11 stood at €62.8m, representing a rise of 23% on Abramovich's inaugural season of 2003-04, but a startling 33% fall from their figure in 2006-07, suggesting an inability to capitalise on increased revenue streams against the tough financial backdrop.
Stamford Bridge itself has proven a stumbling block in the club's bid to become more financially viable, and just this month the Blues submitted an offer to buy the decommissioned Battersea Power Station on the south bank of the River Thames as their search for a more cost-effective stadium continues.
Also, with John Terry the club's last youth product to become a first-team regular, and notable youngsters Josh McEachran, Ryan Betrand and Sam Hutchinson having racked up only 23 league appearance between them so far, there is uncertainty over the true effectiveness of the Blues' youth set-up.
Being associated with a winning team is much better than a failing team. Of course the Champions League will play an important role when we decide whether to renew our contract with Chelsea

- Samsung vice-president Sunny Hwang

A further potential stumbling block in their plans to grow their income is presented by the reliance on income from the Champions League. This season's sixth-place finish in the Premier League means that defeat on Saturday night would see them drop out of the elite European competition for the first time since Abramovich's reign began. This could deal a significant financial blow, with an estimated €60m at stake when considering TV distribution on top of prize money.
It would be the latest setback in Chelsea's bid to become more self-sufficient in line with the FFP regulations, as Geoff Mesher, author of Grant Thornton's Football Transfer Tracker, explains.
"Although Chelsea have attempted to be less generous than they might have traditionally been with wages, playing hard-ball over Gary Cahill's transfer and releasing high earners in Alex and Nicolas Anelka, big losses were made in sacking Carlo Ancelotti and Andre Villas-Boas which will have cost them a fair amount of money in pay-offs," Mesher told Goal.com.
"The loss of Champions League football would also be a huge hit next year, but one season would be a hiccup. If they were out for more than one year, it would be more worrying."
One of these worries for Chelsea is the potential loss of sponsorship, with kit sponsors Samsung Electronics also threatening to pull the plug on their €16.3m-a-year deal if Chelsea are only in the Europa League in 2012-13.
"Being associated with a winning team is much better than a failing team, so it's natural that Samsung should hope Chelsea can win [the Champions League]," Samsung vice-president Sunny Hwang told Bloomberg. "Of course that will play an important role when we decide whether or not we renew the contract."
This could badly affect them on the field, with the reduced income from prize money, broadcasting and the loss of a lucrative sponsorship deal potentially compromising their plans for transfer activity this summer.
But Geoff Mesher believes that the Blues could cash in on one of FFP's loopholes.
"One question mark comes over exactly how Uefa will apply the rules. We've already seen the episode of Manchester City with the naming rights of the Etihad Stadium, with people questioning whether that was at market value," adds Mesher. "There are clauses in the FFP rules to calculate the loss against the market rate, but I'm sure a lot of clubs will be massaging their figures.
"And also, if Barcelona, Real Madrid, Manchester City and Chelsea all fall foul, would Uefa risk the setup of a spin-off competition by banning them?"
It is no secret that 60% of professional European football clubs are in the red. What I do know is that Chelsea would not meet the criteria of FFP today

- Bayern CEO Karl-Heinz Rummenigge

Chelsea's story is a far cry from that of Bayern's. Die Roten's phenomenal record for producing youngsters has its roots part in luck and part in judgement. Names such as Philipp Lahm, Holger Badstuber, Bastian Schweinsteiger and Thomas Muller have all come through the ranks in the past decade as the club have taken advantage of a lack of significant competition for players in the south of Germany.
A new push to develop more Lahms and Schweinsteigers comes as part of Bayern's wider aim of paying their own way in a world game increasingly dominated by clubs with massive debt burdens. While the likes of Manchester United, Real Madrid and Barcelona have huge levels of borrowing power, and Chelsea, Manchester City, Paris Saint-Germain and Inter are funded by sugardaddies, FCB have become reliant only on the money they generate as a club.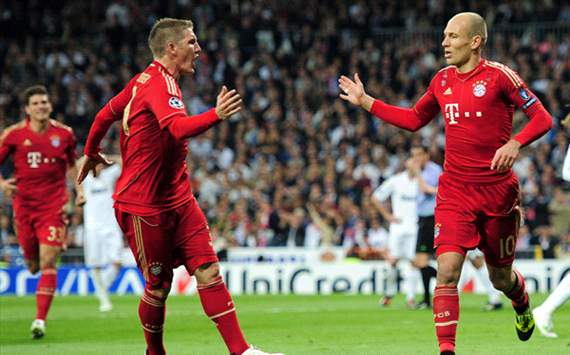 One local, two stars | Schweinsteiger came through the system, helping fund Robben
Bayern CEO Karl-Heinz Rummenigge has rightly boasted of his side's proud record on the balance sheet, and claimed recently that Chelsea will struggle to meet the criteria set in place by the first FFP deadline in 2013-14. "It is no secret that 60% of professional European football clubs are in the red. What I do know is that Chelsea would not meet the criteria of Financial Fair Play today," warned Rummenigge.
No great emphasis has been placed on broadcasting contracts at Bayern, partly because these deals have never been of such huge benefit to Bundesliga clubs as they have in the Premier League. The insolvency of KirchMedia in 2002 resulted in funds from the league's TV deal reducing to just €20m in total, compared to Serie A's then-€80m package and the Premier League's €1.024bn three-year contract with Sky Sports.
That could change somewhat this summer, with a new agreement having been signed with Sky which will increase the Bundesliga's income from €412m to €628m. But that will not allow German clubs to get ahead of themselves, with controls put in place for clubs to live within their means, and the sustainable model is one which Bayern have succeeded in using to their benefit at home and abroad.
NO COMPARISON | Transfer spending since 2003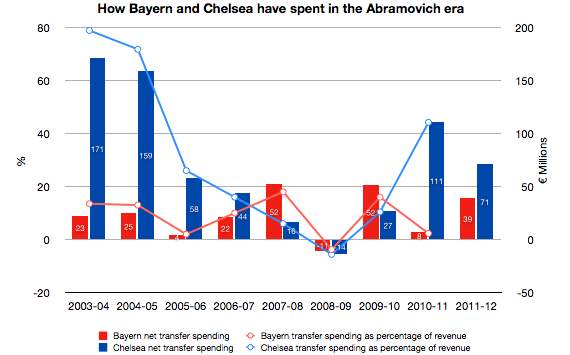 Worlds apart |
Bayern

spent less than 20% on transfers, but Chelsea splashed big
With hugely lucrative deals having been signed with Audi and Adidas, plus regular sell-outs of the 69,901-capacity Allianz Arena, there are fantastic opportunities for revenue which Bayern have exploited magnificently. In contrast to the 23% increase in Chelsea's commercial revenue under Abramovich, FCB's has gone up by 69% over the same period, with their worst return (€105.2m in 2003-04) dwarfing the Blues' most profitable year (€83.8m in 2006-07).
In real terms, it means that Bayern, who reported revenues €50.7m less than Chelsea's in 2003-04, boasted receipts €71.6m greater than the London side last season. This has been the basis, but the attitude has been very different too.
As the above graph shows, Chelsea have regularly outspent Bayern in a bid to chase the dream of Champions League glory, yet Die Roten's sound management, with their emphasis on local products and players such as Toni Kroos and David Alaba – who were both signed for pennies as teenagers, has meant that they have been able to bring in star names such as Franck Ribery, Arjen Robben and Mario Gomez without breaking the bank. By comparison, the Blues continue to splash out on the market, with Fernando Torres and David Luiz among recent costly signings after a previous spell of relative caution saw them fall behind the pack in the Premier League.
Bayern's wage bill also remains under 50% of their business volume, while the likes of Inter and AC Milan pay up to 85% in salaries. This means that the Bavarians are succeeding in a climate which still has a window open to those organisations working at a significant loss. It also means they are great examples that
Uefa
could hold up as a beacon to the rest.
One can only predict that Bayern will simply get stronger during a period in which the game's other giants will need to adapt to the new era. And it's Chelsea who are trailing behind in the battle to make clubs responsible financial entities. Throw in the potential for great losses next term, and 90 minutes of Champions League football have never been more crucial.