COMMENT
By Ryan Kelly
In the midst of the reaction to Giovanni Trapattoni's Ireland squad announcement on Monday, the soundbite of choice was to remind the Irish public that in September 2010, when Keith Fahey scored that crucial goal against Armenia in Yerevan, 21-year-old James McClean was playing for a losing team on a soggy pitch at Waterford in a League of Ireland First Division game.
Indeed, it is apt as James McClean represents a true Cinderella story; plucked from obscurity and taken to the ball. He has stolen the show in the Ireland reckoning ahead of Euro 2012, upstaging the more established and glamorous stars, but, despite the magic of his story, it would be remiss to overlook the toil and graft that got him here. He worked incredibly hard to get to earn his seat on the plane to Poland. His path to the top was, by no means, gilded.
Early Days |
McClean playing for hometown club Derry City in 2009
Early in his career, the winger had to battle with crippling shyness, an affliction, he told the
Irish Independent
, that made him reluctant to play outside his comfort zone; "I got a bit of gyp for being a bit of a weirdo," recalls the Derry man.
A product of the famous Trojans Boys football club in Creggan, of which current Derry City stalwarts Kevin Deery and Ger Doherty are also alumni, McClean eventually joined Institute FC, who were then competing in the Irish Premiership, the Northern Irish top tier. He made his one and only appearance for the Derry side in 2007 as an 18-year-old in an uninspiring 4-0 drubbing at the hands of Glentoran, before signing for Derry City in 2008.
Under the tutelage of manager Stephen Kenny, McClean soon flourished. He marked his debut for Derry City in the summer of 2008 with a goal against Bohemians in the League of Ireland Cup and his prodigious form earned him a call up to the Northern Ireland Milk Cup squad that season.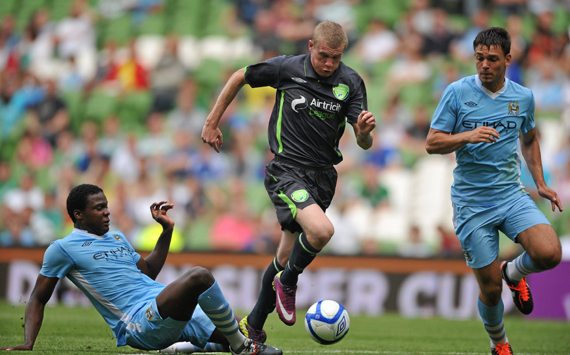 The audition |
Playing for an Airtricity League XI against Manchester City last summer
In late 2009 as Derry were experiencing financial difficulties, it emerged that League Two side Lincoln City were interested in the 20-year-old McClean, inviting him for a trial. Despite agreeing terms, McClean was still torn about the prospect of leaving home and then-manager Chris Sutton reluctantly agreed to tear up his contract.
Even though the Candystripes were unceremoniously plunged into controversy and ejected from the league in 2009, McClean snapped at the chance to re-sign for his re-constituted local club for the 2010 season. Stephen Kenny, spotting his ability and commitment, promised to build the team around his precocious young talent, who was still only 20.
The Creggan youngster rewarded his manager's faith in him by playing an integral part in Derry's immediate promotion to the Premier League.
He continued his form into the 2011 season helping to propel his club to the higher reaches of the division and drawing intense scrutiny from clubs such as Peterborough, Wigan and Reading, who were all keen to sign him.
In July of that season, McClean was unsurprisingly named by Damien Richardson in the Airtricity League XI team to take part in the Dublin Super Cup against Manchester City and Celtic. Despite not exactly living up to the hype that had followed his name in the glamour ties, McClean had done enough over the previous two seasons.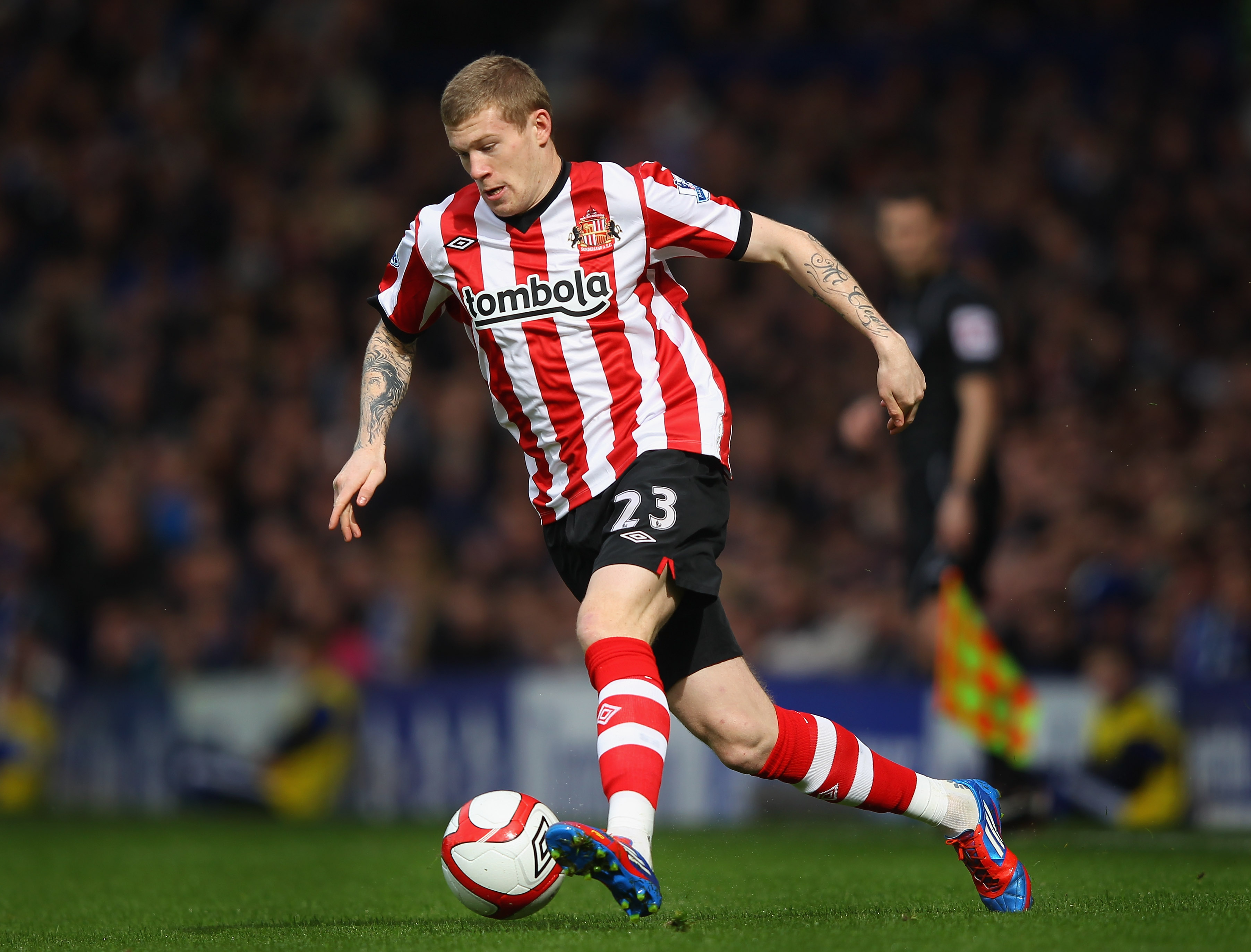 Into the big time |
Playing in the English Premier League for Sunderland
Premier League side Sunderland swooped in August and secured his signature for a guaranteed £350,000. McClean was forced to kick his heels on the sidelines during the opening portion of the season though. Adverse results had left Steve Bruce reluctant to blood the raw youngster as the Black Cats languished in the lower reaches of England's top flight.
Things were turned upside down, however, when his fellow Ulster native Martin O'Neill replaced Bruce as manager at the Stadium of Light. Recognising McClean's talent in a reserve game, O'Neill had no qualms about thrusting him into first-team duty in a December Premier League fixture against Blackburn.
He was handed a first start on New Year's Day against Manchester City and scored his first goal, against Wigan, shortly after.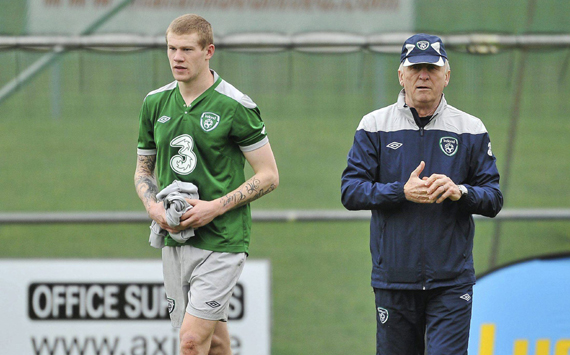 Eager to impress |
On the occasion of his first international call-up by Giovanni Trapattoni
Around the time of his Sunderland transfer, McClean switched allegiance from Northern Ireland to the Republic after representing NI at youth and under-21 level. He refused a call up to Nigel Worthington's senior panel in the hope of attracting attention from south of the border. After making waves in the Premier League, popular sentiment in Ireland demanded that Trapattoni take a closer look.
Anticipation ahead of the February international friendly against Czech Republic was built to such an extent that McClean's omission from the squad was a bitter disappointment. Trapattoni, nonetheless, relented and eventually drafted him in. His debut for the Republic, at the Aviva Stadium, was met with an electric response as he set about a 12-minute cameo against the Czechs. His ability and attitude had forced him into the reckoning for Euro 2012.
There's no looking back now.