It has been a successful season for Real Madrid, with the capital club capturing the La Liga crown to end a period of dominance by Barcelona, who had won the three previous titles. Eliminated from the Champions League and the Copa del Rey, Jose Mourinho's men have just one game left in the current campaign - their Liga clash at home to Mallorca at the weekend.
The 2011-12 season did not get off to the most positive of starts for Madrid, however, as they lost the Super Copa to a Barca side fresh off the beach in a series soured by Mourinho poking Pep Guardiola's assistant Tito Vilanova in the eye. And by the end of September, Madrid had lost to Levante in La Liga and drawn at Racing Santander. However, that turned out to be the storm before the calm as Mourinho's men went on an impressive winning streak which lasted until their El Clasico defeat at home to Barcelona at the Santiago Bernabeu on December 10.
As so often before, Barcelona made Madrid pay with a 3-1 win and a month later knocked their biggest rivals out of the Copa del Rey following a 2-1 win in the capital and a 2-2 draw at Camp Nou. That was Madrid's lowest ebb of the season and after the first-leg defeat, the Bernabeu crowd showed their frustration in the following fixture at home to Athletic Bilbao, jeering Mourinho for his negative tactics in the first Clasico. But once again, Madrid rose, moving an impressive 10 points clear of Guardiola's side thanks to another extraordinary run of results.
That advantage was cut to four points following draws against Malaga, Villarreal and Valencia, with plenty of nerves among Madrid fans as the Camp Nou Clasico approached. But Mourinho's men went to Barcelona and earned a famous victory in a match which marked a change of cycle at the top in Spain: La Liga was won as Madrid went seven points clear once more. Disappointment ensued as Real lost out to Bayern Munich on penalties in the Champions League semi-finals, with Barca having missed out on the final the night before by failing to overcome Chelsea. Nevertheless, 2011-12 marked a notable improvement for Madrid, with the capture of their first Liga title since 2008 and a second successive Champions League semi-final after six last-16 eliminations in a row prior to Mourinho's arrival at the Bernabeu.
As Mourinho often says, such success is fruit of collective work and effort on behalf of everyone at the club. However, some have shone more than others in 2011-12. Below, in alphabetical order, are
Goal.com
's three nominees for Real Madrid's player of the season, based on their club performances in all competitions. We then cast our vote at the bottom before leaving it up to you, the readers, to have your say.
| | |
| --- | --- |
| | |
Competition
Games

Goals
Assists
Booked

Sent off

League
33
20
10
0
0
Cup
5
3
1
0
0
Europe
11
7
5
0
0
Other
2
1
2
0
0
Total
51
31
18
0
0

The Frenchman has completed his metamorphosis at Madrid. Gone is the indolent and uncomfortable striker from 2009-10 and part of last season, when the former Lyon man finally took his chance following an injury to Gonzalo Higuain. This season, he has been even better: the 'cat' has grown into a lion and even relegated crowd-favourite Higuain to the bench - and perhaps out of the club altogether in the summer.
Benzema has surpassed 30 goals in all competitions, registering his best-ever season in front of goal. But beyond that, he has become the team player Mourinho wanted, linking up perfectly with his team-mates and playing his part in Madrid's carefully constructed combinations in rival territory. His style and class have left their mark on the Bernabeu and his performances have been key in 2011-12.
| | |
| --- | --- |
| | IKER CASILLAS | GOALKEEPER |
Competition
Games
Conceded

Assists
Booked
Sent off

League
36
30
-
1
0
Cup
4
6
-
1
0
Europe
10
7
-
0
0
Other
2
5
-
0
0
Total
52
48
-
2
0
The goalkeeper is used to being the support mechanism for Real Madrid, and this season has been no different, despite several well-publicised problems along the way. Punished by Mourinho in the Bernabeu Trophy, reported to have a poor relationship with Ronaldo and then later his coach, and even accused at one stage of leaking information from the dressing room, he also took criticism for his positioning when Malaga and Villarreal snatched a point each with late free kicks. Nevertheless, there is still no keeper like Iker.
He showed it in the penalty shootout against Bayern, against Sevilla with a stunning save from Manu del Moral, and in the Clasico at Barcelona which gave Madrid La Liga. He may have just lost out to Victor Valdes for the Zamora trophy, but his tremendous work both on and off the pitch makes him worthy of inclusion in this list. He has been a pillar of strength for Madrid in 2011-12.
| | |
| --- | --- |
| | CRISTIANO RONALDO | FORWARD |
Competition
Games
Goals
Assists
Booked
Sent off

League
37
45
13
4
0
Cup
5
3
0
1
0
Europe
10
10
4
1
0
Other
2
1
0
1
0
Total
54
59
17
7
0

The Portuguese has had an extraordinary season and must be in contention for the next Ballon d'Or. At times he has been superior to Lionel Messi and has broken his Liga goalscoring record from last season. In total, he is on the cusp of 60 strikes for the campaign with one match remaining and together with Higuain and Benzema, forms the most lethal trident in the history of Spanish football with well over 100 goals. He has been impressive from the penalty spot, despite two recent misses, has ended his free-kick drought and been the inspiration for Madrid with some stellar performances throughout the campaign.
Last year he stood out for his goals (53) and his winner in the final of the Copa del Rey against Barcelona. But this term, he has been even more important for Mourinho's side, hitting key goals in the Champions League games against Lyon, CSKA Moscow and Bayern (although he later missed in the shootout), as well as scoring three of his side's seven strikes against Barca, including the recent winner at Camp Nou. He has also scored against every single team bar Mallorca in La Liga, and can add the islanders to an unprecedented list by netting on the final day of the campaign this weekend.
WINNER: CRISTIANO RONALDO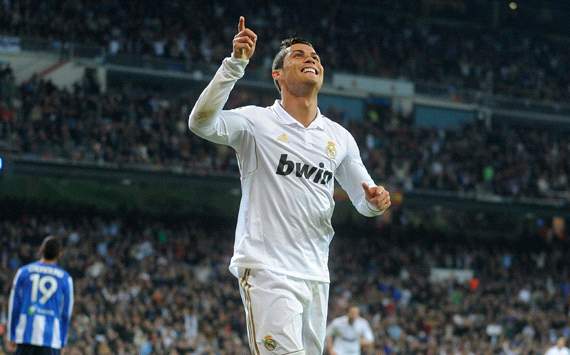 Perhaps the best player in Europe in 2011-12, Cristiano Ronaldo was a natural choice for Real Madrid's finest footballer this term. He has enjoyed his best season yet, but more importantly, has been absolutely vital for his side. In 2011-12, we have witnessed a more unselfish and less individualistic Ronaldo than in previous campaigns, with the Portuguese participating more in team moves and tracking back to defend with discipline - particularly against Barcelona. He has been the main man for Madrid in 2011-12 and without him, there would be no Liga title. Cristiano stood up to be counted this term and Real have reaped the benefits.