COMMENT
By Sergio Stanco
When predicting the potential destination of the Serie A title at the start of the season, most fans of calcio came to the same conclusion. If Juventus were to challenge for the Scudetto, two things had to happen.
First of all, opponents would have to play a defensive game, and Antonio Conte's squad would need a miracle to express the same strength of character in their football that their coach has made his hallmark. Theirs was a squad of decent quality, rather than being from the cream of the crop. It was not a collective that jumped out as obvious league leaders, and they would have to cover for apparent technical deficiencies by beating the opposition with their enthusiasm and endeavour.
With AC Milan pushing the Bianconeri right until the end, one can quite safely say that Conte went above and beyond those measures, and his Juventus side are champions because of it. Because of him.
From the very first day of pre-season training, he has changed the entire club. He has reshaped them, brainwashed them into believing they can succeed in every game, and in doing so implanted his winning mentality. "I do not think I am the best," Jose Mourinho once said, "but nobody is better than me."
Thus has been the concept by which the Pugliese coach has led his team, and judging by a phenomenal string of results which has seen them go unbeaten in the first 37 games of the season, he has managed to reach his targets and then some.
CONTE'S COACHING CAREER SO FAR
| | | | |
| --- | --- | --- | --- |
| Club | Season | League | Finish |
| Arezzo | 2006-07* | Serie B | 20th |
| Bari | 2007-08* | Serie B | 11th |
| Bari | 2008-09 | Serie B | 1st |
| Atalanta | 2009-10* | Serie A | 18th |
| Siena | 2010-11 | Serie B | 2nd |
| Juventus | 2011-12 | Serie A | 1st |
*Incomplete season
Conte has won the Scudetto at the first time of asking with Juve, with the squad to whom he made it clear from the off what was possible. Everything was. Nothing was impossible, and while the title was a dream, it was not a fantasy.
The injection of that winning mentality was just the first step on the road to success: the mister gave the team personality, character, a working ethic, confidence and a peaceful environment which had been left battered by previous management. The old way was much less productive, whereas Conte was about to prove what really could be done.
"For years I had not seen the team train like this," said one colleague who has followed the daily sessions at Vinovo intently. They are practically out on their knees."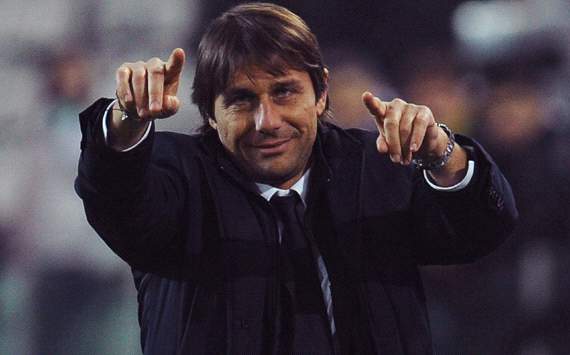 You can do it | Conte filled his team with the belief they had lacked for some years
As such, Conte was adding something to their legs as well as their minds. However, they also needed to show they had heart. And in that department, the coach virtually transplanted his own. His team never gave up, even when all seemed lost, reflecting to the dying moments the spirit of their leader.
We called it a miracle, we could have called it a masterpiece, but it is all the same. In fact, it was a psychological, physical and tactical masterpiece. He did everything that needed to be done, including switching from his deeply-engrained belief in the 4-2-4 to embrace the 4-3-3 which would find a place for Arturo Vidal, arguably the signing of the season.
It has been a job and a unit that has taken a step back in time: to when, in 1994, a young Marcello Lippi picked up a team in pieces and turned them into an unstoppable tank. Even that Juve side was not necessarily superior to its competitors, indeed, but it is in those situations where the coach can make all the difference.
To Conte we wish a career mirroring that of his mentor, but for now we limit ourselves to applauding a victory which – without fear of contradiction – is mainly his.