A great deal has changed for Paris Saint-Germain over the course of the last year, both on and off the pitch, with the takeover from QSI prompting massive interest in the Parc des Princes club.
PSG have enjoyed serious investment over the course of the last year, and they're set to spend big again this summer, aiming to repeat some of the headline captures they managed last year. Javier Pastore was the big arrival in France, signed for a Ligue 1 record fee of €42 million, but the likes of Jeremy Menez, Salvatore Sirigu and Thiago Motta have also joined up with the capital club.
Despite the influx of talent, they've found a recipe for success hard to come by on the field, and though they remain in with a chance for title glory for the first time in nearly two decades, they find themselves unexpectedly trailing an exciting Montpellier side, whose cohesion and spirit has certainly been greater than that of PSG.
Individually, though, les Parisiens boast an array of outstanding talent, who have at different times proven to be match winners. On the odd occasion they have all combined together, they have looked an awesome force.
Moreover, the title remains a distinct possibility with three matches remaining, although they will require help from elsewhere.
Below, in alphabetical order, are
Goal.com's
three nominees for Paris Saint-Germain player of the season, based on their club performances in all competitions. We then cast our vote at the bottom before leaving it up to you, the readers, to have your say.
| | |
| --- | --- |
| | |
Competition
Games

Goals
Assists
Booked

Sent off

League
32
17
7
3
0
Coupe de France
4
4
0
0
0
Coupe de la Ligue
1
0
0
0
0
Europe
7
2
2
2
0
Total
44
23
9
5
0
The darling of the Parc des Princes for two seasons now, the Brazilian has once again lit up Ligue 1 with his flair and technical excellence. While at times he seems to have been frustrated at no longer being PSG's man in the spotlight, he has nevertheless maintained a high standard with his play, earning a nomination as Ligue 1 Player of the Season.
A link between the old guard and the new stars of the PSG side, his performances have most often been match-winning for the capital club. He leads the team in both goals and assists this season.
| | |
| --- | --- |
| | JAVIER PASTORE | MIDFIELDER |
Competition
Games

Goals
Assists
Booked

Sent off

League
30
12
4
2
0
Coupe de France
3
1
0
0
0
Coupe de la Ligue
0
0
0
0
0
Europe
7
2
1
0
0
Total
40
15
5
2
0
Acquired for a club-record fee of around €42m last summer, there were great expectations on the shoulders of the Argentine playmaker. Initially he lived up to these spectacularly, most notably when he scored a fantastic volley in a 3-0 win away against Montpellier, but injury and loss of form have since disrupted his season.
While he's been criticised for not being as decisive in a passing sense as one would expect, he has come back into the team in recent weeks and has scored several vital goals, keeping the club's title dream burning.
| | |
| --- | --- |
| | SALVATORE SIRIGU | GOALKEEPER |
Competition
Games

Conceded

Clean sheets
Booked

Sent off

League
35
37
10
1
0
Coupe de France
2
1
1
0
0
Coupe de la Ligue
0
0
0
0
0
Europe
1
0
1
0
0
Total
38
38
12
1
0
Of all the new arrivals in Paris, the fans have most taken to the Italy international goalkeeper, who has fitted into life in the city with ease. If he seems to be settled off the field, he has been excellent on the park, where he has quickly established himself as one of Ligue 1's foremost goalkeepers, despite not speaking the language when he arrived.
Often left exposed by an unsteady defence, the 25-year-old has been forced to perform heroics to keep PSG in matches. Only occasionally he has made slips, and, if nothing else, has proven himself to be the best-value signing made last summer by les Parisiens.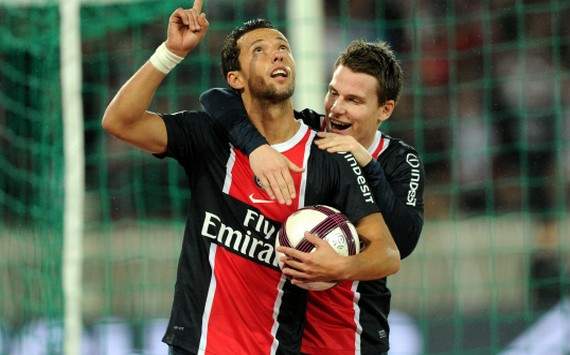 Nene has to be selected as PSG's Player of the Year simply because he has maintained a phenomenal level of performance over the course of the season, often finding solutions to problems when the other members of the squad were struggling.
At times it has seemed that he carries the offence on his own, and although he can be a frustrating individual to watch sometimes because of his egotism, it is this self-confidence that makes him such a dangerous player.
Remarkably underrated, PSG should do all that they can to keep the mercurial talent settled.