COMMENT
By Kris Voakes
Barcelona's Champions League campaign is over, and while Chelsea get set for a trip to Munich that nobody could have envisaged two months ago, the Catalans will be left to reflect on the fact it was their own inability to change their approach at the key moments which has resulted in their exit.
Just as in 2010 against Inter at the same stage, they were left playing against 10 men for the entire second half, but once more they were incapable of seeing the job through. But this time around, there was a real lack of will to take the Blues defence on, and a second-half penalty miss from Lionel Messi proved to be the moment on which the tie swung.
After Messi had twice got into good positions in the first half and failed to beat Petr Cech on either occasion, there still seemed little reason for panic in the Blaugrana ranks. The chances were coming, space was being made, and Chelsea seemed not to know how to put a stop to it.
Sergio Busquets was the man who eventually opened the scoring, tucking home after Isaac Cuenca had restarted an attack following a half-cleared corner. It levelled the tie, and moments later came the game's big flashpoint.
MATCH FACTS | Barcelona 2-2 Chelsea


Shots
On Target
Possession
Territory
Corners
Bookings
Red cards

BARCELONA
17
7
72%
82%
10
2
0
CHELSEA
5
3
28%
18%
1
6
1
Brainlessly, stupidly, John Terry kneed Alexis Sanchez in back play, and the red card which followed seemed set to start an onslaught. Chelsea's remaining 10 men looked stunned, and were soon rocked by a second Barcelona goal, Andres Iniesta firing home what most watchers expected to be the catalyst for a rout after collecting the ball from Messi. But in first half stoppage time came the first bolt from the blue.
Ramires chased on to a pass forward from Frank Lampard, and made the most of it, chipping the ball over Victor Valdes, who had run into no-man's land yards off his line. Suddenly, the Camp Nou crowd fell silent, and their goalkeeper had conceded for a second time in two legs from a grand total of two shots at his goal. And for the second time he had been at fault.
Straight after the break though, the tie should have been back on script when Cesc Fabregas was brought down by part-time left-back Didier Drogba just after the interval. Some replays suggested it may have been a soft penalty award, but it wasn't to matter. Messi couldn't convert from the spot, lashing his effort against the bar with so much force that nobody could mop up from the rebound. It was the first true sign that it may not be Barcelona's night after all.
Thereafter, it was a second period in which the pace of the home side's play dropped markedly, and there was little of real concern for Chelsea. Instead of having their backs to the wall, the Londoners looked comfortable enough. Isaac Cuenca got in behind on one occasion, but couldn't lift the ball over Cech.
There should have been more to it than that. There needed to be more energy, more invention, more incision, but there was little more than dead possession which did nothing to hurt Roberto Di Matteo's side. Pep Guardiola had few answers to the malaise, with little done to fix the lack of width and lack of ideas. At a time when they needed to prove they had something else to unlock the Chelsea defence, they just continued to do their thing, almost expecting the Blues to slip up somewhere along the line. They didn't.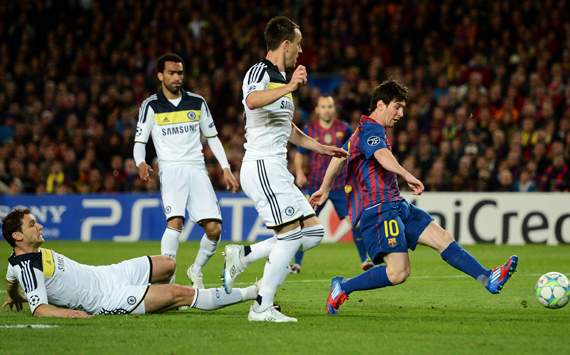 Messi fires in a shot too close to Cech | The Argentine was again short of his best
With time beginning to run thin, Messi teed up Sanchez to slot home, but the Argentine had been in an offside position. Seconds later, he thundered a shot from range off the post. It was the best they'd had to offer since the penalty miss.
Chelsea defended well, but Barca ultimately got what they deserved, and their six days from hell reached a new low in injury time when Fernando Torres broke away from his own half to clinch the tie. Their dream of back-to-back European titles has eluded them once more, and while in 2010 they went out at the same stage with a gripe over a winning goal that wasn't given, they can have no complaints this time.
Their football continues to astound most football followers, but when all is said and done, Chelsea's 10 men were not stretched as they should have been. This was a lesson in not making opponents work harder to keep you out. One of the best footballing sides in the game's long history mustered two good chances in the entire second half.
Whether Barca have been at their very best at all this season is open to opinion, but they certainly haven't been in the past week. And tonight was their nadir. They all but lost their La Liga crown on Saturday to their arch rivals Real Madrid, but this one will hurt more, and particularly because of the manner of the defeat.
Barcelona stopped themselves from achieving an unprecedented double.