COMMENT
By Ryan Benson
In the lead up to their first ever Europa League tie, there was intrigue as to whether Manchester United would go all out to win it, or rest key players for their Premier League title challenge.
But, after strong teams were named, frailties are still being uncovered. From the perspective of fans, there was a fair amount of arrogance regarding the club's chances in the competition, and perhaps that arrogance, or confidence, was justified considering the history and tradition of the Red Devils.
However, after the narrow aggregate defeat of Ajax in the round of 32, people will realise this team won't be able to stroll through to the final.
After a fairly comfortable, but far from spectacular 2-0 win over Ajax in Amsterdam, United fell to a 2-1 defeat at Old Trafford on Thursday night. Throughout the second leg the visitors looked in control of possession for long periods, with the inter-changing nature of the Dutch side's midfield and attack causing many-a-problem for United defensively.
United have often looked a little vulnerable in defence this season, with injuries playing a big part. Nemanja Vidic played just six matches in the league before he was ruled out for the remainder of the season, while Rio Ferdinand's fitness remains as unreliable as a 1990s Lancia.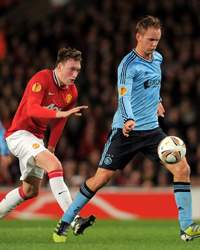 Elsewhere at the back, Phil Jones, the da Silva twins and Chris Smalling have all missed a fair number of matches, but injuries can't be blamed for poor performances and complacency as the youngsters struggle to live up to their reputations.
Fabio and Rafael are a frustrating case. Both undoubtedly have immense potential, but neither have particularly developed since arriving in 2008, therefore it remains only potential. Rafael still lacks positional nous, getting caught out either too far up the pitch, or by not realising he has an opponent running in behind him.
Time and time again he wildly dives into tackles, which although can look masterful with perfect timing, too often he fails to steal the ball. It is an example of his inability to grasp or understand the importance of discipline; something United fans would have hoped he'd have learnt following his sending off against Bayern Munich two years ago.
Fabio appears a lot more conservative than his brother in many aspects of his game, perhaps suggesting he has grown more as a player, despite his considerably more limited game time. He generally looks to stay on his feet and is far less gung-ho, but he still remains an unpolished gem.
In goal, David De Gea continues to do his best to become a wasted talent at Old Trafford. Anyone who saw him play for Atletico Madrid will tell you his ability was unquestionable, but at the moment he seems incapable of going through a match without doing something eye-catching for the entirely wrong reasons.
The Spaniard made a great save to deny Siem De Jong on Thursday, but he arguably could have done better with Ajax's winner, while he also looked lost at crosses, flapping hectically at deliveries from Miralem Sulejmani and Ozbiliz. His faults are hardly new to us, but the longer he looks out of his depth, the more playing time Anders Lindegaard will get.
Phil Jones is another who divides opinion. None can doubt his class, but few can truly tell his best position. In defence, he has arguably performed best at right-back, with his natural instinct being to advance, something he does well. But, as proven by Ajax's dynamic triumvirate up front on Thursday, he struggles to cope with inter-changing players in attack, failing to pick up various runs.
Most people would currently bet on him becoming a midfielder in the future, particularly with his surges forward much more suited than in defence, but whether he develops sufficient creativity remains to be seen.
What may worry some supporters the most is that Jonny Evans – who last season couldn't do a thing right – has probably been their best centre-back this term, certainly their most consistent. The fact Evans has been picked to partner Ferdinand - when fit - also seems to suggest Ferguson agrees, but any sloppiness in the next round could prove disastrous if they are serious about winning the Europa League.
Lying in wait are Marcelo Bielsa's Athletic Bilbao, a team that pours people forward in attack, and with players like Javi Martinez, Fernando Llorente and Iker Muniain, slack defending will be punished in an instant.
United will definitely be favourites for the last-16 tie, but the further Ferguson's team get in the competition, the more likely their complacency will be their downfall.
Follow Ryan Benson on