After another fascinating weekend of Bundesliga football, the league is still impossible to call. Bayern Munich may have dropped points at Nurnberg, but actually extended their lead at the top of the table thanks to Schalke's loss to Bayer Leverkusen.
Elsewhere, Borussia Dortmund seem to be the match-winning machine they were last season after striding to a 3-1 win over Greuther Furth, and there were impressive wins for Werder Bremen and Freiburg. As usual,
Goal.com
is here to pick out the best talent on show in Germany.
In goal, we have
Oliver Baumann
, who made a string of incredible saves to help Freiburg to a narrow win over Hannover at the AWD Arena.
In front of the 22-year-old shot-stopper stand
Dani Carvajal
, who put in the sort of performance we have come to expect of him for Leverkusen, his team-mate,
Philipp Wollscheid
, and
Timm Klose
, the rock who helped Nurnberg limit Bayern Munich to just one goal.
Another
Werkself
star to make the grade is
Gonzalo Castro
. He aided Sami Hyypia's side to control things in the centre of the park. Alongside him in midfield are
Mario Gotze
, who continued his extraordinary form for Dortmund,
Daniel Caligiuri
, who was instrumental once more for Freiburg, and
Markus Feulner
, who scored the equaliser for Nurnberg against Bayern.
The front line is spearheaded by two-goal heros
Robert Lewandowski
and
Alexander Meier
, both instrumental for Dortmund and Eintracht Frankfurt respectively, and
Kevin De Bruyne
, who netted a superb winner for 10-man Werder Bremen against Fortuna Dusseldorf.
OLIVER BAUMANN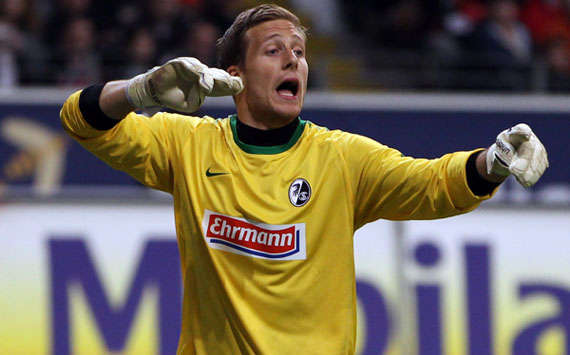 FREIBURG

vs Hannover (A)

Rating:




TOTW Apps: 1
DANI CARVAJAL

TIMM KLOSE

PHILIPP WOLLSCHEID

BAYER LEVERKUSEN

NURNBERG

BAYER LEVERKUSEN

vs Schalke (H)

vs Bayern Munich (H)


vs Schalke (H)

Rating:
Rating:
Rating:

TOTW Apps

: 4


TOTW Apps

: 1


TOTW Apps

: 2

GONZALO CASTRO

MARIO GOTZE

MARKUS FEULNER

DANIEL CALIGIURI


BAYER LEVERKUSEN

DORTMUND

NURNBERG

FREIBURG


vs Schalke (H)

vs Greuther Furth (H)

vs Bayern Munich (H)
vs Hannover (A)

Rating:
Rating:
Rating:
Rating:

TOTW Apps

: 1


TOTW Apps

: 1


TOTW Apps

: 1


TOTW Apps

: 1

ROBERT LEWANDOWSKI

ALEX MEIER

KEVIN DE BRUYNE

DORTMUND

EINTRACHT FRANKFURT

WERDER BREMEN
vs Greuther Furth (H)

vs Augsburg (H)

vs Fortuna Dusseldorf (H)

Rating:
Rating:
Rating:

TOTW Apps

: 1


TOTW Apps

: 1


TOTW Apps

: 1