EXCLUSIVE
By Nana Frimpong
"I already had contact with Sunderland through prior dealings. I had plans of arranging a match between the two clubs with the help of a friend who works as a match agent. Due to the high appearance fee requested by Sunderland ahead of the scheduled game and the brief period within which it was required to be coughed up, however, the plans fell through," Eby recalled.
"Sometime later, Dr. KK Sarpong (until recently the Executive Chairman of Kotoko) was set to visit the United Kingdom to watch England play Ghana at Wembley so I inquired from Sunderland whether or not a conference could be arranged to discuss a possible collaboration. They consented to hosting a meeting and did so quite well. With the groundwork laid, we built on it, courtesy a series of presentations and meetings with Niall Quinn (then chairman of Sunderland) where we discussed prospects available for either party from a possible bargain."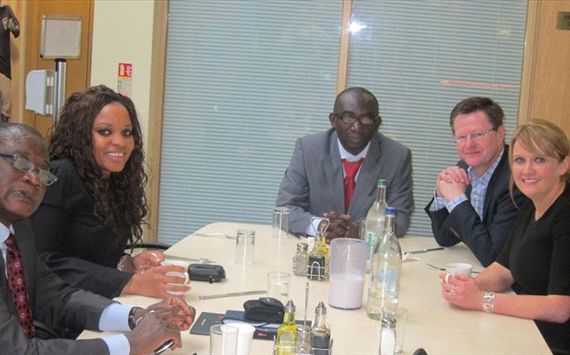 FLASHBACK
: Eby (2nd from left) at Sunderland with Dr Sarpong and Baah Nuako
The rest, needless to say, is history that Kotoko fans - and the Ghanaian football public, by extension - are quite conscious of.
Eby's association with Gideon Baah and Kotoko has opened a fine window of opportunity that she has made the most of. The player aside, she counts the likes of Isaac Amoako, David Ofei, Albert Bruce and Michael Helegbe, all of Asante Kotoko, as clients as well as Maritzburg United's new signing Yakubu Mohammed and Amidaus Professionals forward Selasi Adjei.
INTEREST IN GHANAIAN MARKET
For a female of Nigerian extraction, that Eby's taste in clientele - as can be inferred from above - is mostly male and Ghanaian does raise some brows. First, we inquire why a Nigerian seems so interested in doing business in the Ghanaian market. The explanation she gives in response sounds rather simple, though.
"I get asked this question a lot," she acknowledges with a soft giggle, and then continues:
"I started off working in Ghana and had already made quite a few useful contacts in Ghanaian football so it only seemed logical to keep going in that direction. That said, I do have plans to move into the Nigerian market at some point."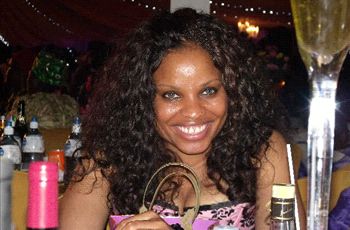 "People must remember that agents, too, work hard for a living. Admittedly, one always hear bad press about agents being greedy and only interested in lining their own pockets. This, no doubt, is true in some cases."
Nigerian football could certainly harness Eby's talents and 'links' to good effect, much as Ghana's continues to. And what about a switch to mainstream women football where she would quite reasonably feel more at home - would that prospect appeal too?
"Well, I have been contacted by a few female footballers who quite understandably reason I would be au fait with the women's game. At the moment, though, I would admit my knowledge in that regard is quite limited but I have been getting more involved lately. I have been approached by two young ladies who captained Ghana's Black Princesses and Nigeria's Falconets respectively. Then again, I have a friend in the UK who played for Chelsea Ladies and who has been 'educating' me so we'll see."
Even so, Eby believes her femininity suits her just well in her chosen line of business, perhaps granting her an advantage that her male colleagues might lack. She explains thus:
"Quite a few players have confided that they would like me to manage them primarily because I am female and thus would be inclined to display more genuinity, sensitivity and care in my dealings with them. I think we now live in a world where people are starting to accept women in football."
For someone who spends most of her normal working days as a Chemical Engineer, though, Eby's interests in football strikes as a bit curious. When Goal asked how she indulges two equally engaging occupations with such remarkable balance, she opined:
"I still work as an engineer but I fit the football management around it somehow, especially during evenings, weekends, and annual leave."
A LAW STUDENT
Quite a schedule, yes, yet as though that weren't enough, Eby seeks to add a third distinct field of expertise, Law, to the already improbable mix. Again, Goal inquired and Eby, ever-ready with a good answer, was quick to draw a fine line between football and law.
"I decided to study a few modules to help with my football business as I gradually figured just how a better understanding of the law would enhance my ability to represent my clients satisfactorily."
In view of Eby's chosen area of specialty - which inevitably involves the transfer of African talent to Europe - and the legal complexities that often surround such deals, it is not too difficult to see why she is inclined to think that a law degree could come in handy at some point. That, of course, raises another question: besides being African, why the choice to represent African players exclusively?
"Well, many are the stories told of African players who have been promised paradisiacal lives in Europe yet eventually end up either conned or stranded. In the wake of these disappointments, most are unable to return to Africa due to sheer embarrassment or a simple lack of the means to do so. Quite a few probably even continue to live in these Western lands albeit illegally."
Eby illustrated her point with a real-life scenario she got involved in. "I had a young player approach me for advice after his mum had paid some $400 to an 'agent' who promised to secure for him a move to Manchester City. He even sent me a copy of the invitation letter he had been given as guarantee, which I duly forwarded to City just to inform them of what was going on. I tried to track down the agent but only succeeded in confirming what I had suspected all along: that he was a fake who worked under an identity stolen from FIFA's list of certified agents available on its website.
"Also, a lot of African players stop schooling at an early age, thus making mere reading and comprehension of contracts challenges in which most require assistance."
| | |
| --- | --- |
| "If you see me 'hovering' around any footballer, it is purely work-related. There are only a couple of footballers that I can call up and say, 'What's up? You wanna hang out?'" | |
Well, that is not even the worst part. Apparently, the players are not the only victims in all of these, as Eby explained. "Some clubs seem barely aware of their legal entitlements. I have assisted colt clubs in recovery of Fifa solidarity contributions - fees selling clubs are obliged to receive from the transfer of players they groomed - from mostly bigger clubs who purchase, as they are either wholly uninformed of what they are due or how to claim it."
Much as Eby's intentions as highlighted above remain noble, she does not hesitate to remind readers of what every players agents' primary concerns are, and she does so -hardly unsurprisingly - with a knowing smirk.
"People must remember that agents, too, work hard for a living. Admittedly, one always hear bad press about agents being greedy and only interested in lining their own pockets. This, no doubt, is true in some cases."
Even so, Eby does not miss the opportunity to hold herself and her lofty standards up to the light and explains just why the stereotype of the players' agent - greedy, money-sucking parasite – does not suit her.
PLAYERS' WELFARE
"If I was in it only for the money," she reveals, "I wouldn't even be working in Africa. I would be managing the young players that have approached me in the UK where business is much more lucrative and less stressful. I have read about players who have made money and lost it all through mismanagement."
She added: "A footballer's career doesn't exactly last as long as those of other professionals, hence the need for putting plans in place for the rainy day. Occasionally, I do read through contracts for players just to advise them on what they should request from their agents and/or new clubs before consenting to offers."
Commendable as those deeds are, Eby's interests in her clients' welfare goes even further.
"I also believe in young players getting at least a basic education and was assisting one of such to get through school yet he showed greater interest in football and I regularly received reports of how he frequently skipped classes. I genuinely love and enjoy player management for it gives me much delight to see what a big difference just a little help can make."
RELATIONSHIP WITH SUPERSTARS
For all her fine work, however, Eby's style and personality does not appeal to all. To the dissenting few, what irks them about the agent is her perceived 'hovering' around superstar footballers. We asked Eby what she thinks of being labelled a glory-hunter. "Call that a perk of the job," she remarked dismissively. "If you see me 'hovering' around any footballer, it is purely work-related. There are only a couple of footballers that I can call up and say, 'What's up? You wanna hang out?'"
And then comes the sucker punch.
"I am very careful in this industry being female because it is very easy for 'busybodies' to soil your hard-earned reputation. I am very simple and like to keep myself to myself.
"Besides, I don't really listen to rumours and couldn't care less about what people say. I believe I would end up living a pretty miserable life if I lived as others desire. As long as I am making a difference and minding my own business, I am content. Always listening to what others have to say can be counter-productive anyway. So, then, who cares? Let them talk!"
And thus with that strong-worded statement, our latest and final interview session gradually winds to a conclusion, but not before probing into why she uses the brand name 'The Black Doll'.
"Well (laughs), I have had people tell me I look like a doll when dressed up and I remember joking over it with one of my English friends. She actually named me 'The Black Doll'. I liked it and decided I would use it as a brand name one day."
There you go, then. For Eby's Twitter followership and others occasionally befuddled by the slightly unusual alias, well that is the story behind the name.
The story behind the woman Eby; the story of a Black Doll.
CLICK TO READ PART ONE HERE
Follow Nana Frimpong on

Goal Ghana has its own

and

account, so for all the latest news and features on Ghana football follow us by clicking on the above links