EXCLUSIVE
By Olanrewaju Ayodele
Levante forward Obafemi Martins has disclosed that he is ready to score for Stephen Keshi in the upcoming international friendly against Venezuela on November 14 in Miami. Martins who was recently handed a call up by Keshi due to his blistering form at Levante, where he has scored four goals in six league games, speaks to Goal.com about football, family and settling down at his new club in Spain.
Oba how is life in Levante?
I'm really fine, and I thank God almighty things are going the way it was planned. I'm really happy and now I have shown to the whole world that I still have the magic of goal scoring and I still remain Eagles' weapon of mass destruction by scoring great goals for my new club side Levante.
You never played in La Liga, this is your first time and you have settled down very fast, how have you achieved this?
It's God, and also prayers and hard work, with advice from my family and my best friends - Toyin, Seyi Golden and Zulu and Peter. At first it wasn't easy because I had never been to Spain before and I don't speak their language but the game of football is all about believing in yourself, if you have the belief in yourself you will always move forward to achieve things.
Do you speak Spanish now?
Lol, no I speak Italian, but I'm learning little by little because I just recently enrolled myself into a Spanish school, so I'm learning now.
What about food and the atmosphere there?
I eat Italian and Nigerian delicacies and my friends are here with me in Spain – Peter and Seyi - so with them I have been able to settle down very fast, and speaking my local language to my friends.
The biggest game of your career should be when you play against Real Madrid and Barcelona soon.
I can't wait to face Messi, Ronaldo, and Mourinho because they are the real actors of the game in Spain, and I hope the day will soon come. I hope to play the best of football against Barca and Madrid.
Four goals in six league games…
It's hard work my brother, it's not easy.
Have you set any targets for yourself this season?
Not at all, just taking the games as they come, that's football for you, I don't want to rush myself at all, with God all things are possible.
And you are back in the Super Eagles after about one year and half out.
It's a long story, I have always told anyone that I remain Obagoal, and have never changed. It was hectic playing in Kazan, Russia. I didn't enjoy my playing time at the club due to some problems, the coach playing me in a wrong role, but everyone can see now that if you give me a starting role in the right position I will score. I'm happy to be back in the Eagles and I appreciate Keshi for giving me this opportunity and I promise I won't let my fans down. I'm really thankful, what happened in Rubin Kazan, it's an episode of my life I don't want to go back to anymore.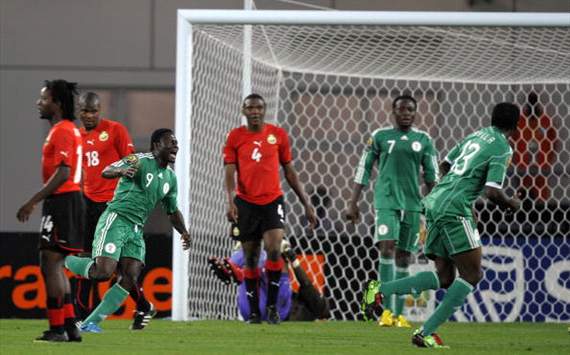 Obagoal| Stakes claim for Nigeria Afcon place
The Super Eagles are drawn alongside Zambia, Ethiopia and Burkina Faso in the 2013 Africa Cup of Nations, is Oba ready for the Afcon?
I'm fully ready and I can't wait to be part of the team. Eagles is my first home. We will shock Zambia, they won the last nations cup, but Nigeria wasn't there. For Ethiopia and Burkina Faso we shouldn't underrate them at all. But I know Eagles will soon rule African football under Keshi.
You have never played for Keshi before, this will be your first time
Oh yes, we have never met, but we have always spoken on the phone, he is the Big Boss and I respect him a lot. He has been there for the Eagles as a player and now as a coach, he has seen it all, and I am ready to play under him, and score goals for him.
Do you see the new Eagles fly higher at the Nations Cup?
Of course, we are blessed with stars, now we have the mixture of the home based and the professionals, and why not, the Eagles can always fly higher and put smiles on the faces of Nigerians.
There are widespread reports that you are not in good contact with your family, is it true?
I really know where you are going to, and I must tell you, it's all rumours. What you guys read on the internet, it's the work of the enemies. I'm really happy with my family and things are good, I love my family and I'm committed to them anytime because they made me what I am today. I'm not bothered about rumours, when you are a star you will always hear sad news and good news about you, the most important thing is that I'm back to full form, and I'm committed to the Super Eagles, my family and Levante.
Ahead of Nigeria vs Venezuela, what are your thoughts?
I can't wait to be part of the game, I'm looking forward to leading the Eagles to success in the friendly game, and I hope with God on our side, we shall spell Venezuela.
And finally to your fans
I just want to tell them I love them all, and thanks to all my Levante fans too, I appreciate them. They can always reach me on Twitter, I appreciate them. God bless Nigeria, God bless Super Eagles. One love to Goal.com Nigeria.