EXCLUSIVE
By Lolade Adewuyi | Chief Editor
Levante striker Obafemi Martins is brimming full of new life. Following a very low period in his career where he looked set to end it all in the backwaters of the Russian league, the 28 year-old forward has since rediscovered his prowess in front of goal.
His new lease on life could also be adduced to the fact that he's found love in the form of gorgeous beauty Abigail Barwuah, Italy and Manchester City striker Mario Balotelli's sister.
The last time I interviewed Martins in May, the striker's career was headed south. He was unsure of his future but knew he needed to do something about it. The promising career of the talented footballer had become a burden. The goals had dried up and his place in the Rubin Kazan squad was threatened. He had also been forgotten by the handlers of the national team.
However, Martins took a big step in saving his career, he took a huge pay cut (it is speculated to be from an annual salary of two million euros to just 600,000 euros) to move to Spain and play for Levante, little known in these parts before his move. Less than six months in the region of Valencia and Martins seems to have taken in the Spanish sunshine and scored six goals in 11 matches.
"I'm busy playing now and scoring goals, so I'm happy," Martins told Goal.com at his residence in the upscale Victoria Garden City on the outskirts of Lagos.
I remind him that the last time we talked he was still in Russia and it looked as if his career was coming to an end. Six goals in Spain and things are looking up for him, how did it happen?
"You know as a footballer, you can't expect everything to be going up all the time. When things are difficult you try to sort it out yourself, you try to push yourself back up.
"What I did was I made the decision to leave Russia and I'm in Levante now scoring goals. I wanted my fans to know that I can still play and do well, that's why I left Russia.
"I chose the favourite team which is Levante and the pay cut was very big. I lost a lot of money because I love football. I have a passion for football that's why I did it. And now I'm glad I made the decision and I've been playing now."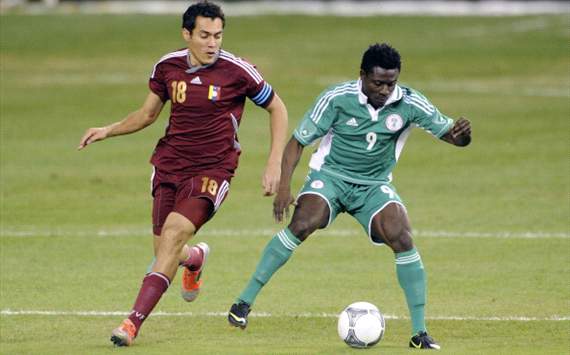 Nigeria vs Venezuela | Martins returns to the Super Eagles
He's gotten a look in from Nigeria coach Stephen Keshi who called him up for the November friendly against Venezuela in Miami, USA. Even though he didn't make the list of 32 for the final camping ahead of next month's Africa Cup of Nations, the striker has a lot to be thankful for.
"When they want to judge they can't judge me with the Venezuela game because I played against [Real] Madrid, we played around half past Nine and finished around half past 12.
"Before I went to the airport it was around four in the morning and I took about an eleven hour flight to Miami. After a day or two we played again. We're not machines, they can't expect me to give 120 per cent.
"Even [Cristiano] Ronaldo and [Lionel] Messi can't do it with the flight. If that's the reason they didn't choose me, that's their decision. Right now I'm happy that I'm playing again and people can see me so I'm not really bothered. When they want to call, they'll call and if they don't I'll face my club and play."
In these past few months he has played against the two big Spanish teams – Barcelona and Real Madrid – and their stars Ronaldo and Messi, arguably the two best footballers in the world at the moment. Even though Levante lost against both teams, it was a good experience.
"I used to play against them anyway - when I used to play in England I played against Ronaldo, and Messi in the Champions League when I used to play at Rubin Kazan
"They are good players and their teams are wonderful teams, they are not small teams that you can defeat easily. They are good players and are doing very well.
"Whenever I play against them I always see them as among the best players in the world. Everybody wants to play against them. I'm glad that I'm in Spain now playing against all these top players and teams and I hope to continue what I've been doing."
Martins goes diplomatic when I ask him about his choice for the Ballon D'Or, football's annual award for the best player in the world. Ronaldo, Messi and his Barcelona team mate Andres Iniesta are all up for the nod.
"It doesn't matter who they are going to choose right now, for me I just want to play football to be happy," he said.
When I prod him to make a choice, he said: "I'll choose the three of them" as we both laughed out loud.
When it comes to love, Martins is not one to make his relationships public. But in the past few weeks, the blogosphere has been active with news that he's dating Mario Balotelli's elder sister, Abigail. For someone so private, the decision to make it public must mean one thing, he is smitten with her.
"That's my personal life anyway, but I've been seeing some blogs saying we're getting married, saying she had a kid, for me that's bulls**t. People are just twisting things up. I don't understand why they are doing that.
"The relationship is true but getting married or not, we haven't discussed anything like that. She's upstairs and we're happy together."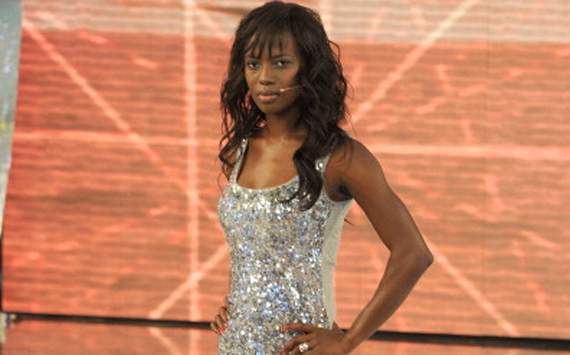 Ghanaian beauty | Martins' girlfriend Abigail Barwuah
He also dismissed insinuations that Abigail's younger brother has kicked against their relationship. Abigail, 24, told the The Sun in an interview in April that she couldn't date a footballer: "Mario wouldn't let me anyway. He knows only too well what they are like. They are surrounded by women. Girls throw themselves at them."
But Martins responded: "Mario is my boy. The respect is there because I used to play in Inter Milan, in the youth team with him. He's giving me my respect and I'm doing same. People are putting it in the news that he's upset, of course he's glad.
"He's glad that Obafemi Martins is dating his sister. But if he gets jealous then it means he doesn't want his sister to grow. But it's not like that. The boy is not a bad boy, trust me, he's not a bad boy."
Martins himself has been cast as a bad boy by the media in times past. Often seen in night clubs during his vacation, he shakes off that image.
"No chance I'm not a bad boy! When it is time for me to have fun, I have fun but not having fun getting drunk. They've never seen me get drunk in this Lagos.
"I drive back home all the time. They can see me in the clubs but it doesn't mean I don't know what I'm doing.
"It's good that they can see Obafemi Martins in the club than me just staying at home and my fans can't even see me.
"I went to D'banj's [Koko Concert], there were no bodyguards. I just walked on my own, it's fun to me," he said.
If he would be announcing an engagement to Abigail soon, he didn't say as he wants to focus on football for now.
And he had a word for the national team ahead of the Afcon: "They have a good team but if I join it, maybe it would be great. They've got players that can win it. And I wish them the best of luck."