COMMENT
By Ben Hayward | Spanish Football Writer
"We have built the house," said Carlo Ancelotti. "Now we have to decorate it." The Italian coach was referring to the firm foundations laid at Real Madrid since he took over from Jose Mourinho in the summer. And on Wednesday night, three artists added expression to efficiency to make Madrid marvel in their quest for the prize they once called their own.
For many years now, it has been all about
La Decima
- a 10th title in Europe's premier club competition. Mourinho came close, leading Real to three successive semi-finals in the Champions League. "That was not at all bad," Ancelotti added this week. But it wasn't enough.
Mourinho's Madrid saw their
Decima
dream end against Bayern Munich in 2012 and versus Borussia Dortmund last season. Real have traditionally toiled when facing German rivals and the Spanish press even called it a curse. On Tuesday, the curse was crushed.
Schalke are no Bayern and no BVB, of course, but Madrid made a statement on Wednesday as Gareth Bale, Karim Benzema and Cristiano Ronaldo ran riot in Gelsenkirchen and Real ran out 6-1 winners.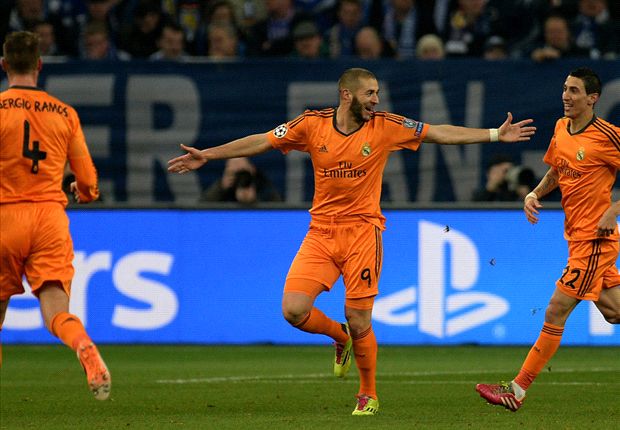 Orange crush | Benzema continued his fine form with two more goals for rampant Real


It was akin to a training exercise and Madrid's trio of fantastic forwards linked up at will: first it was Bale and Cristiano for Benzema to score the first; then the Welshman invented a stunning second; Ronaldo subsequently added a third at long last after he was set up by the former Tottenham man; later the Frenchman scored another; and finally the Portuguese (who also claimed two assists) rounded goalkeeper Ralf Fahrmann to make it 6-0.
Quite an exhibition. And even though Klaas-Jan Huntelaar hit a spectacular consolation in added time, it barely took the shine off of what was a sublime show from Madrid. All it meant was that Iker Casillas conceded for the first time in over 950 minutes to bring that particular record to an end.But this Madrid side are chasing many more - and this was the 27th game unbeaten in a streak which is already the second best in the club's illustrious history.
"I'm very happy," the Italian said. "We have worked hard for this." And Ronaldo added: "It's not only the 'BBC' (Bale, Benzema and Cristiano) scoring the goals - it's the whole team contributing: Iker too, the defence... congratulations to the team."
Madrid have their feet firmly placed in the quarter-finals now and Ancelotti's side are also top of La Liga, while they also fierce foes Barcelona in the final of the Copa del Rey next month.
It's all coming together for the capital club and if Madrid's 'BBC' trio of Bale, Benzema and Cristiano continue to express themselves as they did on Wednesday, the decoration Ancelotti speaks of will arrive in the form of trophies at the end of this season.
Follow Ben Hayward on