ANALYSIS
By Chris Myson
The eyes of the continent were on
Celtic
for a time during last year's Champions League group stage.
Neil Lennon's side had recorded a dramatic 2-1 victory over Barcelona, a side who were still widely recognised – before they were humbled by Bayern Munich in the semi-finals – as the best team in Europe.
It was a glorious story for a Celtic outfit who had been out of Europe's premier competition for half a decade and one that was made all the more romantic by the decisive goal being scored by Tony Watt.
An uncharacteristic mistake from Xavi had allowed the then 18-year-old from Coatbridge to race in behind Javier Mascherano and fire past Victor Valdes to spark ecstatic scenes from the deafening home support.
But this was much more than just a youth product making it big, it was the completion of
an incredible and storied rise
to the top of the Scottish game for Watt. Just three years before, he had been playing the game for fun and had not made the breakthrough to even the lower levels of the game.
His chance eventually arrived at part-time Airdrie United, where he made his name, but playing on a part-time contract he had still been working in an office at his local council less than two years before the goal against Barca.
He had eventually been forced to quit his council job when his bosses made him choose between football and work when he was invited down to what proved to be an unsuccessful trial with Liverpool.
Rangers had also been interested but it was Celtic who eventually made the move for him and their Champions League campaign coincided with his prompt rise from the club's youth system into the first-team picture.
He had scored two goals – both on his debut - in three games at the tail end of 2011-12 and became a first-team option in 2012-13. He had already scored six goals by mid-November and established himself as the main understudy to star striker Gary Hooper.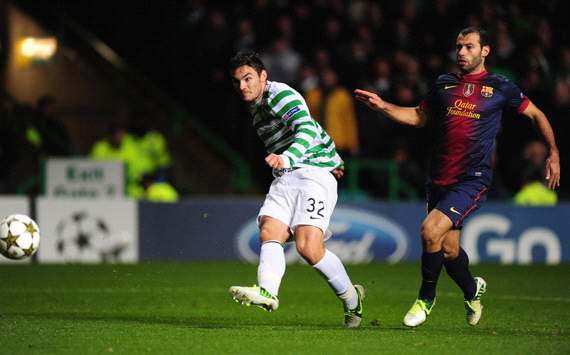 Watt a strike | The Barcelona goal made him an instant hero in Glasgow
The famous goal against Barca, after coming off the bench, was followed by another strike in the Scottish top-flight against St Johnstone four days later.
What had already been a memorable week for the youngster got even better when he was rewarded with a brand new four-year contract. He was a key part of Celtic's plans for the present and the future. The only way, it seemed, was up.
But sadly for him, as Celtic look to beat the odds and seal a repeat result against Barca this year, Watt will be nowhere to be seen in Glasgow.
That is because, despite the sale of Hooper to Norwich City, Watt was sent out on loan to Belgian club Lierse at the end of this summer.
Their coach, Stanley Menzo, was seemingly unimpressed with the condition of the new arrival, branding him "lazy and unfit" just three weeks after he joined, saying he did not make the most of his talent and went as far as saying he was taken aback by the player's physical condition.
In less than 12 months, things have tumbled downhill quickly. On the pitch, after signing his new contract, there was not even one more Watt goal. His last for Celtic was that strike against St Johnstone on November 11.
He played 14 games in that goalless spell and struggled to make an impact, often being restricted to substitute appearances as Celtic raced to a league and cup double, with Hooper and the returning Anthony Stokes impressing towards the end of the campaign. This year, he made another three scoreless appearances.
"The first thing I said after the game that night was that I don't want it to be a millstone around his neck. He may forever be remembered for that goal"

- Neil Lennon

As well as lacking goals, he also struggled to cope with his new-found fame and wealth. It is difficult for any young player being thrust into the spotlight, but for Watt in particular, whose rise was so rapid, the adaptation period appears to have proven particularly tough.
His lack of progress and development on and off the pitch has frustrated the club and come as a surprise after he initially worked hard to make such a strong rise to the first-team picture.
Sources close to the player suggest attitude problems both on the training ground and in his personal life have been an issue, with even Lennon himself admitting that goal against Barcelona has had a negative impact on his mindset.
After Watt was blasted by Lierse, the Celtic boss told reporters: "I am disappointed Stanley has made it public, but he obviously felt the need to do that. Hopefully Tony will take that on board. He has to apply himself better.
"Psychologically maybe the goal affected him. The first thing I said after the game that night was that I don't want it to be a millstone around his neck. He will be remembered, forever maybe, for that goal, but it doesn't mean he can't go on to have a good career."
Watt himself says he is disappointed not to be playing but will be watching his Celtic colleagues in action against Barca from his flat in Belgium, like he did for their tie against AC Milan two weeks ago.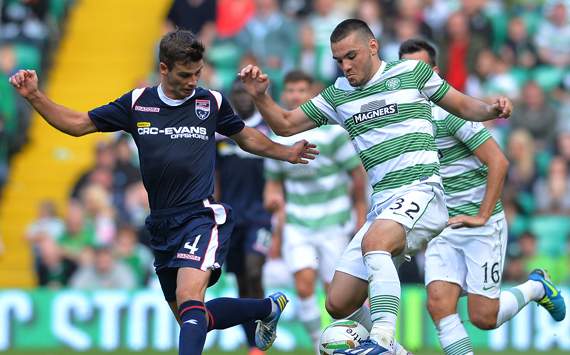 Out of the picture | Watt only started once this season before being loaned out
He told the
Scottish Daily Mail
: "Of course I wish I was playing against Barcelona. I will be watching the team and cheering them on, even though I'm not there anymore.
"With the goal, I can just remember seeing Valdes and it was like one of those moments when time slows down. I thought 'What is going on?' and then 'Can I do it?'
"The next thing I remember is running away and knee-sliding in the corner. After that, I can just remember 60,000 people singing my name and thinking 'F*** me! This is it - the most perfect moment of my life!'
"Everything changed. Wherever I went someone would speak to me. It was hard to handle when people started saying to me: 'You are a one-hit wonder'. It did affect my confidence and I did struggle but that doesn't really bother me anymore.
"I have done other things at Celtic but people only remember that goal. I don't want to be known only as the boy who scored against Barcelona. I just felt like this big spotlight was on me and it never went away."
Watt's move to Lierse, who finished 14th out of 16 top-flight teams in Belgium last season and play in front of crowds of around 6,500 – just over 10 per cent of the anticipated Celtic attendance against Barca - certainly represents a step well away from that spotlight.
His troubles do not mean he has no chance of a future with Celtic though, and a goal on his debut for Lierse plus a subsequent start against Anderlecht on Sunday could help him to regain a place in the Hoops' squad in the longer term. A positive loan spell is still very much a possibility and it should be remembered he is still only 19.
But second chances at Champions League level do not come to everyone. If forwards like Stokes, Georgios Samaras, Teemu Pukki and Amido Balde impress, then any decision may be taken out of Watt's hands.
Follow Chris Myson on