COMMENT
By Ed Dove
Approaching the final round of group games, all of Goal.com's African Euros XI had something to play for, and something to prove, ahead of an inevitable swathe of eliminations. Predictably, Italy's flamboyant striker Mario Balotelli stole the show once again, and it's natural that our report begins with the Azzuri frontman.
After two influential substitute performances from Antonio Di Natale, including a goal against Spain, Cesare Prandelli opted for the Udinese frontman in place of Balotelli for Italy's final group match with Ireland. Visibly riled by his exclusion, Balotelli was finally introduced on 74 minutes, charged with doubling Italy's lead, and guaranteeing their passage to the knockout stages.
He didn't disappoint: with the ball at his feet, he demonstrated his glorious ability, shaking off a fabled muscle injury (the 'official line' for his exclusion); Balotelli twirled to volley past the stranded Irish keeper. The finish ensured that his and Italy's competition will continue, at the same time consigning Ireland's erstwhile heroes to a return to the Emerald Isle…if not retirement.
Rarely in this tournament has the 'audio' been such a central part of the narrative of a game. The pre-match had been swamped in whispered rumours of a Spain/Croatia collusion, whilst in-game, the canticles and hymns of the Irish dominated, a moving caveat to the tournament, which sadly ends in muted regret and reflection.
Continuing this theme, and perpetuating his personal narrative of not letting his feet do the talking, the conceited Balotelli also had a contribution to make. Disinclined to celebrate with his team mates following his sumptuous finish, the striker instead turned his glare to the dugout, hurling abuses of total vindication towards the coach. The spectacle ended swiftly, due mainly to the quick intervention, and silencing muffle, of Leonardo Bonucci's hand.
The first virtue is to restrain the tongue, Mario, and he who knows how to be silent, even though he is in the right, is surely approaching the gods.
Goal.com forecast a conflict between Mario's mouth and his feet, and Italians everywhere will hope that it's the latter that makes the headlines following their Quarter Final matchup with England.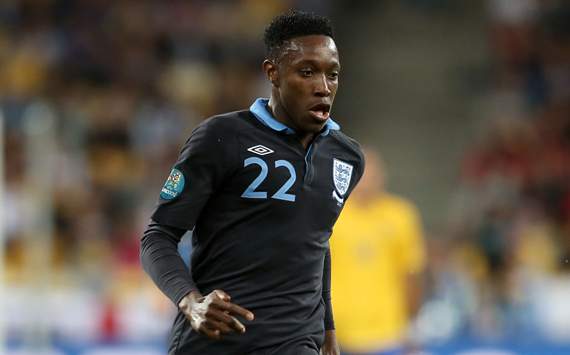 Danny Welbeck combined well with Wayne Rooney in the England attack
The
Azzuri
and the
Three Lions
are scheduled to meet in Kiev on Sunday evening. A clash with a European giant in a knockout match may normally be approached with apprehension by a young striker with less than a dozen international caps, but that is unlikely to be the case for the other African striker in the tournament, England's Danny Welbeck.
With Wayne Rooney restored to England's starting line-up following his return from suspension, it looked likely that one of Welbeck and Andy Carroll, both scorers against Sweden, would be dropped. In this instance Roy Hodgson opted for Rooney's Manchester United partner Welbeck, in place of the rangy Liverpool front man.
The decision paid off.
Whilst it was Rooney who got the all-decisive winner, Welbeck played his part in a sometimes patchy attacking display by the English. His club chemistry with Rooney was evident, as the two combined well, but despite holding the ball up well, and showing some good movement, it would be hard to conclude that Welbeck was a genuine goal threat against Ukraine. The match was cagey, with neither team wanting to risk their sustained participation in the tournament; however with Italy on the horizon, England can be quietly confident with Rooney and Welbeck in tandem up top.
Elsewhere, it was other familiar faces from Goal.com's African Euros XI who impressed.
Germany might not have been firing on all cylinders as they came up against Denmark in Lviv on Sunday night. Whilst the attack wasn't as fluid, and the defence not as sturdy, as in their previous two bouts, Sami Khedira was still at his energetic best in the middle of the park. Khedira's impressive contributions during the tournament have earned him a spot in Goal.com's list of the 20 highest rated players of the group stage, and against Denmark his qualities were evident once more.
Whilst it would be easy for the midfielder of Tunisian origin to dwell on his masterful displays; on his efficient nullifying of opposition threats, or his tireless support of Germany's attack, the man himself was concerned only with looking ahead to the prospect of a Quarter Final with Greece. Not willing to underestimate the Greeks, Khedira insisted that Germany will not underestimate their opponents, and will give everything against a side with a famous capacity to cause an upset.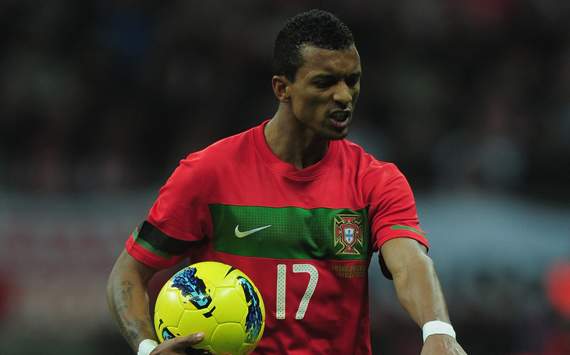 Nani was instrumental in the Portugal's victory as he sent in a cross for Cristiano Ronaldo's goal
Portuguese star Nani, born of Cape Verde, and taking the right wing position in our African Euros XI, will also figure in the Quarter Finals. The Portuguese booked their place in the knockout stages after an efficient disposal of Holland in Kharkiv. Despite falling behind to a stunning Rafael Van der Vaart strike, Portugal rallied, and managed to overcome the deficit.
Whilst Cristiano Ronaldo rightly took a hunk of the praise for his virtuoso solo display, Nani deserves credit too for his influential role in the Portuguese victory. Portugal's main threat, as has been documented, is down their flanks, where Ronaldo, Nani, and Coentrao look to torment opposition fullbacks. Nani found some space against inexperienced left back Jetro Willems, and despite missing an easy chance, he was able to set up Ronaldo to effectively finish the tie.
Portugal have proved themselves to be industrious and organised, and these qualities, along with the attacking flair of Ronaldo and Nani, could see them trouble opposition this summer right to the tournament's close.
Finally, eyes must turn to France, the nation with the largest contingent of African representatives in the competition. Whilst Les Bleus qualify from Group D along with England, their match against Sweden has demonstrated to all how 90 minutes can change the complexion of a campaign.
Outmanoeuvred, outthought, and ultimately outclassed by the Swedes, and particularly the imperious Zlatan Ibrahimovich, France have gone from a presumed Quarter Final with Italy, to a much trickier battle with Spain. With confidence surely affected following their 2-0 collapse, the likes of Ben Arfa, Evra and Matuidi will not be relishing the prospect of meeting the World Champions in Donetsk on Saturday.