Ben Hayward


Spain Expert

Follow on

ANALYSIS
Fernando Torres is back, albeit not quite firing on all cylinders. The Chelsea striker had looked set to miss out on the Spain aquad for Euro 2012 after he was dropped by coach Vicente del Bosque earlier on this year, but played his part in winning two trophies for the Blues at the end of 2011-12 and livened up an ailing attack for La Roja against Italy on Sunday.
But he still couldn't score.
The 28-year-old striker had netted in a pre-tournament friendly against South Korea to take his goals tally with Spain to 28, and claimed he would save plenty more for the continental competition itself. Against Italy, however, he squandered two one-on-one opportunities after replacing goalscorer Cesc Fabregas.
Confidence, it seems, remains low, although hope remains for Torres and Spain, according to former Liverpool striker and current Spanish television analyst Michael Robinson, who experienced psychological problems of his own after joining Manchester City from Preston in a big-money deal in 1979.
A PSYCHOLOGIST'S VIEW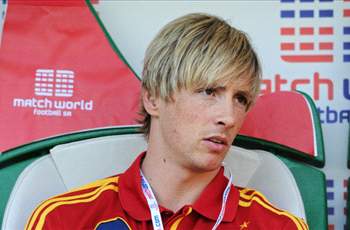 Speaking to Goal.com, Magdalena Otero, co-director of the Paradoxo psychology studio, examined the emotional state of El Nino.

State of Mind
"When a person is caught up in a spiral of negative events which are attributed to external factors, they can start to believe they have no control of the situation - and that's very negative. Those sensations are false and a person should always feel they have control of a situation and the ability to change what is happening.

Injuries
"Body and mind are one. If somebody is in a bad way mentally, they will become more clumsy and distracted, and therefore more susceptible to suffering injuries. In any type of illness or injury, the state of mind is key in the recovery. Also, stress generates tension in the muscles, which again makes a sportsman more susceptible to injuries.

Fear
"Fear can become your worst enemy because it can lead you to behaviour which doesn't allow you to do things how you should be doing them. Fernando Torres constantly has to deal with excessive pressure, be it as the most expensive signing, a striker from whom a whole nation is expecting goals or, simply the fact that he has so many followers throughout the world. The best thing in these situations it to try and forget all of that and just enjoy what you do, in this case playing football, just as he did in the best moments of his career."

Iago Lago | @iagolazo
"You don't cease to be a good football player," Robinson told
Goal.com
. "But sometimes your emotional and mental state prohibits you to be able to play with plenitude and realise your potential, because you're mentally and emotionally out of sync.
"Fernando Torres hasn't ceased to become a good player; he's a good header of the ball, fast, he's got good technique - that hasn't gone."
Torres has looked a shadow of his former self since picking up a serious knee injury before the World Cup, working incredibly hard to return for the South Africa showpiece but failing to shine as Spain were crowned champions.
"I think the World Cup had something to do with it," Robinson explained. "Fernando Torres was extremely generous with himself and obviously gave 100 per cent to be at the World Cup. He did the best he could but you can't come away from a long injury and play with and against the best players in the world - and be half fit. It culminated in Spain winning the World Cup, and Fernando will have felt he wasn't part of it, which he shouldn't feel - but it would be legitimate if he did feel like that."
After the World Cup, Torres returned to Liverpool but became unhappy under Roy Hodgson and eventually moved to Chelsea for a €58 million deal the following January.
But he struggled for goals at the London club, scoring just once in 18 games in 2010-11 before a slow start the following season, too, which ultimately yielded only 11 goals in all competitions.
In South Africa, Torres had played a somewhat sacrificial role as he peeled off intelligently to create space for team-mate David Villa, Spain's top scorer in the competition with five goals.
"Torres did not do a bad collective job in the World Cup because he drew two centre-backs away for Villa," Robinson recalled. "It was a donkey's job, it wasn't at all gratifying but his presence occupied two centre-backs and gave Villa lots of freedom. If I was Vicente del Bosque, I would have been delighted with the job Fernando did.
Now, however, Villa is sidelined after having failed to recover from a broken leg sustained in the Club World Cup for Barcelona in December. So can he become the main man in attack for La Roja?
"In the Spanish team, Vicente del Bosque sees Fernando as an alternative," Robinson revealed. "Because when Spain have the ball, they are playing in the opposing area and sometimes there is no place for Fernando to run into. However, he is an alternative. You've always got that ability to be slightly more direct, as in the goal which won the European Championship for Spain [against Germany in 2008].
"It's not the first choice way of playing for Spain but it's wonderful to have that alternative up your sleeve. He's extremely valuable."
Despite failing to convert chances against Italy, then, after replacing false nine Cesc Fabregas on Sunday, Torres may yet have a pivotal part to play at Euro 2012 and - Robinson believes - can still instill fear into opposition defences.
"Fernando Torres on the pitch meant that opposing teams play slightly deeper. And that gives the team space to play in midfield and if there is any team that knows how to play in midfield, it is Spain.
"He makes defenders worried. He might not have done it in the last game, but you're still worried he might do it against you. Fernando Torres conditions the way other teams play."
All that is missing, then, are the goals.
Follow Ben Hayward on