ANALYSIS

By Sebastian

Heier
| Germany Expert
The first game of Euro 2012 went according to plan for Germany - in terms of results - but the

Nationalelf

were far from convincing against Portugal. The 1-0 was not just a cagey, nervous affair, but Joachim Low's team had a lot of luck on their side during the first match.
It is no surprise that the German public expect more from the national team's upcoming games, given that they barely created any scoring opportunities against Paulo Bento's side. Low made a great decision in bringing in Mats Hummels and Mario Gomez, but fans will want to see their coach show a little more courage during the upcoming Netherlands clash.
There are question marks over two positions: Thomas Muller and Lukas Podolski could both drop to the bench. Both showed that they were willing to work tirelessly but, in truth, they had little success - could Marco Reus and Andre Schurrle be better wing candidates against the Dutch?
One of the rising stars of the Bundesliga last season, Marco Reus' form at Borussia Monchengladbach has shown what qualities he brings with him: a constant goal-threat as both a scorer and a creative force. And with Schurrle's recent great performances in the warm-up matches ahead of the Euros, off the back of an impressive season with Bayer Leverkusen, there is no question that he has put pressure on Podolski for a starting berth.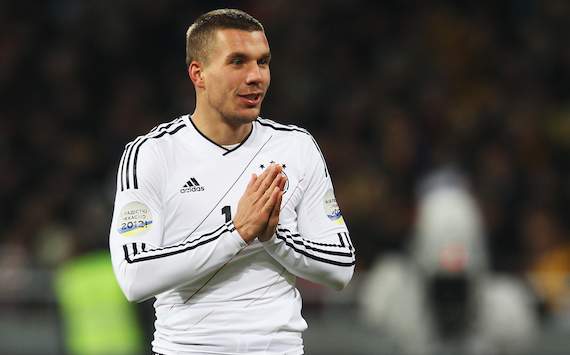 Stagnation | Podolski has scored just three times for Germany in two years
He scored a goal in each of his last two games for Leverkusen, and after coming on in the friendly against Israel, he soon brought a new momentum to the game, one which was not present when Podolski was on the pitch. The Arsenal-bound forward fluffed a number of opportunities, but Schurrle was successful with his first effort.
"I obviously want to play as much as I can, but it's not about one person, but the whole team. That is why I will support the team both on the pitch, and from the bench," Schurrle said shortly before leaving for Ukraine.
Modest and taciturn words for a man who is about to be thrust into the starting line-up of the national team by Jogi Low. Yet it is quite possible that the coach will show his faith in the player by handing him a starting role against the Dutch, and also that Reus will come in for Muller on the right hand side.

And Low has form in making some surprising changes to his starting line-up, as he showed by choosing Gomez over Miroslav Klose against Portugal on Saturday...