ANALYSIS
By Rafael Corradino

The 2012 European Championship is finally under way and Germany too will soon kick off their campaign. Their first game against Portugal in Group B, the so-called 'Group of Death', could prove decisive and Goal.com takes a look at the market value of both teams.

Real Madrid superstar Cristiano Ronaldo unsurprisingly leads the pack but how do the rest of the players compare?

MARKET VALUES | Goalkeepers
MARKET VALUE

MARKET VALUE


€30m


€7m
€6.5m

NEUER


WIESE
ZIELER


PATRICIO


EDUARDO
BETO

€

12m


€4m




€3.2m

€43.5m
TOTAL

TOTAL
€19.2m
(Data from transfermarkt.de)

Germany have the biggest advantage over Portugal when it comes to their goalkeepers. As things stand, Manuel Neuer alone is worth more than all three Portuguese goalkeepers combined. Marc-Andre Ter Stegen did not do himself any favours with his performance against Switzerland and was omitted from the final squad but at

€

7.5 million, the talented young goalkeeper would have been worth more than Tim Wiese and Ron-Robert Zieler.


MARKET VALUE

MARKET VALUE

€28m
€20m
€17.5m


€15m


€14m
€13.5m
€7.5m
LAHM


HUMMELS


BADSTUBER
HOWEDES
MERTESACKER
BOATENG
SCHMELZER

PEPE
COENTRAO
ROLANDO
BRUNO ALVES
JOAO PEREIRA
RICARDO COSTA
MIGUEL LOPES

€28m
€24m
€13m
€12m
€10.5m
€4m
€1.7m
€115.5m
TOTAL
TOTAL
€93.2m
(Data from transfermarkt.de)
Portugal were just edged out by Germany in this category. Real Madrid's Pepe and Fabio Coentrao make up the bulk of the Seleccao's overall value here, while Germany's quality in wide positions shines through if these market values are to be believed. However, it must be said that Pepe and Coentrao have more international experience than players like Mats Hummels, Holger Badstuber or Benedikt Howedes.
MARKET VALUE | Midfielders
MARKET VALUE
MARKET VALUE

€38m
€32m
€30m
€23m
€20m
€14m
€14m
€10m


SCHWEINSTEIGER
OZIL
GOTZE
KROOS
KHEDIRA
SCHURRLE
BENDER
GUNDOGAN

NANI
MOUTINHO
MEIRELES
VELOSO
VIANA
MICAEL
CUSTODIO


€36m


€23m
€14m
€10m
€7.5m
€5m
€1.5m

€178m
TOTAL
TOTAL
€97m
(Data from transfermarkt.de)

Here lies the biggest discrepancy. Joachim Low may have nominated one more midfielder than Paulo Bento, but nonetheless, Germany hold a big advantage in this category. Bastian Schweinsteiger, Mesut Ozil and Mario Gotze all break the €30m barrier, while Portugal only have one in Manchester United's Nani.
In Gotze, Low has a great option off the bench. The 20-year-old has every opportunity to emerge as the tournament's best young player. Of course, if Ronaldo were to be considered a midfielder, it would completely change this category.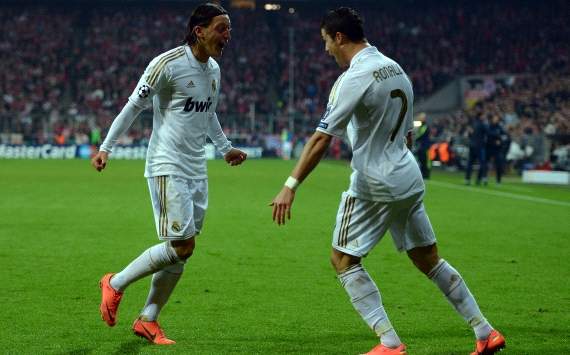 Not the most expensive, but the most effective? | Ozil to face Real team-mate Ronaldo
MARKTWERT
MARKET VALUE

€42m
€35m
€20m
€20m
€6m

GOMEZ
MULLER
REUS
PODOLSKI
KLOSE


RONALDO
QUARESMA
ALMEIDA
VARELA
POSTIGA
OLIVEIRA

€90m
€15m
€8m
€7.3m
€4m
€4m
€123m
TOTAL
TOTAL
€138.3m
€459m
FINAL TOTAL

FINAL TOTAL
€337.7m
(Data from transfermarkt.de)
Again, excluding Cristiano Ronaldo, Portugal lose out in the striker category. For Germany, Bayern's players clearly stand out above the rest. Gomez and Thomas Muller combined come close to Ronaldo's market value. Even though Gomez is likely to be a backup for Germany, he would most normally be a starter for every other team in the tournament bar Netherlands.



Did you know ...





… in Franck Ribery (9th place,

€

42m) and Mario Gomez (10th place,

€

42m), only two of the 10 most valuable footballers in the world played in the Champions League final

Going by the market values of both teams, one would think that Germany would be winners in the match as well. Germany's squad has a combined value of

€

459m, while Paulo Bento's team is only valued at

€

337.7m. Apart from the striker category, Germany outmatch Portugal in every other department. Whether that will translate on to the pitch remains to be seen and Dortmund and Bayern in the last couple of years are a good example of just how much market values can matter.