Gabriele Marcotti

Euro 2012 Columnist


Follow on

The times they are a-changin'
It was Mark Twain who famously said: "To stand still is to fall behind." Football has embraced that notion and nowhere will it be more evident than at Euro 2012.
Where once – in a not so distant past – countries clung to their historical traditions, believing that there was some kind of innate footballing DNA which often gave rise to the most facile of stereotypes (Germans are disciplined, Italians are defensive, English are swashbuckling, blah blah blah…) we have now moved past that.
Footballing cultures have learned from each other and are no longer monolithic. Instead, more than ever before, we are witnessing nations abandoning their long-held cultural matrices in favour of something new or, at least, newish. Start with the least obvious. Spain's tiki-taka delivered Euro 2008 and South Africa 2010.
We marvelled at the close control and mastery of tight spaces. But it is worth remembering that, while Spain always produced smaller, technically gifted players who could thread the ball through traffic, it is also true that, for most of the two decades before 2008 they tried to rid La Roja of their presence, believing instead the way forward lay in a stronger, more direct and athletic style. Now, with more than a few nods towards Barcelona, they could well play without wingers and, possibly, without a traditional centre-forward.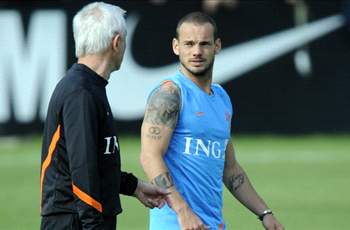 "Holland, of course, did a 180 at the last World Cup and continue to move away from the old school Dutch philosophy"
The German stereotype of disciplined uber-athletes beating opponents into submission by running in straight lines was always more imagined than real. But, even compared to 2010, Joachim Low has put out a side that, while similar in terms of personnel, is far more possession and finesse-oriented than the one witnessed in South Africa.
Holland, of course, did a 180 at the last World Cup and continue to move away from the old school Dutch philosophy. It is still a 4-3-3, but a far less pass-oriented one (how could it be otherwise, with both Nigel de Jong AND Mark van Bommel patrolling the midfield?).
Instead, it is all about counter-attacking, wide spaces and a bit of physicality, as we saw in 2010. If it works, Bert van Marwijk will be vindicated; if it does not, the Dutch purists will scoff at the way the Oranje have abandoned their quest for Cruyff's utopia.
No more defence
Italy are doing the opposite. The old notion of 'first, don't concede' has flown out of the window with Cesare Prandelli, who has packed the midfield with players who are comfortable on the ball and has insisted on retaining possession instead of the old 'defend and counter'.
On paper, this could be the most attacking Azzurri side ever, though you may not get to see it because, well, they are not very good, especially at the back. Yes, the old assembly line of talented centre-halves has ground to a shuddering halt: instead Prandelli will be rolling the dice in virtually every match (something previous Italian bosses were loathe to do) and relying on the volatile geniuses of Antonio Cassano and Mario Balotelli, two of the more inconsistent strikers around.
France, once the home of stout defending, are also going to be on the front foot, as much by necessity than by design. Les Bleus made history with a back six of Lillian Thuram, Marcel Desailly, Laurent Blanc, Bixente Lizarazu, Didier Deschamps and Manu Petit (or Patrick Vieira). Their equivalents this time, with all due respect, are not even in the same solar system. Then again, neither can Karim Benzema be mentioned in the same breath as Stephane Guivarc'h (I know I just did, but bear with me).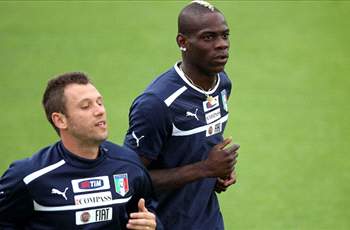 "On paper, this could be the most attacking Azzurri side ever"
Then there is England who, under Roy Hodgson, are supposedly battening down the hatches. Were they wearing blue, you might call it Catenaccio, instead we talk of "two banks of four" but the concept is the same and it is decidedly un-English.
Sven-Goran Eriksson, Steve McClaren and Fabio Capello tried, with varying degrees of success to make England more "possession-oriented" after decades of directness and long ball. Now, it looks to be mostly about deep defending, conceding no space and exploiting the one asset England have in abundance – pace – on the counter-attack. Neither Charles Hughes nor Kevin Keegan would recognise this team (and that may not be a bad thing).
Brave new world
There are other examples further down the footballing hierarchy, including Sweden (where Erik Hamren has loosened the shackles and we may see Zlatan Ibrahimovic in a trequartista role rather than an isolated one-man show) and Greece (Fernando Santos has banished Otto Rehhagel's script).
What does this all mean? For the neutral, above all, uncertainty and unpredictability in the short-term. In the longer-term though, it is a positive.
We are stepping out into a brave new world where football is ready to learn, to evolve and to experiment. It could end in disaster for some. Others will be hailed as geniuses for having the courage to change.
Either way, it will be worth watching.
Gabriele Marcotti is a correspondent for The Times and a regular writer for Italian publications Corriere dello Sport and La Stampa. He is also a regular guest on British radio station talkSPORT, as well as ESPN's 'Press Pass' television show. Marcotti has also written three books; 'Paolo Di Canio: The Autobiography', 'The Italian Job with Gianluca Vialli' and 'Capello: Portrait of a Winner'.