SPECIAL
By Ed Dove
At first glace, the summer of a European Championships may be considered as an off-peak period for analysts and enthusiasts of the African game. However, the nature of football, and of international demographics means that a number of players competing for European nations this summer would also have been eligible to represent African national sides.
In this article, Goal.com runs the rule over an 'African Euros XI' – a team of players present at this summer's championships in Poland and Ukraine who were born in Africa, or who are of African descent. All of these men have a story to tell or a point to prove going into the competition.
GOALKEEPER: STEVE MANDANDA (FRANCE)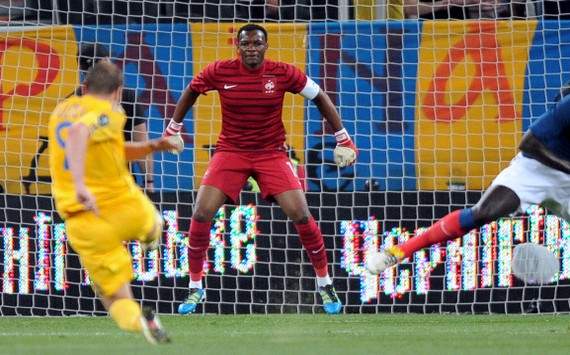 Congo
| Mandanda is a back up goalkeeper for France
Congolese talent in Europe typically emerge representing Belgium, where figures such as Romelu Lukaku and Vincent Kompany herald a new era of Belgian football. France has also benefitted from Congolese players, and the former Zaire has played a crucial role in furnishing the French national team. Midfielders Rio Mavuba, the son of a Zairian international, and Claude Makélélé, born in Kinshasa, are both part of this tradition, having anchored the French midfield to great acclaim. Recently, it has been Steve Mandanda, also born in the Congolese capital, who has excelled for France.
Despite being the understudy to captain Hugo Lloris, there are some who consider Mandanda to be the finer of the two keepers. Raised in the Normandy town of Evreux, he represented Les Bleus at youth level before making his international debut in May 2008. Athletic, imposing, composed, and with excellent reflexes, the keeper was rumoured to be a target for Manchester United before their eventual capture of David de Gea at the end of last season. He remained at Marseille, and despite the club enduring a tumultuous domestic campaign, Mandanda was named captain, and impressed during their European Cup run. Were misfortune to befall Lloris this summer, French fans would be confident that their Congolese backup – nicknamed 'Frenchie' by his family – would provide a more than adequate replacement.
Did you know: Mandanda is one of four brothers, all of whom ply their trade as goalkeepers – Parfait, of Belgian club Sporting Charleroi, has represented DR Congo as a full international.
RIGHT BACK: THEODOR GEBRE SELASIE (CZECH)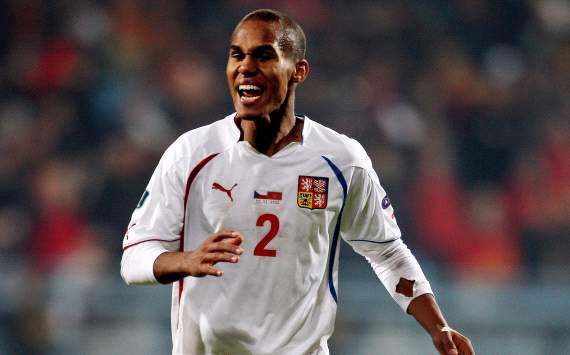 Ethiopia
| Theodor is Czech Republic's first-ever African player
While France has a long and storied history of incorporating players from former colonies into its national side, many of the nations on show this summer do not. The Czech Republic, having no overseas territories, has no history of being represented by players of African descent. That will change this summer, as Theodor Gebre Selassie takes his place in the defence.
The son of an Ethiopian father, Gebre Selassie is a relatively new face to a Czech side in transition. Still playing in the domestic league for Slovan Liberec, he is an unknown quantity to the wider European public, however operating from a right wing-back position Gebre Selassie has the potential to be a secret weapon for the Czechs.
He is the first black player to represent the Nároďák, and has stepped up to the plate seamlessly. One of several new faces breaking into the national team, it will be fascinating to see whether Gebre Selassie and his compatriots can help the Czechs escape from a fairly weak Group A.
Did you know: Gebre Selassie's sister Anna is also a Czech international, representing the nation at handball.
CENTRE BACK: ANGELO OGBONNA (ITALY)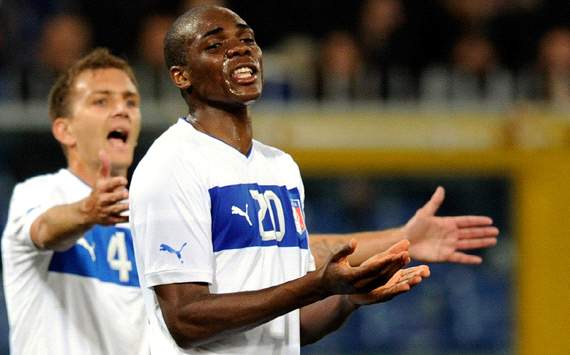 Nigeria
| Ogbonna will be an option for the Italian defence
Versatile defender Ogbonna is another newcomer to the international stage, like Gebre Selassie however, he appears to have taken to it with ease, and will be relishing the prospect of international competition with Italy this summer.
Born in Cassino, to Nigerian parents, the imposing centre back has come through the ranks with Torino, contributing to the side's promotion from Serie B this season. Il Toro's relegation to the second tier of Italian football in 2009 came at the right time for Ogbonna, as the young defender was able to establish himself as a regular at a weaker level of competition. A call up to the national side is testament to his assured performances this year.
Ogbonna is an international novice having been capped only twice, and would probably just have been happy to have made the squad a week or two ago. However, with regular left back Domenico Criscito being forced to withdraw whilst being investigated for match fixing, the Torino man may well find himself thrust into the starting line up sooner than expected. A big ask, perhaps, but fans of Torino will assure you that their young defender will be more than capable of stepping up if asked to marshal Italy's left side.
Did you know: Ogbonna had a brush with death in December 2008 after losing control of his car and driving off a bridge into the Sangone River.
CENTRE BACK: JEROME BOATENG (GERMANY)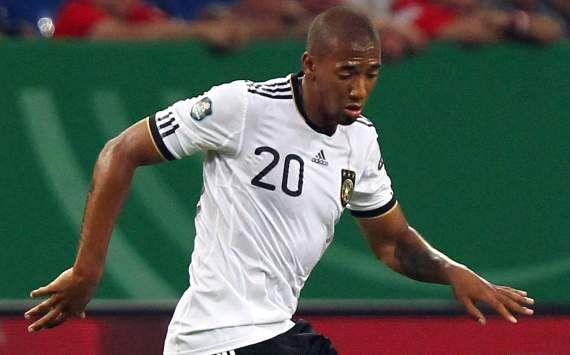 Ghana
| Jerome Boateng has become a classy player for the Germans
Whilst it is Kevin-Prince Boateng who is more familiar to African audiences, it is the younger Boateng, Jerome, who will be flying the family flag in Poland and Ukraine this summer. Born in Berlin, to a Ghanaian father, the two brothers had conflicting international loyalties; Kevin-Prince preferring to represent Ghana – the country for whom his uncle Robert had also played, with Jerome opting for Germany – for whom the two had excelled at youth level.
The pair famously fell out in 2010, after Kevin-Prince's tackle in the FA Cup final ruled then Germany captain Michael Ballack out of the South Africa World Cup. Whilst Kevin-Prince caught the eye in that tournament, helping to guide Ghana to the Quarter finals, he has since retired from the Black Stars set up, leaving Jerome as the sole brother standing on the international stage.
Despite boasting almost unprecedented attacking riches, there are concerns in Germany over the quality of their defence. Keeper Neuer, and full-back Philipp Lahm are consistently solid, but the other components of the backline have been cause for concern. The versatile Jerome looks likely to fill another of the defensive positions, however it will be interesting to see whether he and his young compatriots will realise their potential amidst a growing public expectancy, and in a draw described by former German striker Klaus Allofs as 'arguably the most difficult group a German team has ever faced.'
Did you know: Despite immersing himself in the Bavarian lifestyle at Bayern, even going as far as learning the regional dialect, Jerome is strictly teetotal, meaning he has been unable to sample any of Munich's famed local beers.
LEFT BACK: PATRICE EVRA (FRANCE)

Senegal
| Ezra was French captain during their disastrous World Cup campaign
Unlike some of the other names in this list, Patrice Evra is by no means a newcomer to international football, and is a name recognised worldwide as a top class competitor. A Champions League and Premier League winner with Manchester United, as well as an established international with France, having made his debut in August 2004, Evra is often cited as the classic example of a modern full-back. He is however, somewhat bizarrely, at a crossroads in his international career.
Despite being 31, Evra has the potential to be a problematic pick for France. Selected as captain of the national team for the 2010 World Cup, he was at the epicentre of the scandalous behaviour of the French side; leading a player protest following the dismissal of Nicolas Anelka, and arguing with fitness coach, Robert Duverne. The strike was condemned by the government, as well as the French FA, and Evra was stripped of the captaincy, dropped from the team, and underwent the ignominy of a five match ban.
Evra's predecessor Lillian Thuram even suggested that the left back should be banned permanently from the France set up after bringing shame on the nation. The tragic health problems that have forced Eric Abidal from the game however have prompted national team boss Laurent Blanc to recall Evra to the national side.
This summer is potentially Evra's swansong at International level. Whilst the player himself will be keen to excel in a France shirt and erase memories of South Africa two years ago, a large portion of the French public are ill at ease with the inclusion of a player who brought such shame on the Republic, and who has the potential to disrupt Blanc's unified camp.
Did you know: Evra was born in Dakar to a Senegalese diplomat of Guinean descent and a Cape Verdean mother. He has been heavily criticised within Senegal for choosing to play for France over the nation of his birth.
RIGHT WINGER: NANI (PORTUGAL)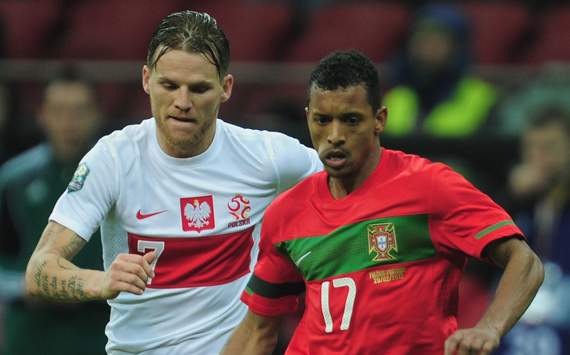 Cape Verde
| Nani could be key to Portugal after he missed the World Cup due to injury
Portugal are many people's dark horses for the tournament; despite a tough first round draw the Portuguese boast an exciting roster of players and a first XI filled with menace. As is often the way for the national side, it is in the wide areas that the stardust can be found: continuing the tradition of Luis Figo and Cristiano Ronaldo, now it is Nani's time to cement his place among Portugual's revered wingers.
Yet, for this Portugal team, Nani, as well as Ronaldo on the other flank, may need to act as much more than pure wingers as the Seleccão das Quinas attempt to escape from a tricky Group B. Lacking a prolific striker, the burden of finishing, as well as creating, often falls on the pair. Ask Sir Alex Ferguson whether they're capable though, and the Manchester United manager would have no qualms in advocating their qualities. Nani is more than capable of weighing in for Portugal. His ability to strike with both feet and to produce the unexpected will comfort Portuguese boss Paulo Bento.
Did you know: Born in Praia, Cape Verde, Nani moved to Lisbon at an early age. He honed his craft playing in the streets with old friend and Portuguese colleague, Manuel Fernandes.
CENTRAL MIDFIELD: BLAISE MATUIDI (FRANCE)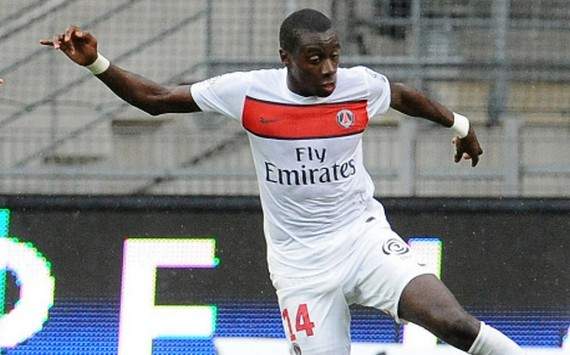 Angola
| Matuidi could be France's enforcer in the midfield
Born in Toulouse to an Angolan father and a French mother, Blaise Matuidi grew up idolising former Super Eagles midfielder Jay Jay Okocha. Enchanted by his shimmies and his shakes, Matuidi dreamed of one day replicating the mesmerising ballet of his hero in the elegant blue of Paris Saint-Germain.
Matuidi's dreams have only been half realised; having signed for PSG last summer, he has become a lynchpin of Carlo Ancelotti's Revolution on the Banks of the Seine, week in week out living his dream of entertaining the locals amidst the avant-garde architecture of the Parc des Princes.
If you arrive in Paris looking for the new Okocha though, you may be disappointed. Instead, Matuidi predominantly supports the side's more flamboyant players from the base of the midfield, energetically breaking up the play with his boundless stamina and fierce tackling. His performances recall those of his predecessor at Paris, another son of Africa, the great Claude Makélélé.
Did you know: Whilst Matuidi has made the squad for Euro 2012, his club captain, the French-Senegalese defender Mamadou Sakho, failed to make the cut.
CENTRAL MIDFIELD: SAMI KHEDIRA (GERMANY)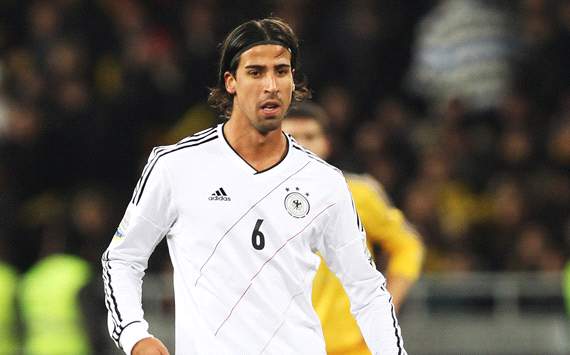 Tunisia
| Khedira would be central to Germany's hope of finally winning a trophy since 1996
Germany are many people's pick for the title this summer. Their young team is brimming with attacking talent, and a fairly balanced squad could be poised to blossom at the perfect moment. Unlike German teams of the past, Joachim Low's outfit are a multicultural bunch, with a large number of the squad eligible to represent at least one other nation.
Mesut Ozil, the star of the team, is of Turkish descent, whilst Sami Khedira, his midfield partner for both country and club (Real Madrid), is of African heritage. Born in Stuttgart to a German mother and a Tunisian father, Khedira has become the heartbeat of Die Mannschaft. So impressive in the 2010 World Cup, where he bagged the winning goal against Uruguay in the 3rd place play off, Khedira has already chalked up half a century of appearances in Madrid under Mourinho.
If Germany are to live up to expectations this summer, expect their dynamic Tunisian midfielder to be central to proceedings.
Did you know: German/Nigerian full back Dennis Aogo has had a promising start to his Germany career, but unfortunately failed to make the cut for the Euros squad.
LEFT WINGER: HATEM BEN ARFA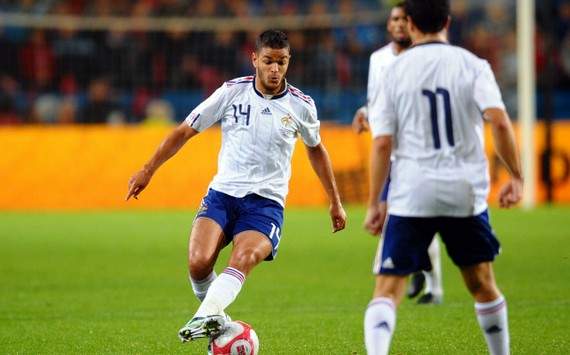 Tunisia
| Ben Arfa could be set for a spectacular summer with France
Three boys born in 1987 would go on to become some of the most prodigious footballing talents to emerge from France's venerated Clairefontaine academy. Even as teenagers they were heralded as the future of French football, the three bright hopes who would go on to lead the national side, replacing the glorious generation of Zidane, Henry, et al.
It hasn't quite worked out that way.
Whilst Karim Benzema, the youngest of the three, was dropped by Domenech for France's ill-fated sojourn to South Africa in 2010, he has generally been a constant member of the national side since his debut in 2007. Samir Nasri has grown as a player since arriving at Arsenal in 2008, a Premier league medal with Manchester City this season should help consolidate his position in France's midfield.
For the third of the triumvirate, Hatem Ben Arfa, the Lepidus of the piece, the ascent from Clairefontaine has been a more laborious road. Once touted as the jewel of the French football system, Ben Arfa's progress has been stymied by ill-disciple and injury. Incidents at Clairefontaine, and later in Marseille, cemented his reputation as 'l'enfant terrible' of French football, before a fresh start in England, with Newcastle, was devastated by a double leg break in early October 2010. It seemed then that Ben Arfa was destined never to realise his potential for Les Bleus.
This season, however, things have taken a brighter turn for the precocious talent from Clamart. Ben Arfa's rehabilitation was a long and arduous process, but the time and effort taken have reaped great rewards – with Alan Pardew's Magpies flying high, Ben Arfa has produced performances worthy of his billing, the sparkling genius in a Newcastle attacking line awash with Francophone talent.
Performances this season, particularly those against Blackburn and Bolton, both accompanied by incredible goals, have cemented Ben Arfa's place within the France squad. Seemingly matured, and willing to contribute to the team play, Ben Arfa could be set for a spectacular summer alongside old colleagues Benzema and Nasri.
Did you know: All three French stars mentioned could have represented Maghrebin nations; Benzema and Nasri for Algeria, and Ben Arfa for Tunisia.
CENTRE FORWARD: DANNY WELBECK (ENGLAND)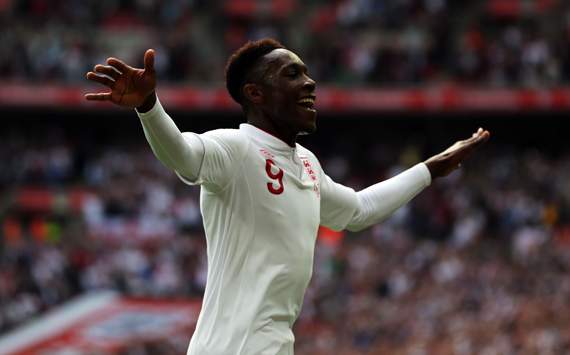 Ghana
| Welbeck will be important for England due to Wayne Rooney's suspension
In March 2011 Danny Welbeck made his debut for England at Wembley, against Ghana. Unusually for an international contest, Welbeck was booed by the away fans as he made his entrance on 81 minutes. This expression of Ghanaian discontent is understood in the context of Welbeck's upbringing – the Manchester United forward is the son of Ghanaian parents. Whilst many Ghanaians were disappointed at his choice to play for England after Black Stars officials had scouted him since 2008, others scoffed at his decision: 'Why play a bit part role for England, when he could have been a star in Ghana?'
These critics, as well as probably everyone else, couldn't possibly realise then how central Welbeck would become ahead of Euro 2012. With Wayne Rooney suspended and Darren Bent crocked, it now appears to be a straight contest between Welbeck and Liverpool's Andy Carroll to see who spearheads the Three Lions' attack against France on June 11. Welbeck's deft finish against Belgium may well have made up Roy Hodgson's mind.
Did you know: Welbeck's full name is Daniel Nii Tackie Mensah Welbeck, he was first spotted by United scouts at the age of six.
CENTRE FORWARD: MARIO BALOTELLI (ITALY)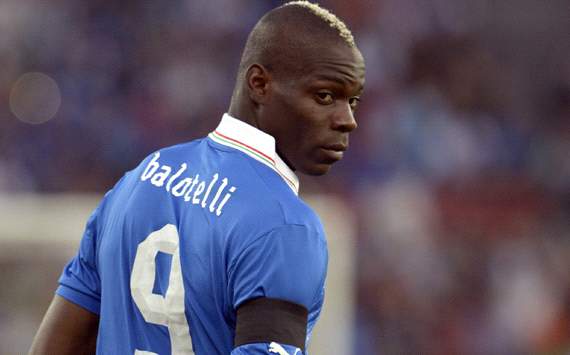 Ghana
| The first black player to line up for Italy, Balotelli will carry Azurri's hopes
To close, I wish to consider Mario Balotelli – the high profile striker who is likely to lead the line for Italy this summer. It was announced recently that the Manchester City forward has registered his shirt name as 'Barwuah Balotelli' for this year's tournament. This decision reflects both his Ghanaian parentage, as well as his Italian birthplace and cultural upbringing, specifically his foster parents in Brescia.
The first black player to play for the Azzuri, Balotelli is acutely aware of the tremors and tumult that accompanies integration into European communities for African immigrant families. In that sense, he is in many ways the perfect closure for this list – drawing together his heritage, as well as his current place as the figurehead for one of Europe's leading international sides.
Whilst Italian fans are hoping that the only headlines Balotelli writes concern on-field successes, observers should expect a vocal and often strident spokesman. The players on this list will certainly be conscious of Balotelli's negative premonitions concerning racism in the Ukraine ahead of the tournament. Barwuah or not, Super Mario has the potential to emerge as the star of the competition, and the brightest African involved.
Did you know: In 2007 Balotelli was called up for Ghana by then coach Claude Le Roy, he refused, insisting that he was holding out for the invitation from Italy.
Follow Ed Dove

on