COMMENT

By Liam Twomey
It is a fitting measure of
Alex Oxlade-Chamberlain
's prodigious talent that when
Roy Hodgson
ponders which 11 men he will select to face
France
at the Donbass Arena in Donetsk next Monday, he may well be tempted to include an 18-year-old with just two international caps to his name.
Oxlade-Chamberlain's rise into the rarefied air of Euro 2012 consideration has been incredibly swift, but not overly so. His outstanding potential has been evident in spite of limited playing time at Arsenal last term, with sparkling performances against the likes of Manchester United and AC Milan suggesting this particular youngster is inspired, and not overwhelmed, by the big occasion.
The year of the Ox | A star is born


PLAYER RATINGS: ARSENAL 3-0 AC MILAN

4.5 out of 5

The night a superstar was born. His first-half display in central midfield was so polished it was little wonder that his opponents didn't start sliding off him. Set up the opener with his fizzing corner and brilliantly won the penalty for the third. Faded a little after taking a knock but proved that Arsenal might have a once-in-a-generation player on their hands.
In particular, it was the mature and assured display against the Italian giants during a Champions League clash at the Emirates Stadium back in March which convinced Hodgson that Oxlade-Chamberlain was a gamble worth taking.

On that night, the precocious teenager proved that his fearless, powerful running style and sharp football mind are just as suited to central areas as to the flanks, tormenting defenders many years his senior and almost helping the Gunners overcome a seemingly-unassailable 4-0 first-leg deficit.

That, however, has largely proved the exception rather than the rule this season, with Arsene Wenger more often than not preferring to deploy his young charge in wider areas where his trickery and searing pace could find the room to flourish.

Hodgson has so far been of the same mind, and the early signs are that, unlike club-mate Theo Walcott in 2006, Oxlade-Chamberlain has already matured into a performer capable of making a significant impact at international level, even if he remains something of a rough diamond.

In a 17-minute cameo against Norway, the Arsenal youngster managed to provide one of the most exciting aspects of an otherwise extremely underwhelming evening. The passion and desire was evident, even if he was susceptible to the odd charge of over-enthusiasm.

Against Belgium on Saturday, Hodgson got the chance to properly examine Oxlade-Chamberlain's England credentials and, while the 18-year-old failed to light up Wembley, he did produce another performance rich in promise.

Several times he made easy work of Guillaume Gillet while surging up the left flank, even if England's inability to retain possession meant he was more often called upon to provide defensive cover for Ashley Cole in dealing with Dries Mertens and the roving Eden Hazard.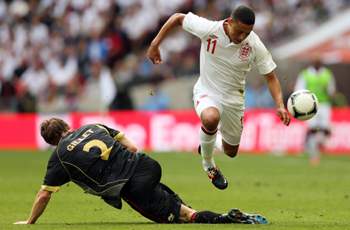 Oxlade-Chamberlain has already matured into a performer capable of making a significant impact at international level
He also found himself on the sharp end of two of the home side's slicker attacking moves down the right-hand side in the first half, only for a lack of balance and composure to prove his undoing. Judging by the media's penchant for pre-tournament hype and overstatement, however, it is probably just as well a first international goal eluded him.

But if the Belgian and Norwegian friendlies have told Hodgson anything, it is that Oxlade-Chamberlain travels to Poland and Ukraine as much more than a mere apprentice.

The new England boss is a man who regards versatility and work rate on a par with technical brilliance. With his ability to play with distinction across the midfield, Oxlade-Chamberlain ticks all the boxes and, with injuries taking a greater toll on the Three Lions squad with every passing day, his importance may yet grow.

The European Championship, arguably more than any other tournament, has no time for easy initiations, and the French, unbeaten in 20 matches, provide England's baptism of fire. Hodgson remains likely to favour older heads for this particular battle, with the youngster at best fulfilling the role of wide-eyed impact substitute.

But Sweden and the Ukraine may yield more opportunity for the Arsenal starlet to announce himself on the international stage, whether on the wings or in the No.10 position Ashley Young has done so much to make his own of late.

Where and when to use his talented wild card will be an issue at the forefront of Hodgson's mind as he prepares to embark on his first tournament as England manager, but, considering all the other problems he faces, this is one he will relish.
Follow Liam Twomey on