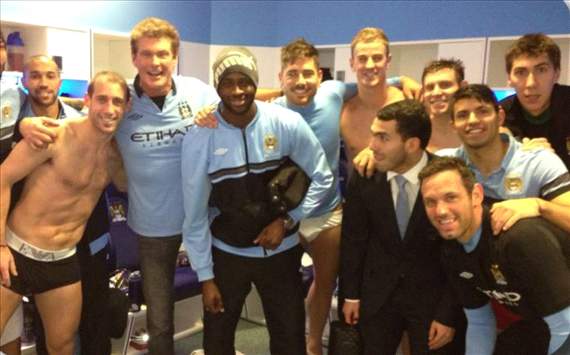 Manchester City hosted yet another Hollywood A-lister as they helped bring in the New Year in style, defeating Stoke City 3-0 at the Etihad Stadium. Yet, as rumours circulated over the presence of a certain David Hasselhoff, it was only after the match finished that we were treated to snaps of the iconic actor mingling with his adopted team.
Donning the sky-blue shirt with 'Hasselhoff' 10' on the back, the 60-year-old, famed for his lead roles in Knight Rider and Baywatch, grabbed the chance to flash his smile alongside the superstars of the Premier League champions.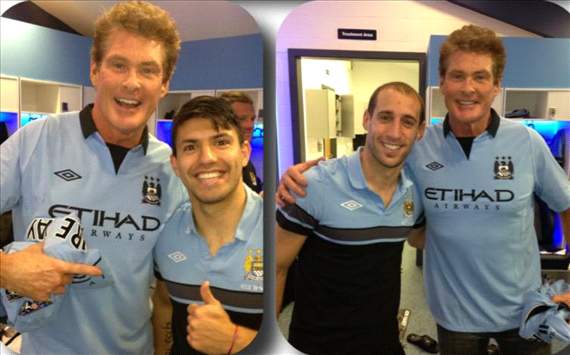 I need ya, buddy! | The Hoff poses with Sergio Aguero and Pablo Zabaleta
And, while Hasselhoff showed he had the poise to slot in amongst millionaire footballers, Carlos Tevez took a slightly more infatuated pose as he stared back at the American. In fact, Javi Garcia even went as far as to audition for a reprisal of Baywatch, sidling up to Mitch Buchannon and flashing his Y-fronts.
The series of photos showed Hasselhoff take a particular shine to the Argentines Pablo Zabaleta and Sergio Aguero – with the latter having hobbled off injured in the second half. Nonetheless, he will know that Hasselhoff will be there for him.