The Ivory Coast international has claimed that he found not playing under the former manager hard to take and revealed that he wasn't allowed to play until he signed a new contract
Salomon Kalou has spoken of his frustration at being exiled from the Chelsea squad under Andre Villas-Boas, having only made four starts under the former manager.

The Ivory Coast international scored the only goal in Chelsea's 1-0 win over Benfica on Tuesday and expressed his relief at being able to contribute in the side again now that Roberto Di Matteo has taken over from the Portuguese.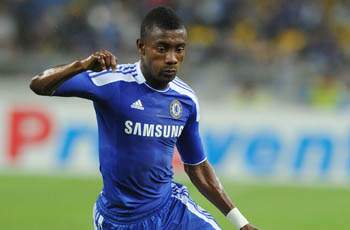 "I had been told that because I didn't sign the contract I was not allowed to play"
Kalou admitted that he had started to think that he was not in the club's long-term plans as Villas-Boas, who was sacked in early March, refused to start him unless he signed a new contract, but he has since committed his future to the club.
"Maybe Andre was building a new team and he was maybe thinking I wasn't part of the future of the club," the forward explained to the Evening Standard.

"I had been told that because I didn't sign the contract I was not allowed to play.
"It has been a hard season not playing. As a player, you want to get involved more, you want to help the team to win and also for yourself.
"You want to score more goals and show you're a better player than people think. If you don't get on the pitch, it is very hard to show that every weekend.
"I feel like maybe sometimes the club never gave me the opportunity to show what I can do. That is a really big frustration."
Chelsea are 21/10 with Bet365 to be the only team to score when they face Aston Villa on Saturday.
Although he has committed to the club verbally, Kalou is yet to extend his contract, which is due to expire this summer.