The main objective of any league in the world is trying to compete with the English League, Africa more than any other continent is struggling with this.

CEO of the Kenyan Premier League, Jack Oguda, said that one of the biggest problems that Kenya faces is eradicating the amount of corruption in the game itself."There is a major problem with biased referees and there are always issues between clubs and the federation," said Oguda.

Nic Coward, the General Secretary of the Barclays Premier League, said that there are four vital factors which make up the entire "model" of the league.
"Obviously football is the first factor which contributes to the league, its all about the best talent and incidentally the competiveness of the game," said Coward.
There is definitely talent in South Africa which is of no surprise; however the issue of maximising that talent and trying to keep our players in the country is where the problem lies. Coward went on to say that top stadia and top facilities for the fans is another important factor.

"The occupancy is important and with regard to the Premier League our attendance dropped from 95% last year to 92% this year. It's all about working out what you want to achieve and working towards that goal," said Coward.

The Soweto Derby always promises good attendance however the amount of money that South Africa has spent on the construction of stadiums and the amount of people attending football matches does not seem to coincide with each other.
Coward believes that political space is of huge importance especially for teams in Africa.
"The relationship between sport and government is controversial, we in the UK have absolutely no relationship with government," said Coward.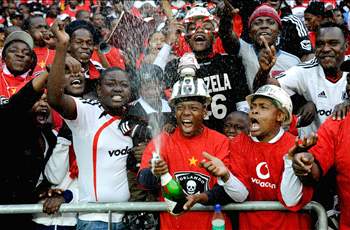 The relationship between football and politics in South Africa is similar to that of the UK in the sense that there is none.

SAFA are politically affiliated however they do not let the political side of the organisation conflict with the football side of things.

Coward went on to explain that using the power of football responsibly is crucial.

Football is by far the most popular sport in the world and people somewhat forget how much power the game obtains.

In England they specifically do not broadcast the 3 o clock match on a Saturday afternoon, solely because they want people to attend the match.

Coward said that it's all about getting the people to the game and trying to get them into a routine of doing that week in and week out.
Although South Africa is heading in the right direction in terms of having hosted the 2010 World Cup and hosting AFCON next year, it is still an issue for South Africa and many African countries trying to gain a popular national and international fan base.