With defensive concerns dampening the mood among Nigeria fans ahead of the Super Eagles' opening World Cup fixtures, the search for a hero begins…
ANALYSIS
By Solace Chukwu
Stephen Keshi's list of 23, aside its numerous oddities, features an interesting quirk: the absence of a specialist right-back.
This is nothing new for Keshi; his victorious African Nations Cup squad of 2013 similarly lacked a right-back, causing him to install centre-back Efe Ambrose as first choice in the role. The Celtic man has taken to the challenge gamely, but on the grandest stage of all, it seems a huge gamble.
To be fair to the Big Boss, the pickings are rather slim.
Solomon Kwambe seemed an adequate understudy until he was shown up against Italy in a friendly last September, and a further chance at redemption at the Championship of African Nations in January was summarily spurned. That's the tale of a rather short tape. The Super Eagles have always produced better quality at left-back than right-back, but following the injury to Elderson Echiejile, this also becomes an area of concern.
To make up for the inadequacy, Keshi will have to rely on the versatility of others: Kenneth Omeruo can play at right back, team captain Joseph Yobo conjured up the sole redeeming moment of the 2002 World Cup playing in that position as well, and Juwon Oshaniwa could shuffle across from left back.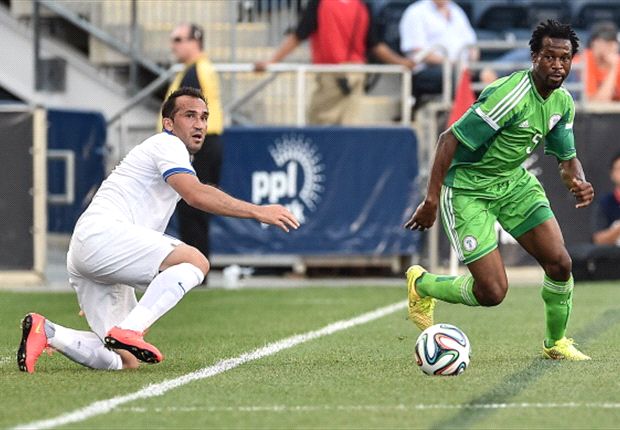 Ambrose | Not a natural for the right-back spot
However all of these alternatives are laced with peril. Oshaniwa is left footed and now first-choice at left-back due to the injury to Echiejile, Yobo no longer has the legs for such a demanding brief, and moving Omeruo from the centre of defence will disrupt his fine understanding with Godfrey Oboabona.
Allow me to put forward an alternative solution. This is by no means an attempt to predict Keshi's intentions. Let's do a bit of group hypnosis before we begin, shall we?
You will set aside all your extant beliefs and convictions regarding the Super Eagles midfield after the full-stop.
There, now we are good to go. My solution is this: move Ogenyi Onazi to right-back. Permanently.
And yes, I do mean ahead of Efe Ambrose. If your response to this is chagrin and outrage, then there is a good chance you have not been watching the Super Eagles closely enough. There is also a good chance I might be a lousy hypnotist.
My reasons are simple and based on reason. First of all, Efe Ambrose is not a right-back, much as we want him to be. He is full of endeavour in the position, but has consistently been caught out.
Allow me to refresh your memory.
Watch Efe Ambrose at the Confederations Cup against Spain, especially on goals one and two. For the first, he is too narrow, Jordi Alba blindsides him running from deep in his own half, skips past his laughable attempt to tackle and scores. For the second, the ball is played out to Pedro Rodriguez on the left, but Ambrose is again too narrow. Curiously, he makes no move to close down the Barcelona winger. Pedro crosses for Fernando Torres heads home. Against Uruguay, the South American champions scored the winner after winning the ball on the half-way line from a developing Super Eagles attack. From start to end of the move, Efe Ambrose is nowhere in sight.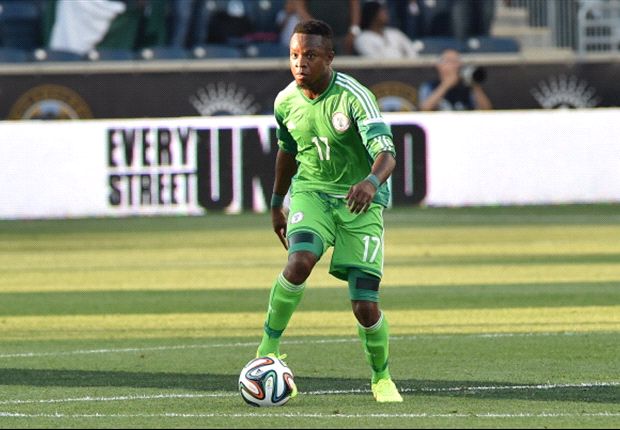 Onazi | Are his qualities really best used for a holding role?
The trouble with Ambrose is not a lack of effort, or even complacency as some have speculated. He simply does not understand the basics of positional full-back play (hardly surprising seeing as he is a centre-back) and top national sides are better equipped to exploit this.
While many have been concerned about the inclusion of Oshaniwa at left-back, the presence of Efe Ambrose is another key concern for the Super Eagles on the eve of this, the 2014 World Cup.
This is the prime reason I am pushing Onazi for the role.
The root of this thought is the breakout season Ramon Azeez has had at Almeria. When you consider that John Obi Mikel has recently been mandated to play farther forward since the Nations Cup triumph (he did this in stellar fashion at the Confederations Cup), it make more sense to include a more defensive minded player to patrol the space in front of the back four.
Azeez is undoubtedly the man for the role.
Onazi, for all his tackling ability, is better suited to the role of forward-playing destroyer than anchor.
Follow the train of thought here. Keshi prefers a 4-3-3. Azeez gets the anchor role; Mikel plays slightly higher as the team's creator, moving laterally. Who then supplies the vertical movement? Victor Moses. Do we try the hypnosis thing again?
It is a role Moses would be very well suited to. Earlier in the season, he played just behind the front two of Daniel Sturridge and Luis Suarez. While he did not do poorly, it neutralised his one real strength: powerful running with the ball at his feet. Starting from a deeper role left of centre as the farthest forward in the midfield triangle would be the perfect fit. Stuck on the left, he does have the irritating tendency to run into blind alleys, suffering from only having a 180 degree view of the pitch.
This would allow the returning Osaze Odemwingie to play on the left cutting in, where he would be a lot more effective. He looked terribly out of place playing on the right of the attacking three against USA, and struggles to stretch the play as he should. On the left, he would be a lot more involved.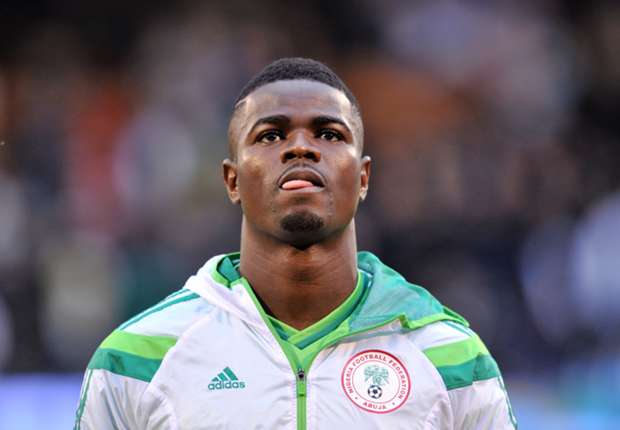 Elderson | Could Ambrose provide cover at left-back?
There is a good chance I am on to your present train of thought, and yes, I am aware Onazi is also not a natural full-back. However, consider this: with the attacking demand on full-backs in football today, requiring them to sprint up and down the touchline all game, is there a more appropriate footballer for this role (aside a natural full-back) than a high-energy, box-to-box midfielder?
The move from a midfield role to full-back has precedent: Javier Zanetti, who about a month ago bid an emotional farewell to football, excelled playing both roles; closer to home, Cameroon's Lauren Etame Mayer, whose man-of-the-match performance in midfield against our own Super Eagles at Afcon 2000 is unforgettable, morphed into a marauding full-back at Arsenal. He contributed notably to a famous unbeaten Premier League season for the north London club in 2004.
As stated earlier, this is not an attempt to predict Keshi's thinking. We may very well see Ambrose file out against Iran at right-back, and he will again give his best. However, you can be sure other sides have seen those Confederations Cup tapes.
Deploying Onazi in the role may prove to be a master-stroke, and then who knows how far our Super Eagles can go in Brazil? If the Super Eagles are looking for a hero this summer, then the Lazio man might well be primed to step into the breach.