ANALYSIS
By Ed Dove | Features Editor
Friday's World Cup draw, and Nigeria's placement within Group F, were greeted with broad optimism and exuberant excitement. I was working on the @GoalcomNigeria Twitter handle and on the live blog coverage at the time, and was inundated with patriotic comments and posts envisaging an easy run to the knock-out rounds for Stephen Keshi and his troops.
Jide Alaka, Goal Nigeria's Deputy Editor, writing in a feature for the site, suggested that the Super Eagles have "a great chance of escaping their group."
Indeed, I agree that there is extensive reason for optimism and joy following the draw: Argentina are ominous foe, not least due to the presence of Lionel Messi, the world's finest player. However, the Super Eagles will not be cowed by the prospect of a battle with the Albiceleste. The two teams have met three times before at the World Cup; in 1994, 2002 and 2010, while there is also extensive history between the pair at Olympic and U-21 level.
Bosnia-Herzegovina will not be an easy prospect, but considering that the Super Eagles could have drawn the likes of Italy, France, England, Portugal or even the Netherlands from the European pot, the first-timers don't represent such a taxing challenge.
Finally, Iran complete the set. The Princes of Persia have never gone past the opening round at the top table and have only ever won one World Cup fixture; against the United States in 1998.
They will not provide comfortable opponents, by any means, but the youthful collection of Super Eagles are unlikely to be daunted by the prospect of facing one of the weaker sides in Pot 3. Considering they could have ended up facing the likes of Mexico, Japan or the United States, Iran were greeted with open arms.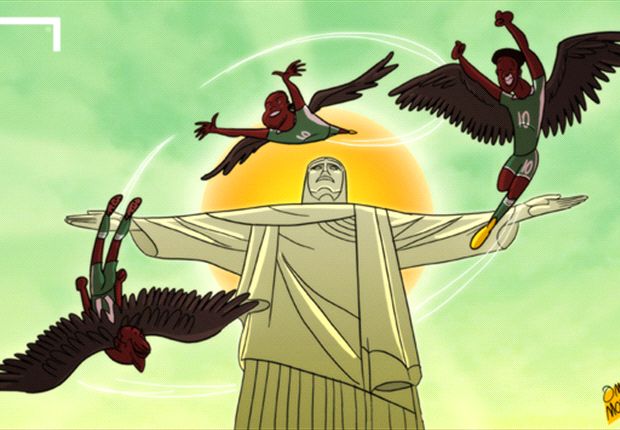 The Super Eagles are flying after Friday's Draw
We only need to turn our heads to the West, to our African neighbours Ghana, to see that things could have been a whole lot worse. The Super Eagles will fancy their chances of progression, while Kwesi Appiah's men will need to upset at least one of Germany or Portugal to progress.
However, despite the positivity emanating from the result of Friday's tirage I believe there is still reason for caution. It is a view shared by Super Eagles boss Keshi who, speaking to Kick Off after the draw, said "I'm not sure it's an easy group, it all depends on how well you prepare."
I believe that Keshi has every right to downplay expectations. While the group gives us every chance of progression, the Super Eagles must be aware that even a momentary lapse of concentration or focus could be critical.
It is important that the perceived weakness of our opponents, of Bosnia and Iran, does not lead to complacency. In 2010, we were pitted against Greece and South Korea, two teams not dissimilar in standing from the Dragons and the Princes of Persia.
The Super Eagles, albeit a weaker incarnation of the current national side, managed only one point from a potential six in these two fixtures, and finished the tournament bottom of their group.
If there are any lessons to take from the chastening experience of the last World Cup, it is that nothing is to be taken for granted; neither a simple finish from six yards, nor an anticipated three points against perceived-weaker Asian opponents.
Similarly, it is important that the Super Eagles start strongly, particularly in that opening fixture on June 16 against Iran.
At the Cup of Nations earlier this year it took almost three games for Stephen Keshi's troops to click into gear and find their rhythm. Those opening fixtures against Burkina Faso, Zambia and Ethiopia saw the coach chop and change his team and tactics and in the end, it took two Victor Moses goals in the dead of night against Ethiopia to see us through.
Such a sluggish start will not be acceptable this time around. If the Super Eagles fail to pick up maximum points in their opening fixtures, they are likely to need a result of some sort against Argentina in the final group game on 25 June in Porto Alegre.
I don't know about you, but I'd rather not be holding out for an Act of Moses when up against Messi, Aguero, Tevez et al.
Finally, despite all that this youth generation of Nigerian stars have accomplished, it is important to remember their age and relative lack of World Cup experience. Of the team likely to start against Iran, only Vincent Enyeama and Elderson Echiejile have played in the tournament in the past.
It is vital that the more experienced, calmer heads among the squad are on hand if things don't immediately go to plan. Joseph Yobo played an important part as a substitute at the AFCON, and indeed, it is important that Keshi laces his squad with enough experience to fulfil this kind of role on and off the pitch next summer.
Friday's result is certainly an excellent start to an important period for Nigeria, however, if the Super Eagles are to escape from Group F, the coming seven months and that opening bout with Iran must be undertaken with the utmost care and diligence.