TACTICAL ANALYSIS
By James Goldman
A near and almost unprecedented clean bill of health at the start of the current campaign has presented Arsene Wenger with the sort of selection headaches he has rarely had to deal with in recent seasons.
Even the recent spate of international fixtures, which in the past has regularly provided a steady stream of bleak injury related news, failed to reduce the multitude of options Wenger has at his disposal ahead of Southampton's first visit to Emirates Stadium on Saturday.
ARSENAL STARTING XI v LIVERPOOL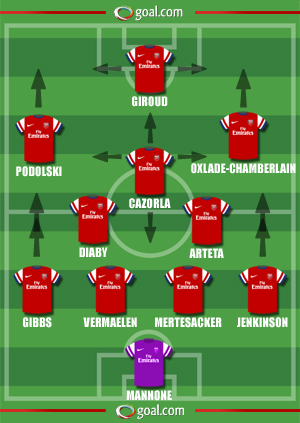 Against Liverpool Giroud was too often isolated and Arsenal were unable to locate him with their crosses

Even though the Frenchman steadfastly ignored the clamour to dip into the transfer market and purchase a ready-made replacement following the shock departure of Alex Song, it is in central midfield where Arsenal look particularly well stocked.
It represents a remarkable turnaround for a side that saw its two most influential midfielders of recent times, Cesc Fabregas and Samir Nasri, cherry picked by Barcelona and Manchester City just over a year ago.
Indeed, it was little over 12 months ago that an Arsenal side, whose midfield three was comprised of Tomas Rosicky, Aaron Ramsey and an overwhelmed debutant in Francis Coquelin, were mauled 8-2 at Old Trafford by a rampant Manchester United.
An out of character last-minute trolley dash ensured the north London club's midfield options were bolstered by the arrivals of Mikel Arteta and Yossi Benayoun, but an overreliance on the Spaniard, who made 29 league appearances, and the aforementioned Song, who missed just four games, stretched Arsenal to breaking point as they limped over the finish line.
The resurgence of Abou Diaby and the impending return of Jack Wilshere, coupled with the exciting additions of Santi Cazorla and Lukas Podolski, now means, however, that finding room to harness this abundance of talent in the same side could represent an even tougher task for Wenger than finding a way to compensate for the loss of Robin van Persie.
In an attempt to retain some semblance of continuity, Wenger has opted to stick with the same formation that was initially designed to allow Fabregas the sort of freedom he is never likely to be granted at Barcelona, and eventually developed into the perfect system to suit Van Persie's goalscoring instincts.
So far, three different matches have produced three very different performances, but all showcased some extremely promising signs. Certainly, the effect of Steve Bould's promotion appears to have had the desired effect on a defence, still short of arguably the Premier League's most consistent right-back in Bacary Sagna, that remains the only one yet to be breached in English football this season.
If there is to be a concern however, it is that the formation and style of play that allowed Van Persie to feast on the service being offered up to him, does not appear to be suited to Olivier Giroud, the Dutchman's direct replacement.
Crossing has never been a strong suit of any Arsenal side under Wenger, and despite the different personnel, particularly at full-back where Carl Jenkinson and Kieran Gibbs have been ever-presents thus far, nothing appears to have changed with the Gunners having completed just 13 successful crosses out of 65 attempted so far this season.
ARSENAL WITH WALCOTT AS A FALSE NINE
As a false nine Walcott could help create space for the likes of Oxlade-Chamberlain and Podolski
Moving the German out to the flank after he lasted just 70 minutes in a central role on his debut means the competition for places in midfield has become even greater, with Theo Walcott the first and most high-profile man to suffer.
Even though there were mitigating circumstances, chiefly his reluctance to sign a new contract, behind the England man's demotion to the bench, a guaranteed starter in the position he filled with distinction last season he clearly is not.
Wenger does have an, as yet untested, but intriguing alternative up his sleeve that would represent something of a gamble, but one that could transform the threat his forward line carries.
Walcott has often talked of his desire to be deployed as a central striker, but his sleight frame, less than immaculate first touch and impulsive, rather than instinctive, movement hardly mark him out as being conventional centre forward material.
What the 23-year-old sometimes lacks in basic technique, however, he more than makes up for in raw speed, a quality that none of Arsenal's three summer additions truly possesses.
Walcott was deployed as a striker alongside Van Persie as Arsenal chased a lost cause in an FA Cup tie at Sunderland last season. It was a performance, albeit a cameo one, that provided little evidence to suggest Walcott could enjoy a career as winger turned poacher as John O'Shea effectively stole candy from a baby time and time again.
But in a slightly more withdrawn role, potentially as a false nine, Walcott could drift off opposition centre-backs and suck them towards the halfway line leaving space in behind for the likes of Oxlade-Chamberlain, Podolski, or even Gervinho to exploit.

With a collection of players all adept at picking clever passes in between the lines – Cazorla and Wilshere spring immediately to mind, but Arsenal also possess the likes of Ramsey, Rosicky and Diaby who are all equally adept – it could be the most devastating way of utilising Walcott's main asset, were he to drop short and spin in behind and expose a high line.

Such a system would require Podolski and Oxlade-Chamberlain to drift in off the flanks and vacate the holes created by Walcott's movement towards his own half. The German's goal at Anfield and the England youngster's maiden Premier League strike against Blackburn last season indicate it is a task they would relish.

It is, of course, too early to judge Giroud, but Wenger needs a viable alternative and indeed a plan B. Entrusting Walcott with extra responsibility and a new position could well be his best option at present, no matter how unsuited he would appear to be to the role.