Stephen Keshi and his team know that they have to beat the small island country convincingly to continue building momentum for the Nations Cup




NIGERIA
Enyeama
Omeruo, Yobo, Oboabona, Elderson
Nwankwo, Mikel, Igiebor
Musa, Emenike, Moses






CAPE VERDE
Fock
Tavares , Nando, Ramos, F. Varela
Babanco, Soares, Ronny, T. Varela
Nhuck, Mendes

Stephen Keshi's team were lucky to escape Catalonia with a 1-1 draw last week but Wednesday's game against Cape Verde should be straight forward.
And this also coincides with the day that the final 23-man squad will be named – whether it will be before the encounter or afterwards is something we do not know.
But this we know, Cape Verde eliminated Cameroon in the qualifiers to announce their presence at their first Africa Cup of Nations Cup (Afcon) tournament.
Although the Islanders have not won in their last five official matches, losing to Ghana 1-0 in a friendly match in November which was played in Portugal while the Super Eagles have not lost in their last three matches - winning two and drawing one and in the process scored 10 goals and conceded just three.
So to today's match – expect Keshi to roll out all his big guns to test their match fitness and preparedness to face African opposition. So Victor Moses, Mikel Obi, Obiorah Nwankwo and Victor Enyeama should all feature against Cape Verde.
Nigeria and Cape Verde have never played before so do not expect any sort of familiarity from both sides and like all Portuguese-speaking countries - the players from the tiny island are not wont of skills.
So if they can gain the scalp of the Super Eagles, they will be more confident to play South Africa in Johannesburg even though almost every pundit expects the Super Eagles to triumph against the 'minnows'.
TACTICS
The Super Eagles will line up in their now familiar 4-3-3 formation while the Blue Sharks will use a 4-4-2 formation with Heldon Nhuck as the target man.
For the Islanders known as Tubarões Azuis; the Blue Sharks, this match will be about building confidence and momentum for their opening game against South Africa on the 19thof January, so expect them to come out hard and aggressive though they play more on the counter attack.
The defensive ability of the Nigerian players was well tested by Catalonia XI and they showed enough resistance to elicit some hope – at least not many African countries possess the calibre of players from Catalonia.
So expect so see a more offensive play from the Super Eagles pushing forward the full backs in order to overload the Cape Verdean defenders as they search for goals.
The boys of Coach Lucio Antunes will launch counter attacks using Nhuck as the target man who will try to hold up Yobo and Oboabona.
All in all, it should be an interesting encounter from two sides with varied playing styles and the match kicks off at 9pm, Nigerian time.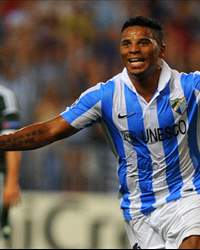 The Cape Verde team have never qualified for any major tournament since joining association football in 1975.
Joseph Yobo will win his 89th cap for the Eagles if he plays against the Islanders.
Nigeria is ranked 57th in the world by Fifa compared to Cape Verde's 62nd place ranking.
Nigeria has won the most bronze medals at the Afcon – seven – 1976, 1978, 1992, 2002, 2004, 2006 and 2010.
Heldon Nhuck has scored the highest number of goals in the squad that will be in South Africa with 5 goals in 16 appearances.
Eliseu of Malaga (pictured) and Nani of Manchester United are originally from Cape Verde