This is a huge match for both sides as each of them look to claim sole leadership of Group G and assure themselves of an easier path to the next round of 2014 World Cup qualifiers

GUINEA

Yattara
Diallo, Kalabane, Balde, Zayatte
Bah, Conte, Soumah, Traore
Camara, Diallo


EGYPT
El Hadary
Fathi, Hegazi, Fathallah, Moawad
Elmohamady, Abd-Rabo, Aboutrika, Ghaly
Geddo, Salah

Guinea began their 2014 World Cup qualifying campaign in positive fashion, posting a difficultly obtained 1-0 away win over Zimbabwe at the National Sports Stadium in Harare thanks to Ibrahima Traore's stunning first-half free kick. The west Africans were able to hold on to the victory, sentencing the Warriors to their first home defeat in eight years.
Although the Zimbabweans were short-handed due to the fallout from their national match-fixing scandal, it was still a marvellous achievement from the Guineans who took two days to recover upon their arrival in Conakry. The second half against Zimbabwe may not have been a reassuring one for coach Michel Dussuyer, but learning to win while playing badly is a mark of a strong team and the Frenchman was undoubtedly pleased to have earned full points prior to Sunday's match against Egypt.
While the Syli Nationale had a nightmare second half in their first qualifier, the Pharaohs got that out of the way in the first. While they certainly were not dominated in any fashion by Mozambique, their lack of incision up front was a worrying sight for nervous Egyptian fans who were barred from attending the match in Alexandria due to security concerns.
Funnily enough, the first goal came from interplay between two central defenders, Ahmed Hegazy and Mahmoud Fathallah. Once the first went in, Bob Bradley's team settled down and looked more confident, managing to double their advantage thanks to a precise strike from substitute Mohamed Zidan.
Their next match will be even tougher though, as the Stade du 28 Septembre will undoubtedly be rocking. Plus, the Pharaohs will be up against a team that was widely tipped as a talented and athletic side which did not deserve to be eliminated from the 2012 Africa Cup of Nations at such an early stage.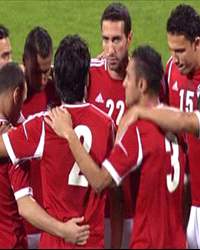 Guinea's players have been asking football federation officials from their country about their win bonus, but have not gone as far as refusing to train for the match against Egypt.
Even though he is out injured, Dianbobo Balde has made the trip back home with his family to show his support for the Syli Nationale before their important match against Egypt.
The most recent match between the two sides was played in Cairo three years ago and finished 3-3.
Egypt have not done very well against Guinea in the past. The Pharaohs have faced them five previous times, winning once, drawing twice, and losing twice. However, their only win was a 4-1 home victory in 1970.
Coach Bradley has told Egyptian media that he expects better movement and better finishing from his players than what he saw against the Black Mambas last weekend.
Mohamed Zidan and backup goalkeeper Ahmed Al-Shennawi were involved in a training ground scuffle but are said to be back on good terms again.
Coach Bradley called upon Brighton central defender Adam El-Abd for the first time in his career to potentially replace the injured Wael Gomaa, yet the player remains ineligible to represent Egypt at international level.