Emerging to a cacophony of noise for their opening World Cup match of against Mexico in 2010 at the Soccer City in Johannesburg, tournament hosts South Africa looked forward "to ripping into the opposition and showing them what this proud nation can do", in midfielder Steven Pienaar's words.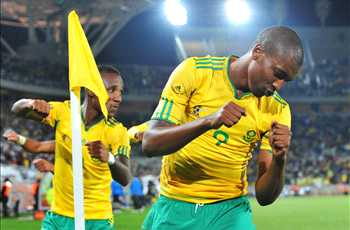 "We drew strength from the the crowd, and there was no way that Mexico could live with us"
The players emerged from the tunnel singing, clapping and chanting, and quickly "our ears burned from the din of the vuvuzelas". "We drew strength from the enormity and ferocity of the crowd, and felt that there was no way that Mexico could live with us." Several South African stars also offered up prayers before the game, and others touched the pitch as a good luck gesture.
That's nothing new in football. Emmanuel Adebayor and Emmanuel Eboue, amongst others, touch the turf and offer a prayer as they trot on. Other teams indulge themselves with a pre match huddle, in which prayers and motivational speeches from the respective captains are commonplace.
South African players instead chose to gather around Pienaar and touch his head. There has never been a definitive reason for why they chose to do so. Some players have claimed that it was prearranged, because Pienaar was regarded as "the main man", but Pienaar has always denied this, claiming "we were all equals in that team". Either way, the ritual certainly injected life into the hosts, who took the lead through Siphiwe Tshabalala, and Pienaar began the match strongly, but were then pegged back by Marquez's 79th minute equaliser.
As for Pienaar, he had a disappointing game and was substituted in the 83rd minute.
Join the conversation about unbelievable stories of believing at #startbelieving or for more information about PUMA visit
:
https://www.puma.com/footballclub