---

BY MUSTAPHA "EL LOCO" KAMARUDDIN

---
HOLA!
Some Chelsea supporters, here in Kuala Lumpur, are still in a daze with The Blues' failure to make the Champions League final in Lisbon on May 24.
A group of them, for instance, had earlier watched in despair on Wednesday at a Mamak restaurant as Chelsea collapsed.
They could not believe their eyes that Jose Mourinho's men were outclassed by Atletico Madrid as they went down 3-1 in the return leg semi-final and what more at Stamford Bridge.
After all, Chelsea managed to hold Atletico to a 0-0 draw in the first leg at the Calderon last week via parking of a bus or two.
Now Atletico have set this historic final against across bitter city rivals Real Madrid.
Mourinho's men were favourites on Wednesday but ended playing second best to Argentine Diego Simeone's men.
It's not a big surprise, though. This is because Atletico have been flying high since day one this season.
Atletico, for that matter, are the only team who have been unbeaten in this elite European competition this season.
Los Colchoneros, or "The Mattress Makers", have quality players in all departments -- great in both technical and tactical aspects and brave at heart. Simeone is also a great motivator both on and off the pitch.
No-nonsense and physically strong chief striker Diego Costa, midfielders in the exciting Koke and captain Gabi have been influential in Atletico fantastic run.
Turkish Arda Turan, looking like a Roman gladiator, has been superb in midffield to assist the strikers.
And the defence has been rock solid with the presence of figures like Diego Godin, Filipe Luis and Juanfran.
Of course, there is the world class goalkeeper in the 6ft 6in Thibaut Courtois, who is on loan from Chelsea, ironically.
Atletico also have depth in the squad. They do have players to be called upon if needed - David Villa, Adrian, Raul Garcia and Tiago.
The neutrals are loving Atletico's great adventure and their emergence as one of the best in Europe. They provide that extra entertainment.
Besides being in the Champions League final, Atletico are in a strong position to win their 10th La Liga title this season, at the expense of champions Barcelona and Real.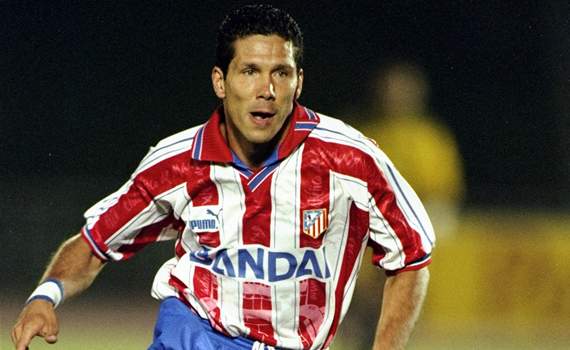 The last time Atletico won the Liga title was in the 1995-96 season when Simeone was part of it.
The 43-year-old former Argentina international may be modest by saying his players deserve what they are enjoying after hard work but he is the mastermind.
He was a magnificent defensive midfielder during his playing days -- earning 106 international caps and also starring for Inter Milan and Lazio in Serie A.
Simeone possesses strong and colourful characters himself, started his managerial career with modest Argentine Primera Division outfit Racing Club in 2006.
Not many, understandably, took notice of Simeone at that time. Some seemed to be asking could he be a great manager after making an impact as a player.
However, Simeone began to make heads turned after he led Estudiantes to the Argentine Primera Division title in 2007.
He achieved the same feat with River Plate two years later.
Atletico signed him up in 2011 and they won the Europa League. He also steered them to the Copa del Rey in the 2012-2013 season.
Atletico stunned many by also winning the Uefa Super Cup in 2012 by beating Chelsea.
Simeone has successfully proved he is a genius when it comes to coaching. In fact, he is now one of the hottest around.
Imagine, Atletico winning both the Champions League and La Liga title this season. Simeone, his men and their supporters will be celebrating for some time to come.
Now many are saying Real, after thrashing champions Bayern Munich 5-0 on aggregate in the semi-finals, are favourites in Lisbon.
Really?
It is not a surprise if it is Atletico who will be lifting the trophy instead -- to deny Real from achieving their La Decima (10th European title).
However, Atletico are also hungry for success as it has been already 40 years that they last won the elite European competition.
Atletico are not going to make it easy for Real. That's for sure.
Adios!
Mustapha 'El Loco' Kamaruddin is an experienced sports journalist who is crazy about football. He has been following football, both at local and international scenes for over two decades. He is also a columnist with The Malay Mail.