Lionel Messi has been criticised for below par performances of late. He needs to be rocking again for Argentina's sake
---

BY MUSTAPHA "EL LOCO" KAMARUDDIN

---
HOLA!
So what's wrong with Lionel Messi? What's actually bugging him?
The Argentinian wizard seems to be unhappy and was not his normal self as he struggles to produce the kind of performances expected from him.
At times, we can tell from his body language that he is unhappy with something or someone and this affects his performance.
Messi only came to life in the second half in Barcelona's 2-1 defeat to Real Madrid in the Copa del Rey final at the Mestalla on Wednesday.
However, he hardly made any of those famous and deadly penetrative runs on his own.
And Copa del Rey was the best chance for Barca to win a silverware this season which sees the Catalans facing never-ending problems.
Barca were far from their best with the defeat signalling a disastrous week where they have crashed out of the Champions League, slipped up in the Liga leaving their title hopes hanging by thread.
Now fans of Barca and Argentina, all over the world, are wondering what actually are the problems with Messi, a four-time World Player of The Year and a great entertainer.
They want the real Messi back, as soon as possible, especially in view of the World Cup in Brazil.
Talks of rifts with Neymar and Argentine compatriot Carlos Tevez, as well as feeling hurt by Barca for failing to offer him a new bumper contract, Messi has been at the centre of fears he could leave.
Argentine press has also expressed its concern about Messi's form at such an important time for Barca.
Clarín, for instance, had a headline saying "Let's hope he's saving himself" on its front cover.
With the coming World Cup in Brazil, the Argentines are hoping their superstar and captain will be back to his best for the tournament in June.
Two-time champions Argentina need Messi to be at his best to have that chance of making an impact in Brazil. Period.
The Argentina press also focussed on Barca manager Gerardo 'Tata' Martino.
La Capital labelled Barca's performance at the Mestalla a "fiasco", while 'La Nacion said: "It's more than a defeat for Barça". In its digital version,
Clarín cast serious doubt Martino's future, which seems to have been decided already and does not seem to lie at Barca.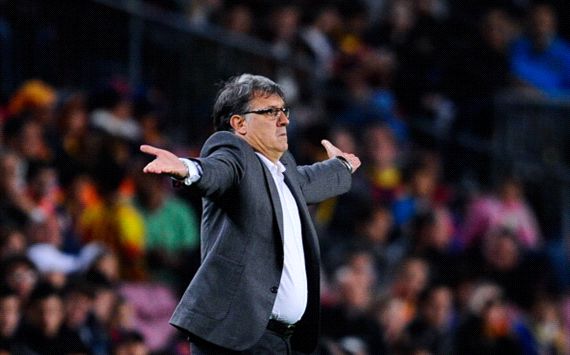 Martino's job security with Barcelona is seriously in doubt.
Martino has not had a good season and Messi seems to be unhappy with his countryman's tactics -- playing him on the right flank of late rather than in his preferred central role.
More bad news for crisis-ridden Barca.
Now they will be without Neymar and Jordi Alba for the final month of the season after both were injured during the Copa del Rey final.
Both will likely miss all five rounds remaining in La Liga -- further hurting Barca's chances of defending their title.
Neymar picked up a ''contusion'' on his left foot which ended with his shot hitting the post in the 90th minute.
Alba was substituted because of a muscle tear in his right leg.
On top of that, centreback Marc Bartra will be a day-to-day decision as he recovers from a muscle pull.
Centreback Gerard Pique and goalkeeper Victor Valdes are aslso injured.
In another development, Venezuela FA are said to be in contact with Martino, who is expected to leave Nou Camp at the end of the season.
Marca reported the Venezuelans want Martino to spearhead an ambitious project to boost their performances on the international stage. The ultimate aim is to make the 2018 World Cup in Russia.
At the rate things are going, it would be better for Senor Martino to take up a fresh challenges.
Adios!
Mustapha 'El Loco' Kamaruddin is an experienced sports journalist who is crazy about football. He has been following football, both at local and international scenes for over two decades. He is also a columnist with The Malay Mail.