---

BY MUSTAPHA "EL LOCO" KAMARUDDIN

---
HOLA!
Welsh wizard Gareth Bale has finally arrived in Spain.
Bale turned hero for Real Madrid as he struck the winner the 85th minute via an incredible solo effort as Los Blancos edged Barcelona 2-1 at the Mestalla on Wednesday to lift the Copa del Rey.
Receiving the ball from Isco from his own half, Bale made an amazing run and coolly struck the ball past Barca goalkeeper Pinto -- to send Real fans in ecstacy.
Bale ran well over 50 metres for this moment of glory after beating the challenge of Marc Bartra, who just lacked speed to stop him.
It reminded one of the cartoon character Road Runner, really.
At one stage of the chase, Bartra even forced Bale off the pitch but the Welshman recovered strongly and continued with his running.
Brilliant effort by the 24-year-old Bale.
And yes, it also reminded one of those runs he executed and goals he struck for former team Tottenham, who he left last summer to join Real for a reportedly £85.3m (RM465m).
Remember that Champions League match against the then champions Inter Milan on October 20, 2010 at San Siro when he scored his first senior hat-trick?
Left-footer Bale surely rose to the occasion on Wednesday. And Real fans must adore him more from now on.
Manager Carlo Ancelotti, after winning his first trophy, paid tribute to Bale when he said:. "I had the perfect view of, it was a fantastic goal from an extraordinary player. We are lucky he plays for Real Madrid."
Another left-footer, Angel Di Maria was also in his element for Real, who were without superstar Cristiano Ronaldo who was at the stands because of an injury.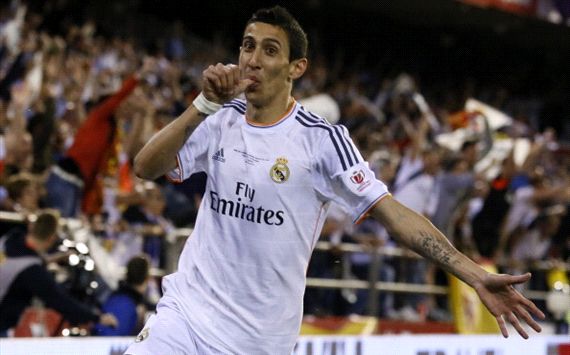 Di Maria was always a thorn to Barca on counter-attacks.
And he started the ball rolling by scoring the first goal in the 10th minute although goalkeeper Pinto could have done better to stop the attempt.
Di Maria was the second hero to Bale, so to speak. The hardworking midfielder also executed a few crucial tackles to assist the defence.
Bale and Di Maria deserved to celebrate the most in Real's success.
With this success, Real are right track for the Treble as they are second in La Liga and in the last four of the Champions League where they will be up against champions Bayern Munich.
It was a frustrating night for Barca though as a few of their fans were seen on camera in tears with the defeat.
This is understandable as the Catalans may well end up this season without any silverware after being knocked out from the Champions League and now lying third in La Liga.
It will be difficult for Barca to retain the league title. Lionel Messi and Co need some sort of a miracle to stop high flyers, Atletico Madrid and Real from winning it.
Messi,criticised in recent weeks for his performances, only came alive in the second half as he did nothing much in the first.
But still overall, it was far from what he was capable of. There was something not right with his performance.
Neymar must be spending sleepless nights after his strike in the 89th minute hit the post with Real goalkeeper Iker Casillas already beaten.
The Brazilian just could not believe his luck. The clash could have gone into extra-time and the ending might have been different had he scored.
The only consolation for Barca if any, was 'rookie' Bartra's equaliser in the 68th minute via a superb header from a corner kick.
The 23-year-old, who was only declared fit to play just before the match, was also the first to really test Casillas with another great attempt four minutes earlier.
Unfortunately, he could not stop Bale from delivering the killer punch to spoil his night.
Some Barca fans must be unhappy with manager Gerardo 'Tata' Martino's decision to play the off-form Cesc Fabregas upfront from the start instead of either Alexis Sanchez or Pedro.
Is this end for Argentine 'Tata'? It looks like it, unless Barca somehow retain the Liga title. That too is doubtful.
Adios!
Mustapha 'El Loco' Kamaruddin is an experienced sports journalist who is crazy about football. He has been following football, both at local and international scenes for over two decades. He is also a columnist with The Malay Mail.