---

BY MUSTAPHA "EL LOCO" KAMARUDDIN

---
HOLA!
What's next for Gerardo 'Tata' Martino?
The Argentine tactician was outsmarted, yet again, by fellow countryman Diego Simeone as Barcelona were dumped by Atletico Madrid in the Champions League on Wednesday.
Barca just could not do much to the tactically disciplined Atletico as the Catalans went down 1-0 in the return leg quarter-final at the Calderon -- after the first ended in a 1-1 draw at Nou Camp.
The scoreline on Wednesday could have been even bigger if not for the 'unkind' woodwork which Atletico struck twice and a couple of great saves by goalkeeper Pinto as well.
And Atletico were playing without the injured prolific striker, Diego Costa.
Simeone and his men deserved this success of making the semi-finals of the European elite competition for the first time in 40 years. And It would not be a surprise either if Los Colchoneros make the final, too.
Some unhappy Barca fans are asking questions on Martino's tactics or game plan of the night in this interesting 'game of chess'.
Some are also blaming the ineffective Lionel Messi, who was hardly spotted during the 90 minutes.
According to reports, Messi managed to run just 6.8km during the game while Pinto, in goal, did 5.3km -- a difference of only 1.5km!
Messi averaged almost 64 touches per Champions League game this season -- but on Wednesday he managed to take possession of just 39.
Some suggested the 26-year-old magician is keeping one eye on the World Cup in Brazil in the summer.
Maybe there is truth in this like some other superstars, but rather hard to blame Messi if this is the case.
The haters simply want to see him fail in Brazil.
All said, the thing is that Messi can't be saving Barca every time, when they are in deep trouble or fighting for survival.
First of all, he was operating on the right flank on Wednesday, a position he used to play earlier in his career rather than in the centre.
And remember, midfield maestros Andres Iniesta and Xavi were also shut out by well-disciplined Atletico. The duo had hardly any breathing space to deliver those killer passes to the danger area.
Messi was also policed well by Atletico who boast of a solid defence - even in Europe.
Then was Martino right when he employed the off-form Cesc Fabregas in the centre partnering Messi and Neymar up front?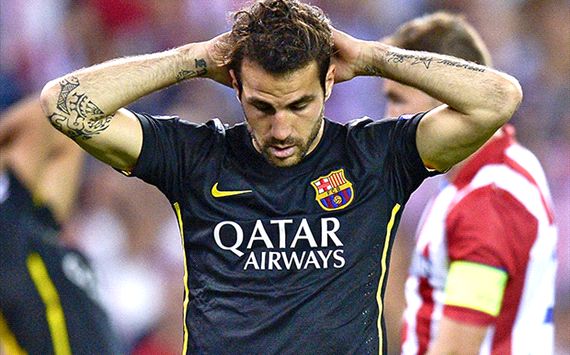 Cesc did not leave much of an impact against Atletico.
The former Arsenal man did not do much to help. It would have been better choice if Alexis Sanchez, who is enjoying good form.
So, the front line should have instead read: Sanchez (right), Messi (centre) and Neymar (left).
Of course, the leaky defence has always been a problem in the last two seasons but Barca seemed to have no urgency in easing this problems earlier.
Martino conceded the defeat is a failure for his side.
"For a team who are normally accustomed to winning, the defeat will be considered a failure. But that is my strict personal opinion on the matter," said Martino, who has yet to taste victory over Simeone after five matches.
Failure or not, Martino must remember Barca are still in the running for successes in La Liga and Copa del Rey, where they are up against Real Madrid in the final.
He must not give up and be a defeatist.
Martino has to continue to think deeply about tactics which can assist Barca.
The Catalans are now second in the Liga standings behind Atletico and their clash may well decide the champions.
The question now is whether Martino can outsmart Simeone? It will be difficult the Barca boss can't come up with some fresh tactics and right players.
Failure to retain the Liga title may just see Martino leaving Nou Camp and replaced by a new manager in the new season.
It's tata for Martino.
Adios!
Mustapha 'El Loco' Kamaruddin is an experienced sports journalist who is crazy about football. He has been following football, both at local and international scenes for over two decades. He is also a columnist with The Malay Mail.