Barcelona needed a win against Real Madrid on Sunday to keep the Liga title still wide open. And the Catalans did just that in this Clasico with Lionel Messi the hero
---

BY MUSTAPHA "EL LOCO" KAMARUDDIN

---
HOLA!
Who else if not Lionel Messi.
The Argentine wizard again proved to be a pain as Barcelona stunned Real Madrid 4-3 in an amazing Clasico at the Bernabeu on Sunday.
With this result the race for La Liga title is wide open again among champions Barca, Real and high-flyers Atletico Madrid with nine matches left to be played.
Atletico, under manager Diego Simeone, are now top of the table with 70 points.
Real are second, also with 70 points but lose out to their across the city rivals on head-to-head count Third-placed Barca are just a point behind them.
Back to Messi, yes... he starred with a hattrick -- 26th in his career -- and an assist in a contest which also saw Real no-nonsense centreback Sergio Ramos sent off after a foul on Neymar in the 63rd minute.
And Real were leading 3-2 then,
And believe it or not, this was Ramos' 19th red card in his colourful La Liga career. Poor soul.
That was the first penalty Messi converted before he cooly the second in the 84th minute for the kill beating Diego Lopez.
This despite the pressure he had to endure in front of Real supporters. Messi did it, respect this guy.
These three goals had Messi breaking yet another record -- the most scored in Clasicos -- with 19 goals beating previous holder fellow Argentine Alfredo Di Stefano with 18.
And Messi or 'Atomic La Pulga' is only 26 and played less games than the Real legendary figure..He is already the 'King of Clasico'.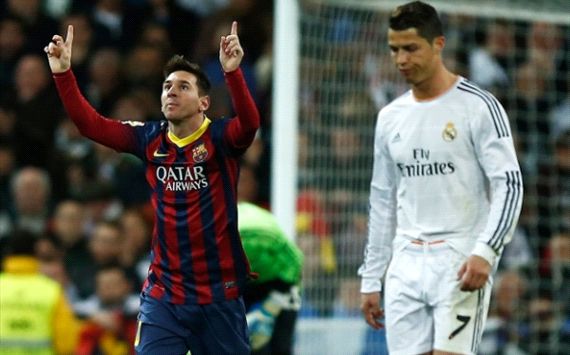 Leo Messi outshines his greatest rival, Cristiano Ronaldo.
Messi aside, it must be said Barca were excellent as a unit to make life difficult for Real even if the clash was at the Bernabeu.
Their patient passing and game was fantastic with midfield maestro Andres Iniesta in his element.
This was clearly evident when the Catalans stunned Real in the 7th minute with a solid finish by Iniesta after making 24 passes with final one by Messi.
Simply delightful, this one..
Real?
They were performing well too...especially in the first half... to make this Clasico filled with excitements, controversies, drama, skills and frustration.
One player who starred in the first 45 minutes for Real was not Rpnaldo or Gareth Bale but Argentine winger Angel Di Maria.
Operating on the left flank, he was causing problems to Barca defence.
It was Di Maria who engineered two goals by Karim Benzema, who took advantage of the defence which was weak in aerial duel.
Unfortunately, Di Maria after receiving some knocks, lost some steam after the break and this somehow doused Real's menacing raids.
Good news for Argentina for their campaign in the World Cup -- if Di Maria can reproduce this kind of form in Brazil.
Ronaldo?
Just an above average display from the Portuguese superstar. Fans expected more from him.
Besides winning the controversial penalty when he was brought down by Dani Alves from outside the box -- after TV replays -- Ronaldo found it rather difficult to outwit the Barca defenders.
Of course, Ronaldo scored from this penalty.
Have yet to sleep as write this piece but it's worth it, This should also be the case of other Malaysian fans who stayed up for the clash and slept at 6am.
Sensacional Clasico, indeed.
Adios!
Mustapha 'El Loco' Kamaruddin is an experienced sports journalist who is crazy about football. He has been following football, both at local and international scenes for over two decades. He is also a columnist with The Malay Mail.