The Catalans cannot afford to lose the El Clasico if they want to retain the Liga title. Goalkeeper Victor Valdes and Lionel Messi can be their heroes.
---

BY MUSTAPHA "EL LOCO" KAMARUDDIN

---
HOLA!
Barcelona goalkeeper Victor Valdes may well be one of the heroes for the Catalans if they stun favourites Real Madrid in the crucial El Clasico at the Bernabeu on Monday (Malaysian time, 4am).
There are several good reasons for the 32-year-old to produce one of his best displays this season.
One of them is that Valdes wants to see Barca win as to keep their hopes of retaining La Liga crown still alive.
A defeat means the third-placed Catalans' chances are bleak as leaders Real are now enjoying this four-point advantage with 70 points from 28 matches.
Atletico Madrid, under manager Diego Simeone, are second on 67 points.
Being a quality and experienced goalkeeper, Valdes is expected to deliver and try to stop the likes of Cristiano Ronaldo, Karim Benzema and Gareth Bale from finding the net.
And Valdes is also expected to be busy considering the fact the Barca defence led by Gerard Pique and Javier Mascherano can be shaky under pressure.
The other reason for Valdes set to shine is because this is going to be his last La Liga Clasico as he has voiced his intention of leaving Nou Camp in the summer.
And what a way to say adios by assisting Barca winning at the Bernabeu -- in front of Real supporters.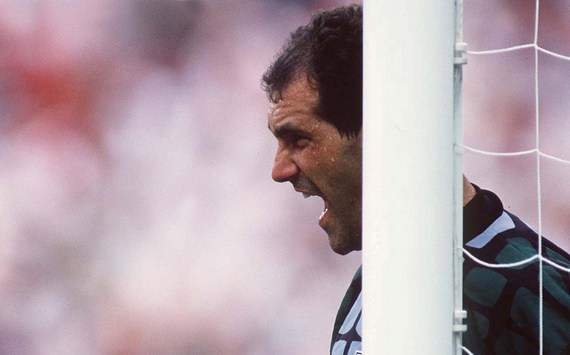 Valdes has surpassed Barcelona's record holder, Andoni Zubizarreta
Valdes has played more Clásicos than any other goalkeeper in Barca's history, 27 games in all competitions.

Two years ago he overtook the previous record holder, Andoni Zubizarreta, who had played in 18 such games.

Oh yes...interesting development this one..

English club Manchester City are reportedly set to beat Monaco for Valdes. Off contract in June, the Spain international has been in talks with both clubs since early this year.

However, L'Equipe reported Valdés is set to play for City next season. Both parties are said to have moved closer to a deal in the last few days.

Apparently, he had accepted a deal to play for Monaco but one which had a clause allowing him to sign for another club if an offer was made.

Valdes aside, it is going to be a difficult mission for Barca.

Manager Gerardo 'Tata' Martino is to play his best available players. This means Cesc Fabregas and Neymar are set to start although the Brazilian is not in good form after making a return from injury.

The two did not play in last weekend's 7-0 hammering of Osasuna at Nou Camp with Lionel Messi scoring a hatrrick to be Barca's record top scorer with 371 goals -- beating previous holder Paulino Alcantara who had 369.

The 26-year-old Messi, of course, will be the main man if Barca were to beat Real. After that hattrick against Osasuna, the Argentina captain is looking forward to produce more magic.
It's not about outwitting Ronaldo but rather Messi wants to see Barca still have that chance to retain the title. Not surprising if he scores one or two goals here, especially if the other attackers raised their game.
Malaysian fans, whether they support Real or Barca, can expect a thriller and try not to miss this blockbuster.
Who will win? Real are poised to get at least a point here.
Adios!

Mustapha 'El Loco' Kamaruddin is an experienced sports journalist who is crazy about football. He has been following football, both at local and international scenes for over two decades. He is also a columnist with The Malay Mail.